Silver City Housing Scheme Rawalpindi is a joint project undertaken by the Laraib Associate & Developers and the Saremco Group. The project has been widely advertised by the marketing giant The Property Guider. It is an advanced neoteric project that is situated in an advantageous, well-developed, and posh locality and earns itself the bonus of a favorable location. Silver City Housing Scheme Rawalpindi stands amidst a serene environment and offers a sophisticated way of living.
Silver City Housing Scheme Rawalpindi Developers
Laaraib Associate & Developers and SAREMCO Group are the project's main developers. These reputable developers have successfully delivered several projects and have never disappointed their customers. The developers have gone to great lengths to maintain the balance between luxury and affordability.
The companies also have expertise in several other fields, such as building power projects for the Pakistani government. Such a broad and seasoned group of businesses is without a doubt a gold mine for Pakistan's real estate market.
The construction of the first block is happening at a rapid rate and the balloting process shall be completed soon.
Silver City Housing Scheme NOC
One thing worth noting is that the Rawalpindi Authority has authorized the Silver City Housing Scheme Rawalpindi No Objection Certificate (NOC). Approved projects, such as Silver City, have a better chance of delivering high-quality property development on schedule.
In any case, buyers are advised to learn and be certain of the legal status and scene of approval from the relevant office before confirming any sort of deal.
Silver City Housing Scheme Location
This project is attracting investors owing to its beautiful location in the thick of natural surrounds. Its biggest selling point is its proximity to the New Islamabad International Airport. The accessible location buffs up the scheme on the chart of attractive investments. It is located in Rawalpindi on Girja Road, near Chakri Interchange. It is close to CBR Phase 2, and FOECHS Housing Scheme. It can be reached through Kashmir Highway and Islamabad Highway from both Rawalpindi and Islamabad.
One of the main gates is on the major Girja Road, while another is planned at the intersection of Ghouse-e-Azam Road and Pilo Thalian Road. The residential project is close to the city center and other attractions like the Thalian Interchange and the New Islamabad International Airport. It immediately connects to the Ring Road Rawalpindi. Moreover, the favorable location allows it to be situated at a 40 minutes distance from Capital Smart City, Blue World City, Park View City, FGEHF, and other upscale housing developments.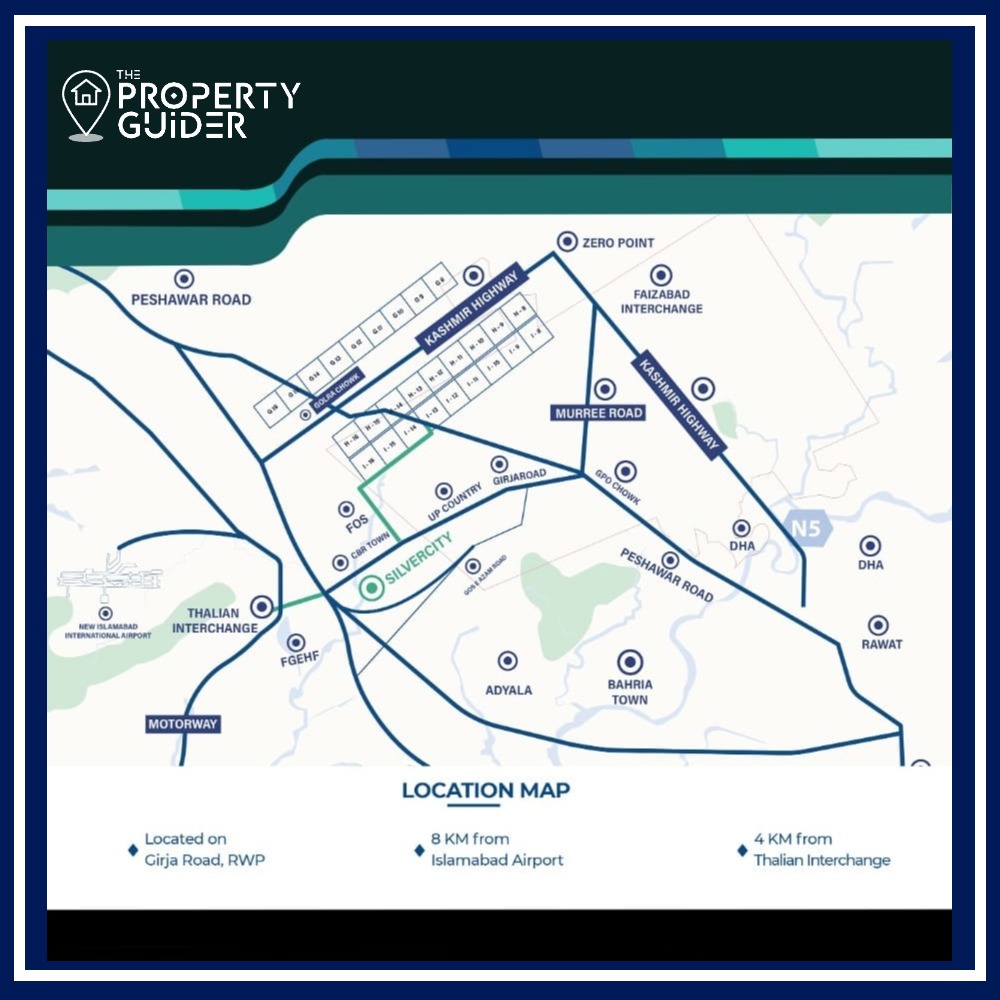 Landmarks and nearby attractions:
Rawalpindi
Islamabad
Top City 1
Qurtaba City
M2 Motorway
Thalian Interchange
The accessible location of the residential housing scheme is evident in the following ways:
12 min drive away from Thalian Interchange
13 min drive away from M2 Motorway
19 min drive away from Srinagar Highway
20 min drive away from M-1 Motorway
31 min drive away from Rawalpindi– Kohat Road
15 min drive away from Islamabad International Airport
The Silver City Housing Scheme Master Plan
The detail-oriented Master Plan for the Silver City Housing Scheme has been thoroughly designed. The well-thought-out plan divides society into three sectors that have been labeled as A, B, and C. One can catch sight of an 80 feet wide boulevard that stretches across the township.
Placing the project on a high-priority list, the developers have already commenced the construction on the site. Potential buyers and others who are interested can swing by the site and conduct a quick inspection of the status of construction for their personal satisfaction.
Silver City Housing Scheme Rawalpindi has a three-year installment plan to offer its buyers. These plans are pocket-friendly and reasonable.
Residential Plots are offered in the following types:
4-Marla
5-Marla
6-Marla
7-Marla
10-Marla
1-Kanal
Commercial plots, on the other hand, can be bought of two categories:
The booking process begins with a 15% down payment, with the remaining 10% payable following the assignment of the plot. The first 20% of the payment is expected when you take ownership of your plot; the remaining 55% is distributed across 36 monthly installments.
Silver City Housing Scheme Payment Plan
The procedure of booking a piece of land in Silver City Housing Scheme Rawalpindi has been made hassle-free and buyer-friendly. To kick off the process, consumers simply need to request a booking form from the marketers or developers themselves.
Documents that are required to successfully make a booking:
Duly filled application form. Buyers can access these forms by visiting the Project Site Office. To complete the application, they need to pay the booking amount in the form of a Pay Order addressed to 'Laaraib Associate and Developers'.
A copy of the CNIC card.
Two passport-sized photographs.
A copy of the CNIC of the Nominee.
Buyers can avail of a 10% discount if they pay for the purchase in full at the time of booking the plot.
The payment plan for the Silver City Housing Scheme Rawalpindi is outlined below. It is one of the most up-to-date projects available that doesn't require its buyers to break the bank. The plots are available for purchase with a 20% down payment. Until then, the outstanding amount is paid in monthly installments spread across a period of 36 months.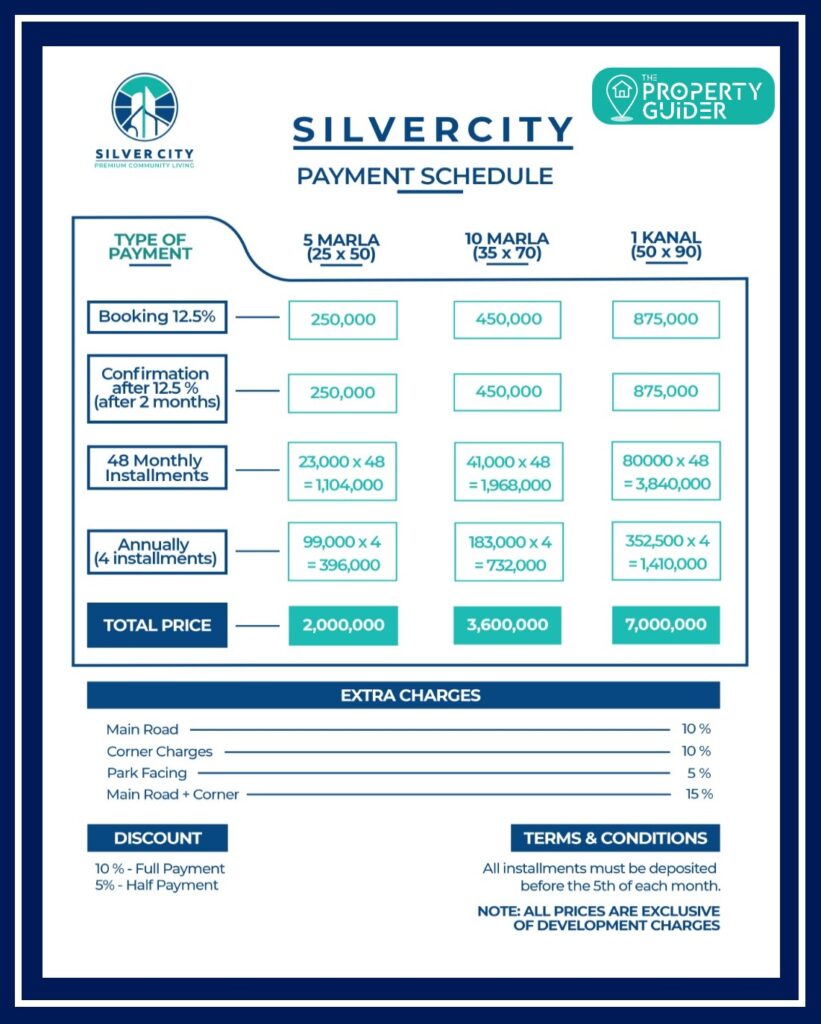 Guidelines to follow when purchasing property in Silver City Housing Scheme Rawalpindi
Document Verification: Please make sure to double-check all documents for validity to prevent any misunderstandings or mistakes. Before buying or selling a property, make sure to ask about the developers' NOC and authorization paperwork, which have been officially approved by the authorities. As a result, your documentation will be valid in every aspect that might lead to customer satisfaction.
Financial Security: Make sure that your funds are in line with your purchasing objective before finalizing any property sale or purchase. Your purchase or sale will go without a hitch in this manner.
Site Visits: Visit the site before making any purchases and after confirming the authenticity of the papers to check that the written documents are compliant with the plot specifications.
Silver City Housing Scheme Amenities
Silver City Housing Scheme Rawalpindi master plan is a work of immaculate design, architecture, and meticulous planning. The master plan includes all of the latest 21st-century conveniences to deliver a true 21st-century modern living environment. These amenities speak for the project's luxurious ambiance.
The developers have allocated a substantial tract of land for the construction of green areas such as parks. Rawalpindi's Silver City Housing Scheme is regarded as the most elegant society, packed with all futuristic amenities and comforts. A wide area of land has also been dedicated to the Central theme park, where the elderly and children may spend time without worries. The developers have kept the health of the residents in mind at every step of the construction process and strive to achieve a secure atmosphere.
The best features of this project include:
Eco-friendly: The residential project will offer an environmentally friendly, close-to-nature environment complete with all modern facilities. The relative vicinity to nature creates a place for a special experience not seen in other Pakistani housing projects.
Grand Mosque: The developers aim to accommodate the religious needs of people by constructing a mosque. The gorgeous and huge Jamia Mosque is equipped with the latest technology and bears modernist architecture.
Water facilities: The homeowners' water requirements have been well considered by the residential society. Keeping this need in mind, water reservoirs will be built that would store a considerable volume of water to be used by residents for everyday tasks. Furthermore, filtration plants will be included in the housing society to ensure that pure drinking water is available.
Graveyard: A cemetery is an integral element of every community. Because life and death are inevitable, residents may want to bury their deceased loved ones and pray for their everlasting happiness. They may even pay respects to loved ones buried within the residential complex.
Community Centre: Community centers will serve as drivers of social life for those who want to stay socially engaged. They may join in the social activities as well as enjoy them.
Health Amenities: The housing society's health facilities have received special attention from the developers. The developers want to set up state-of-the-art international hospitals and clinics where the emergency room will be open 24 hours a day for all days of the week, with professionals and specialists on hand at all times.
Educational Complex: To ensure that students receive an international standard of education, the developers have set aside a big plot of land to build a world-class educational complex. To provide the finest education, the teaching personnel will be professional and skilled in their respective professions.
Business Hub: The residential project has been well chalked out for each and every need of residents. All-encompassing economic and commercial zones will be developed within the society to look after those commercial needs.
Safety: A housing society requires a sense of security that is reinstated by a gated neighborhood. People are protected by a security system that includes properly placed CCTV cameras and other surveillance equipment that is operational 24 hours a day, seven days a week. In addition, to provide a high degree of safety, the society will be surrounded by a boundary wall with a safe system.
High-quality road system: To maintain an ideal development throughout, the roads and other infrastructures are built with a very high level of equipment and professionalism. The major boulevard and streets are large and expansive enough, giving the area a lovely appearance.
Features in brief:
Elegant entrance gate.
Affordability.
Grand Mosque.
Accessibility.
Club House.
Retail Area.
Modern Spa.
24/7 Security.
Maintenance.
Boundary Wall.
Eco-community.
Education Complex.
Water Resources.
Gated Community.
Quality Development.
Water, Gas, Electricity.
Underground Electrification.
Sewerage and waste disposal system.
World-class infrastructure development.
Sports complex.
Medical Facilities in the form of Hospitals, dispensaries, and clinics.
Why invest in Silver City Housing Scheme Rawalpindi?
Pros of investing in a property of Silver City:
24/7 water.
24/7 Electricity facility.
24/7 Gas facility.
Schools available.
College is available.
Theme Parks/Recreational Areas available.
Grocery/shopping center/Markets/Malls available.
Peaceful/ healthy/secure environment facilities.
Gated community with security gates, CCTV Cameras, surveillance systems & security guards facility.
Very close to the central locations and other societies.
The large and well-planned carpeted main boulevard, roads, streets, & walkways for pedestrians.
Well-planned drainage & waste disposal systems.
Green, innovative, and sustainable housing society.
Security system.
Solid waste disposal mechanism.
Among other sectors, real estate investing is one of the most profitable. This is because it has a high rate of return on investment. However, stick in mind that it will only be lucrative if it is performed efficiently.
Investing in Silver City Housing Scheme Rawalpindi has high asset value due to its prime location. The real estate sector is the best sector to invest in to keep the value of that asset high and not depreciate.
This project can also be a source of steady and stable income for you. You can easily rent out a property after purchase and gain monthly benefits. It shall also be easy to maintain with tenants or caretakers. Passive income, such as rent, can be created when someone has invested in some real estate properties. Investors purchase already constructed property or develop open land, then put it on rent, assuring a consistent flow of earnings throughout the year.
When executed properly, real estate investing is a type of business that can never fall in value. Every year, the value of real estate grows. If a major government or private project is undertaken in the area, the value of the property might skyrocket.
With elegant views of the Margalla Hills, the society provides a calm and pleasant living environment. The master plan's sophisticated and elegant facilities make it the ideal investment opportunity for 2022.
Conclusion
Silver City Housing Scheme Rawalpindi is a home development project with a single goal in mind: to give homeowners a world-class comfortable lifestyle. The defining aspects of this society are its luxurious amenities, affordability, and location.
This project has a potent developer team behind it. They are fully committed to completing their project. Laaraib Developers have carried out several other ventures and this is not their debut. Silver City, in any case, has an unrivaled location, which is the most crucial component of this society.
Silver City's legal NOC has been approved by RDA. The developer's rates, on the other hand, will be revised shortly as development continues at a rapid speed. In comparison to the surrounding area, this is by far the most cost-effective society.
As a result, it is suggested that now is the best time to invest in this society. Mivida City Rawalpindi, Ruden Enclave Rawalpindi, Lahore Smart City, and Capital Smart City are similar housing societies in Rawalpindi, in case buyers are interested.
Frequently Asked Questions (FAQs)
1. What exactly is Silver City and what makes it different from other housing societies?
Ans. The Silver City Housing Scheme Rawalpindi is being designed and built to provide people with a one-of-a-kind eco-friendly living environment at a very reasonable price. It has also been developed by a team of trained engineers, architects, and other professionals with years of expertise.
2. Is Silver City Housing Scheme a properly qualified and licensed housing Scheme?
Ans. The RDA has authorized the Silver City Housing Scheme in Rawalpindi.
3. Is this a project that you can afford to live in?
Ans. Yes, due to the convenient installment plans, there is no doubt regarding the affordability of Silver City Housing Scheme Rawalpindi. The management has also been instrumental in achieving the right combination of elegance and affordability.
4. Is there any high-yield investment prospect in this society?
Ans. Yes, small investors are very much interested in investing in big amounts, even if they come from a modest background because the installment plans are feasible for families. Therefore, the likelihood of high-yield investment returns increases.
5. In Islamabad, where is the Silver City Housing Scheme located?
Ans. The Silver City Housing Scheme Rawalpindi is located near the Thalian Interchange on Girja Road Rawalpindi.
6. Who are the developers of Rawalpindi's Silver City Housing Scheme?
Ans. SAREMCO Group and Laraib Associate & Developers (PVT) Ltd. are working together on the Silver City Housing Scheme Rawalpindi.