Today in this guide we have brought you the best residential housing society that is suitable for every class of people and enables thousands of families in Karachi to live the dream lifestyle with futuristic amenities. Apart from that, Karachi is the largest city in Pakistan.
Bahria Town Karachi Phase 2 ensures to provide every possible facility in society including world-class education, universities, and hospitals. Furthermore, investing in real estate is never a bad idea, because the real estate market is always on top, and has the potential to increase the value of your money in a short span of time.
This guide will introduce you to the most amazing real estate housing society that is a dream for many people to live in. In this guide, we will talk about various things about this project like location, NOC, master plan, and of course payment plans. Let's begin the guide and explore the project.
Bahria Town Karachi Overview
Bahria Town is the most luxurious project in Karachi's real estate history. Bahria Town Karachi Phase 2 has almost everything included that is well capable of making your lifestyle luxurious. This project provides you with both commercial and residential plots for booking.
Apart from plot availability the developers and owner also gave strong attention to the facilities like shopping malls, colleges, various types of parks, sports facilities, duplex theaters, clinics, and others. The entire project is captured by high-tech CCTV cameras and professional security guards.
Bahria Town Karachi Phase 1 and Bahria Town Karachi Phase 2 are not too far, the distance between these projects is hardly 30 to 35 kilometers. The project is NOC approved by the authorities so it should be convenient for the investors to buy plots here.
Bahria Town Karachi Phase 2 Location
Investors want an investment project to be the location and the prime location, and on the other hand, developers too want to build it in the ideal location of the city that easily connects it to the other parts of the city. If the above criteria are met, it means the project is ideal for investment.
Bahria Town Karachi Phase 2 is located on the M-9 Motorway adjacent which is not too far from BTK Phase 1. The total distance between Phase 1 and Phase 2 is around 30 to 35 kilometers. The location of Phase 2 easily connects Jinnah International Airport, takes hardly 45 minutes to reach, and 0 minutes to reach Super Highway. The owner also keeps in on the location that is very close to the various schools, universities, hospitals, and other important places.
Cities like Mirpurkhas, Thatta, and Hyderabad Sukkur are also conveniently accessible. Keeping all these in mind, one thing is clear this project has great potential for future growth, and no doubt to say this is the project you should invest in right now.
Who Are The Developers Of Bahria Town Karachi Phase 2?
It's a good idea to know the developers before investing in any real estate project. Bahria town Karachi phase 2 is developed by the Bahria Town Group which is a well-known name in the real estate market. Bahria Town Group has already shown the country its work by developing the most iconic real estate projects in the cities like Nawabshah, Rawalpindi, Lahore, Karachi, and Peshawar.
Bahria Group has a reputation in the market to develop the project at a given time because they have a well-professional team and highly educated engineers. There is not much to talk about the facilities and features Bahria Group include in their project because their past works speak and prove better than words. People around Pakistan trust the ability and work of Bahria Town Group. Let's jump to the master plan section.
Master Plan Of Bahria Town Karachi Phase 2
The master plan of Bahria Town Karachi Phase 2 is an amazing resource for investors because of the facilities and amenities this project offers to their investors at an affordable price.
The developers ensured to enable investors with all the utmost features like playgrounds, parks, and swimming pools.
The project has included both types of plots such as commercial and residential with property community amenities. Furthermore, within the project, there are high-tech hospitals and clinics for investors.
Keeping an eye on all these features and facilities confirms this project is ideal for people who are looking to buy a fresh property at an affordable price. As it is located in the prime location which is not far from Phase 1.
The detailed master plan helps the investors to make wise decisions and invest money in this project which can increase its value.
Facilities and Features Bahria Town Karachi Phase 2 Offers to Their Investors
Now we have moved the section that attracts investors to the project. A well-required and top-notch facilities project has become more popular. Phase 2 has included multiple playgrounds, parks, jogging tracks, and other recreational activities. As we have already discussed above, this project enables investors to book both types of plots (Residential and Commercial), which means you can book either plot, and it has a wide range of commercial space for shopping malls, leading banks, ATMs, cafes, and more. Users also get schools, colleges, and hospitals within the project. You can find some of the amazing amenities below.
Here are the amenities that Bahria Town Karachi Phase 2 provides:
Clean and fresh environment
State of the art infrastructure.
A proper and well-maintained sewerage system.
Underground electric supply.
The entire area is covered by CCTV Cameras.
Residential and commercial plots available
Grand Jamia Mosque
Golf Course
Beautiful road with a proper street light.
Professional security guards.
Swimming pool with well-maintained structure.
Shuttle service.
Multiple Theaters.
Shopping malls and branded shops
Parks, and water parks.
Mini Dams.
And many more.
The list doesn't end here, the developers strive to enable investors with all the modern facilities, ensuring investors get a luxurious lifestyle. As for the location, and amenities this project has, it's for sure, Bahria Town Karachi Phase 2 became the dream housing scheme in Pakistan. Let's know the payment plans.
Payment Plan of Bahria Town Karachi 2
After knowing all the facilities, features, and amenities of this project, the investors wonder what the payment plans of this, right?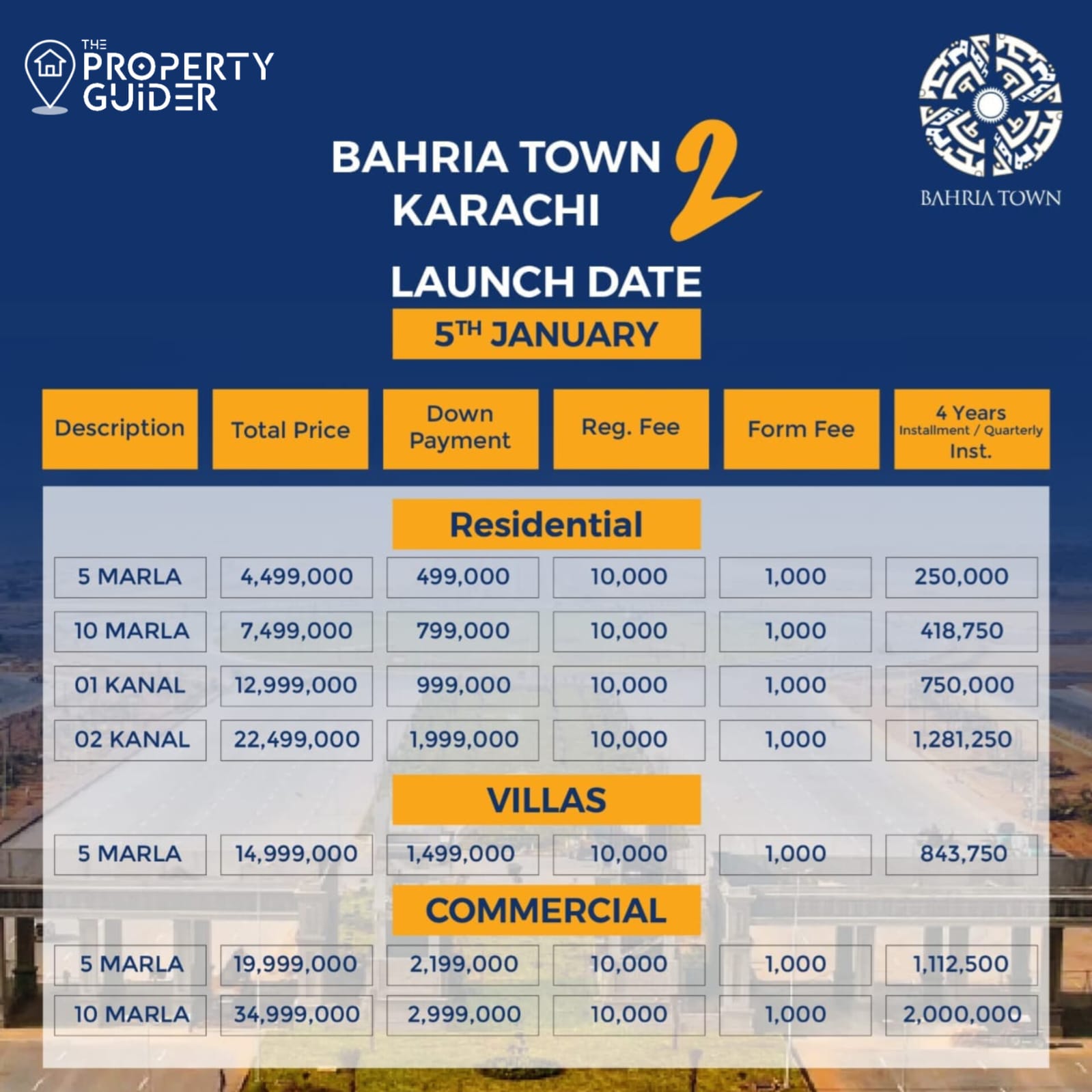 Plots sizes in Bahria Town Karachi Phase 2
Here is the complete list of the plot sizes they are providing to the investors in the Commercial, Residentials, and Villas.
Residential areas will offer the following types of plot sizes.
5 Marla
10  Marla
1 Kanal
2 Kanal
Commercial are will offer following types of sizes:
Villas area will offer following sizes of plots:
We promise you as soon as any official update will be released from the company regarding the Payment Plan, we will update you regarding the same. Till then you can check out the important FAQs below.
Frequently Asked Questions:
#1: Is the Bahria Town Karachi Phase 2 project approved?
Yes, Bahria Town Karachi Phase 1 and 2 are approved by the authorities.
#2: Is it safe to live in Bahria Town Karachi Phase 2?
Yes, why not? All the entry and exit points are fully covered by high-tech CCTV cameras and highly professional guards that protect you 24×7. Also, the place is very neat and clean with well-maintained services. The developers of the project are also well-known in the real estate market which makes it safe for living.
#3: Is BTK child friendly?
Bahria Town Karachi Phase 2 is absolutely child friendly and enabled with the facilities and amenities that children will surely love like a Swimming pool, Mini Dams, Fun World, Shopping Malls, and Multiple Theaters. Along with that, this project also has universities, schools, and hospitals within the area to provide completely easy access to all of these.
#4: Who is the owner of the Bahria Town Karachi Phase 2?
Malik Raiz is the owner of this mighty project.
#5: Is Bahria Town Karachi a good investment?
Bahria town has a valid reason to invest, and this project is an award-winning master-planned community that promises this property is a massive project. As we have understood this society is located on M-9 Motorway which is very close to the Jinnah International Airport. Furthermore, the amenities it has included in the project are attracting investors towards it. Considering this project should be a good investment and can increase the value of your invested money in a short span of time.
Wrapping Up:
After the massive success of Bahria Town Karachi Phase 1, the developers decided to build Phase 2 in the almost same location. Phase 2 developers ensured to provide all the modern facilities and amenities to the investors. Also, the developers provide both commercial and residential plots in the project with different types of plot sizes with NOC approved by the authorities.
The entire project is budget friendly with the latest technology which makes your life luxurious. In this detailed guide, we provided you with the complete information about Bahria Town Karachi Phase 2 like location, master plan, facilities, and others. If you are planning to buy plots in a reputed project then this could be your dream place to buy residential or commercial plots. If you have any other questions regarding the same, use the comment section below.