Mivida City Islamabad
MIVIDA City Islamabad is the first eco-friendly project in Pakistan that will introduce an advanced living standard to the people. The society is a picture of uniqueness, modern lifestyle, and advanced infrastructure. The investors and buyers will find the best place to purchase here to turn their investments into a great beneficial deal in the future. An eco-sustainable and facilitated environment guarantees an ideal living to its residents.
Mivida City Islamabad is a project of Khanial Builders in partnership with Mivida developments PVT Ltd. This brilliant piece of development is a product of the combination of the two best developing associates. The owner company has collaborated with Mivida development Pvt. to design an exceptional city that will provide a smart, sustainable, and digital environment for its livings. Both of the partner companies consist of highly skilled and able professionals, engineers, and experts who will together fulfill all the advanced requirements of society's development.
The plan of the city includes digital technologies and modernizations that provide a smart luxurious lifestyle. Both the partner companies have dealt with many other companies to utilize their expertise for providing a high-level living to you as well as the upcoming generation. The owners are getting huge demand from the client on its plan at the start of the development. Through this project, the developers will earn more trust and respect for the customers across Pakistan.
The project owners have designed a sustainable master plan providing a valuable and long-term source of investments. The developers have an excellent experience in the real estate sector of Pakistan comprises of many years. Their expertise is not only known in the country but also appreciated internationally. In the development of Mivida city, they are following a new and advanced approach in every feature including the town planning, facilities, infrastructure, and others. This society will provide an opportunity for investing in an advanced living place that meets international standards.
Both the partner companies have a list of their successful development projects. Through the Mivida city, they will bring a new concept of urbanization in Pakistan. This development has many aims but the most focused one is to develop the society in the given time. The planners believe in teamwork and focus and consider them as the key to success.
To give an outstanding international standard of living, the developers have delivered such a remarkable living-place. The companies have developed some tremendous works in the past which represent their sincere and great efforts. They are masters in real estate development and holds an unparalleled place in the sector. Khanial Builders and Mivida Company have joined hands with other companies to take their services in the development to gain a high level of success.
Because of such impressive ideas and struggles, Mivida city has become the center of attraction among the investors and this demand will further increase in the future. This society will emerge as a desirable place of a resident having some great advanced features of international standards.
Mivida City Islamabad Location
Mivida city Islamabad has an ideal location in the Islamabad. It is located on the main Chakri road. New Islamabad airport is very near to the society. Various other important routs including M-2 motorway are also close to the housing society. Rawalpindi Ring Road is accessible with a few minutes' drive. Such a remarkable accessing location makes Mivida city an ideal place of investing and living. You can reach the place from any part of Islamabad easily. Also, the community is a neighbor of many other real estate projects that adds its value further.
The location of the society is the most appealing feature that invites the buyer to purchase the property. Choosing the location is the first admirable thing of the owners. Connective location to various parts of Islamabad is perfect for this top-class living society.
Besides its easy accessing routes, the Mivida city is located between the two major projects including Capital Smart City Islamabad and Blue World City Islamabad. Investing in this project will surely bring a great benefit to you.
You can access the facilities of life within the minutes. Moreover, the community is surrounded by the lush greenery of Islamabad. In terms of location, there is nothing left for the buyer to have a dream location to live in. You will find your life peaceful through other factors.
The residents of Mivida city will feel safe and secure which is a big deal in the living community of this society. Connective location, safe environment, lush natural place, and a stunning view of greenery and mountain play a vital role in your living here.
Mivida City Islamabad Master Plan
Mivida City Islamabad is a master-planned development in Islamabad city. MEINHARDT GROUP SINGAPORE town planners will design the modern living residency in Pakistan. MEINHARDT GROUP SINGAPORE are master in urban development, sustainable concepts, and excellent architectural and infrastructural ideas. These are the core values of their work.
The company aims to design a modern development having technical features. Mivida city will be developed on 7,000 Kanal land with the ideal location of Chakri Road Islamabad. This housing community will provide great pleasures and comforts to live in such an advanced place.
Smart technologies are planned to be used in every aspect without harming the natural green atmosphere. At Mivida, you will enjoy both calm and digital approaches to improve the quality of life. Mivida Islamabad is currently offering residential plots for sale, commercial plots for sale however people can also enjoy the resort life, farmhouse lands, and apartments here.
Mivida city Islamabad is planned to be the smart city of Pakistan by introducing sustainable and digital concepts in everyday living. In this way, people will be able to experience the more urbanized, secure, healthy, and pleasant lifestyle that is the essential demand of today's times. Mivida Pakistan will be the most luxurious and advanced living community offering the best investment opportunities.
Society's own IT Park, active commercial central district, educational complexes, retail options, health care institutions, neighborhood Markaz, and sports community are the active components inside the Mivida to make it the master-planned community. High-quality infrastructure with world-class facilities makes it a desirable option to live and invest. The master plan includes many brilliant applications of modern technologies in everyday living. This will open the door to modern city development in Pakistan.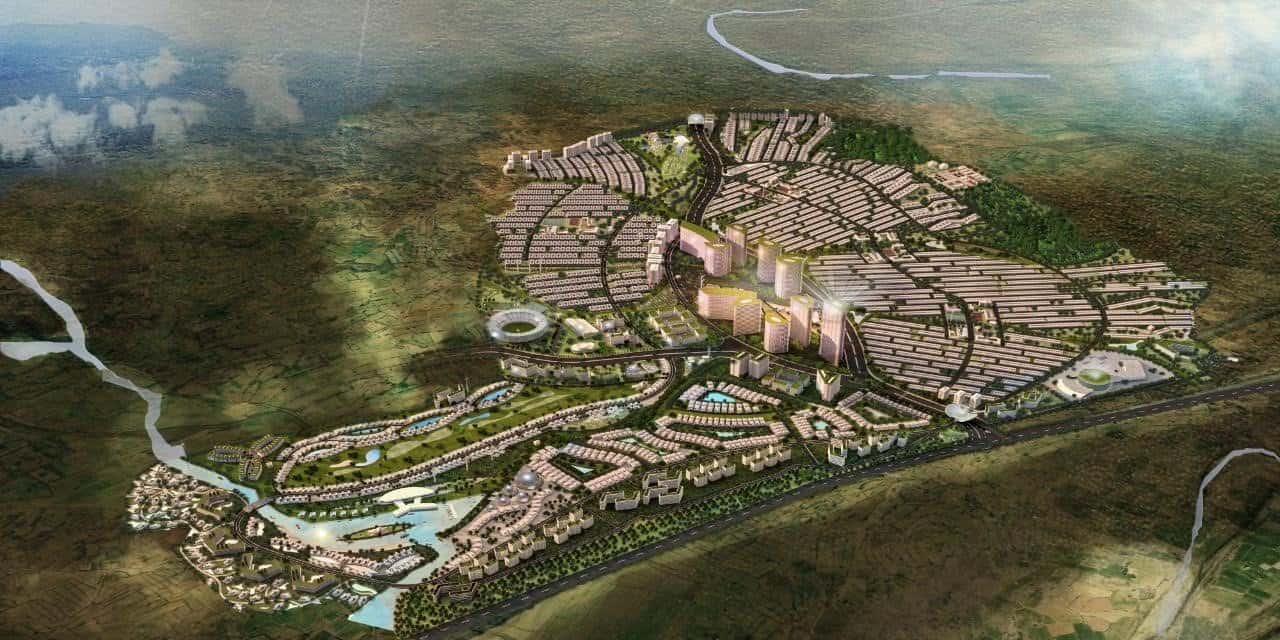 Mivida City Islamabad plots for sale
Mivida city Islamabad is a new housing project in Pakistan and is offering huge residential and investment options. Residential Plots of various sizes are available for sale at the most attractive price. These plots are the best option for the investors and for those who want to up their living standards. The management desires to introduce more residential options such as farmhouse living, resort living, and others. Commercial plots for sale and other retail options will be offered to give more opportunities for potential buyers. The plots are available in society within the range of affordable prices. The smart and sustainable approach of this Mivida will turn your today's investment into the high-value benefits in the future.
The master-planned project has a variety to offer making investors of every class buy following their needs and affordability. Currently, the prices are reasonable for all the properties. However as the development will progress, the price of plots will also increase. You can buy their desired plot with 3.5 years easy payment plan. Plots of the following sizes are offered in society.
5 Marla
8 Marla
10 Marla
14 Marla
20 Marla
40 Marla
Why choose Mivida City Islamabad?
Mivida city Islamabad will emerge as one of the best housing schemes in Pakistan to invest in and live. This housing scheme will be built on advanced development techniques. This project is gaining the most prominent position among various real estate developments in Pakistan. Property buyers and investors will find this scheme a very suitable place for investment, business, and living wishes. Designed on smart and advanced ideas, this project will have a wonderful way.
Are you searching for prime reasons for investing in Mivida city Islamabad? These are some top attractive reasons that make Mivida city a unique community.
Mivida City is the first eco-sustainable city of Pakistan that provides an affordable, smart, healthy, and secure lifestyle.
Mivida City is a remarkable investment and living community. Modern buyers and clients are showing great interest in this place even in the initial stages. Remarkable investment, residential, and business opportunities are available to you in this project which turns your investment into a great benefit.
Reasonable prices, easy payment plan, and understandable booking procedure assuring higher gain in the coming time.
Smart digital technologies are introduced to create a new meaning for urban living. It will also improve the living quality of the residents.
Mivida city has an ideal location of Islamabad which is very well connected to the major roads, and areas. Easy access to important places and well connectivity make this society valuable to invest and live.
Investing in this innovative society will give you long-term and modern investment benefits
This housing scheme is owned by the best real estate development company in Pakistan. People can get great profits and benefits by becoming part of this project. All the infrastructural and development work of Mivida city is planned in a smart and modern way.
The real estate value and economic status of this project are very high and it will surely increase more over time.
You will enjoy high-level and ideal facilities to enjoy a pleasant living.
Mivida City Islamabad Payment Plan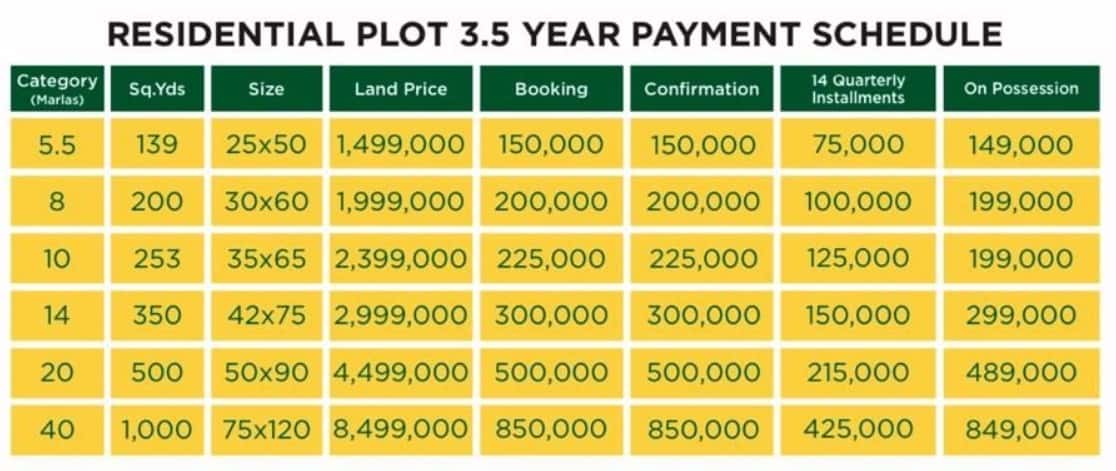 The payment plan of Mivida city Islamabad offers plots in different categories through which you can increase the value of your investment in the near future. You can also buy the plot and then create your desired residence in this beneficial place in Islamabad. This is the most valuable investment which will give you the best return in the future and raise your properties worth more than you pay today. You will not regret your investment after hearing that there are the easiest installment plan and the payment plan which will give you access to your destination home and the dreamed investment.
Facilities and Features of Mivida City
Among many reasons for the appreciation and popularity it is receiving, the facilities and features of this society stay quite notable. This place is enriched with really essentials and luxuries, which make it the best choice for you.
All the requirements of residents are fulfilled here in the best possible way. International and high standards are set for people so that they can live according to the current time's needs and demands. This place ensures a perfect and desirable existence.
This is a very admirable residential project where you can enjoy the best kind of living. The best variety of facilities and features along with the ideal location of this city has made this project a brilliant place of living for all.
People are reaching to this community in a large number to get a pleasant lifestyle based on their desire. You will feel safe and facilitated all the time while living here. Best urbanization and modern infrastructure are offered at reasonable prices.
Its admiring features will attract you to choose Mivida City Islamabad as your living place. Here you will get a real experience of luxuries and modernism by utilizing new and advanced concepts of development and living. This society is a golden opportunity for inhabitants of Islamabad to enhance their living standards by adopting the facilities offered in society.
This city provides several facilities by using modern concepts so that its residents can enjoy all the advanced and basic facilities of life efficiently. Every aspect of Mivida city is admirable that you can enjoy your residence here surrounded by comforts and conveniences all the time. Every essential facility of Islamabad is easily accessible so you don't need to go far for basic needs.
Mivida city is providing the following facilities and features to its occupants.
1. Effective Community Design
Mivida City Islamabad is a master-planned development. To make it more brilliant, its owners have hired the International planners. The development is in the initial stages at the moment and it is planned to be a smart, eco-friendly, and advanced community. People will be able to enjoy residential, commercial, resort, and farmhouse living served by high-class luxuries. All the requirements are fulfilled with the international standards and planning accordingly. Things are done and built-in coordination rather than building in segments. The builders carefully working at the place because the place is enjoying a rich natural diversity.
2. Main Boulevard
This largest and large housing scheme has a very unique and advanced feature. The whole community is connected through the huge and amazing main boulevard.
3. Smart & Sustainable City
Being a smart and sustainable city, Mivida city will follow modern eco-sustainable infrastructural concepts during construction. A neat, lush green, digital, and secure environment packed with smart technologies will be provided to people. The society will produce sufficient resources to generate energy to its usage. Modern techniques will be used to reduce wastage.
4. Effective Town Structure
The structure of this town is very relevant for those who want to get all the internationally proven facilities in the city. This project will emerge to be the best-planned project, and its effective town planning makes it more attractive for the investors.
5. Gated Community of guards
As the security of the residents is the most concerned to the planners, they have planned the gated community. The security community is being provided in an ultra-modern way. All the gates in the area with guards. These are the trained professionals who are specially kept there for the safety of the residents. So, a secure and safe environment is made available for residence.
6. 24 Hours Smart Security System
There are strict arrangements of security which further increase the level of security. CCTV cameras and smart intelligence systems are also installed everywhere to monitor all the activities. The strict checking at the entrance makes it sure that only an authorized person can come inside the society.
7. Parks and jogging tracks
For all the nature lovers, parks and jogging paths are very important. To fulfill this health need, all the sectors of society have a jogging track and the parks. At these refreshment places, children and families can enjoy their quality time with nature.
8. Butterfly House & Zoo
For the entertainment and refreshment of children, you do not need to go out of the society. There are a community's own butterfly house and zoo where people especially children can spend a joyful time.
9. Charming Landscapes and scenes
Apart from all the great features, society enjoys a place of fertile land. By utilizing this gifted natural feature, Organic fruits and vegetable gardens have been planned in Mivida city. Every view is different from another one to provide beauty and allow you to make more interaction with nature.
10. Solar Trees
To ensure a fresh and green environment, the technique of solar trees will also be applied. People can live a better and pure living environment surrounded by trees and greenery which is essential to enjoy good health. The inclusion of solar trees is a good step towards making the city eco-sustainable.
11. Green Belts and Ribbons
To provide a healthy natural environment, the developers are focusing more and more on greenery along with the digital features. The community will have the island, vegetable gardens, fruit gardens, landscapes, and parks. In addition, there will be a distinctive series of green belts and ribbons that will give an incredibly pleasant look at the overall view of society. These will ensure the occupants can get a smart and peaceful lifestyle at the same time.
12. 9 Holes Golf Course
Along with all the modern facilities, Mivida city also provides a luxurious means of living through various facilities. For golf lovers, the City has the best golf course inside it. You will not need to go away for the fondness of golf. This PGA standard 9 holes golf course is planned on over 40 acres. The inclusion of the golf course is the next level of upgrading your standard and experience playing golf. You can spend a great time here while playing this game in pleasant surroundings.
13. Water & Amusement Park
Water and amusement park is a source of great fun and enjoyment for all. You can spend a quality time of entertainment with your family and friends while enjoying the water rides and other fun features here.
14. Restaurants and Cafes
There are amazing restaurants and cafes within the society. You can have taste delicious dinners and food with your loved ones. All of them have a classy environment and the best taste of food. Where you can enjoy the best cuisine and sips of coffee.
15. Sports Complex
The society has left nothing to fulfill your healthy and refreshing lives. Those residents who do not want to compromise their fitness can go to the sports complex. People can enjoy playing different games here for entertainment as well as for fitness purposes.
16. Commercial and Business Sector
The master plan of society includes the development of a commercial area where you will find grocery stores and all the crucial shops in the market. Also that this industrial area will also affect the rates of commercial plots. Investors can earn huge profits by investing in commercial properties.
17. Community center
Society includes a community center so that you will not worry to arrange your event far from your home. Your essential programs and activities, including weddings and parties, could be organized efficiently. This also gives a good impression. Your Neighbours are also not disturbed when you arrange your functions in a community center.
18. Gymnasium
For all the actual fitness lovers, where they can go to a gym having all the essential and developed fitness technology and the trainer. This is included for you and your health, and you can get amazing discounts on memberships.
19. School
To meet another important requirement of the residents, developers have included a school which is the priority. The school is specially designed on international education standards. This provides the best educational facility in its' very own way.
20. Wide neat roads
The community is planned with the best and most advanced roads network where the walking and driving tracks are different. All the roads are wide and carpeted having green belts on both sides. It puts the overall impact of the community excellent.
21. Central mosque
For performing prayers, a central mosque is being developed. This mosque will be a state of the art and the interior is specially designed to represent the unity of the Muslim community.
22. Health center
Although all the hospitals of Islamabad are easy to access because of its road connectivity. However, society also has a healthcare unit.  This will meet your medical problems. You will find the best health care facilities in the hospital and clinics that are part of this housing scheme.
23. Renewable energy sources
Being a smart and eco-sustainable city, this society plans to produce renewable sources of energy on its own. In this way, the energy needs of society can be fulfilled very well. Also, various other digital technologies will be used to fulfill such needs of the people.
24. Pure water
For providing the basic need of fresh and pure water, Mivida city will have a water purifying plant. People will live a healthy life by avoiding many diseases and problems by using such clean drinking water. Every plot will have a proper water supply pipeline connection to get continual clean water.
25. Sewerage system
The sewerage system of the whole society is planned to be based on international standards. The great thing is that all the pipelines will be fitted that they will not ever get damaged. All the buildings and plots will have the best sewerage system installed on the latest manners.
26. LED Streetlights
In the community, streetlights are installed everywhere to arrange a good and safe living environment. Proper lighting is very important to avoid accidents and that's why the LED streetlights are being used everywhere on the roads for better lighting sources at night and for saving electricity.
The Property Guider is highly recommends this project is a great opportunity to invest. To learn more about projects like this, please visit Blue World City and Lahore Smart city. Nova City Islamabad, Discovery gardens Islamabad and Capital Smart City Islamabad for more information about similar luxury items being offered at low prices.