Nova one prime Lahore is new luxurious Housing project in Lahore. The developers plan to introduce excellence and innovation design with incredible living experiences and commercial opportunities. After completion, the management says it has become one of Pakistan's modern and most luxurious real estate infrastructure for a fantastic living and business community.
Nova developers completed their Nova city Islamabad housing project that gained more trust among the investors. Soon, they will start construction work for this high-rise residential and commercial flagship project. Investors can book their luxury apartments at an affordable cost early to enjoy a sophisticated lifestyle. So, let's know about Nova one prime Lahore payment plan, project detail, N.O.C., developers and many more things. So without any further delay, let's dive into the business and explore this project in depth.
Nova one prime Lahore Project Overview
The previous year in August, Lahore Central Business District Development Authority conducted an open auction to acquire the ownership of Prime One by making the highest bid. The management of Nova took ownership by bidding the most elevated. After the ownership, the Nova developers aim to design marvelous architecture according to international concepts and ideas with abundant modern-day amenities. The project is ideal for deluxe apartments that fulfill your dreams into a reality that provides a luxurious and superb lifestyle. It will also host unique places, shopping, corporate spaces and more.
Nova one prime has become an ideal location in Lahore for living and investment purposes. Due to the innovative approach, perfect place, and international construction plans. Their building design is smartly planned and inspired by Italian architecture full of luxuries and comforts. The desirable premium amenities and high-end interiors make this housing society more significant than other real estate developments in Lahore. That also increases the value of housing projects among buyers. Every investor wants to be a part of this high class and quality venture.
Nova one prime Lahore Developers
You must have heard the name of Nova city Islamabad and Nova City Peshawar housing project. The same nova developers are developing this Nova one prime. The Developers have done remarkable work in Islamabad and have proved that they can accomplish what they are talking about in the project plan.
The entire team is working very hard on this project. The company has a professional team of architects, designers, planners, workers and engineers to fulfill resident expectations. The Nova is well-reputed for its reliability, professionalism, and public demeanor.
After getting a significant response from the investors in this project, Nova Group disseminates their innovation and excellence in Nova one Lahore. They are also tied up with an Italian firm, Casamonti, to design projects according to international standards.
Casamonti architecture firms are one of the most prominent companies for project designing. In Beijing, China's firm designed one building that's become world-famous in its structure, elevation, and design. You can get an idea of ​​how impressive the building is to see more than 1.5 million people visit that building to see architecture work. In Pakistan, Nova one prime Lahore is the only project designed by Casamonti.
Nova one prime Lahore location
The project location is one of the significant roles from both the developer and investor point of view. If the connectivity is not good at that location, it doesn't connect with important cities, then there will be no development. It will take a long time to develop that place. So, investors are less interested in spending their money, But Nova one prime is located at an ideal location where people can connect from all the top places.
Nova one prime is situated near Kalma Chowk at Ferozpur Road, Main Boulevard Gulberg Lahore. One of the good things about this area is that it's accessible from the Airport, Liberty Market, Fortress Stadium, Saddar Town, MM Alam Road, and other cities.
Project Location decides their future value and demand. In that case, Nova one location has both residential and commercial advantages. All the necessities are closely available such as medical facilities, transportation facilities, educational institutes etc. The area becomes more demanding and famous in the upcoming year because several big projects are also going on around this area.
According to Modern investors' and clients' perspectives, this area has significant advantages due to nearby amenities. It makes living convenient for residents. It's an ideal area for living and investing for you to enjoy a substantial living experience with the best facilities. As the market value increases in the future, you'll surely get a higher return.
Nova one prime Lahore Project plan
As an investor or buyer, you must think about the Nova One Lahore project plan. The developers are planning remarkably to make world-class infrastructure in Lahore. The company has acquired More than 18 Kanals land from legal authorities to make 40 to 60 floors of multi-purpose development projects that offer incredible living experience, investment opportunities and business spaces.
The project plan is designed by an Italian architect firm Casamonti. They plan to deliver something surprising with premium floor plans, Italian-style exterior and high-end interiors. After project completion, Nova one prime building became the tallest building in Lahore.
This multi-purpose development project is planned according to international standards and trends that offer a super-luxury living destination with premium amenities, fascinating city views, and connectivity. Apart from residential apartments, they also focus on corporate, business and commercial needs.
Through these luxurious apartments, offices, and high-rise retail spaces, developers plan to make a one-stop destination for living and investment points of view. Here are some major project plans of Nova one prime:
From its top floor, residents can see the complete greenery of Lahore.
Nova prime has high-end Amenities, dedicated parking floors, and gourmet destinations.
The Italian architect firm Smartly designed residential Corporate & Retail Spaces interiors and exteriors.
Building structures are Earthquake resilient.
Luxury apartments, retail shops, and corporate spaces are available.
Nova one prime Lahore features
The Lahore real estate sector has become remarkable day by day while Nova one is a prime development making more progressive motility.
Nova one provides excellent features for residential and commercial purposes. They are concerned about resident living needs, so they plan to deliver all their requirements and desires.
If you are searching for perfect and desired home ends, then nothing equals the abundance of this place. They aim to deliver a smart lifestyle on an affordable budget. That's why they are focusing on enormous high-quality Amenities such as educational institutions, entertainment, health, dining, hotels, and community halls to make every moment of life exceptional.
In Nova One Lahore, multiple residential spaces are available to select your plots that suit your needs. All apartments have high-end interiors, exterior and fixtures with world-class amenities and luxuries that make the best choice from a living perspective.
They aim to give high-quality amenities and an intelligent lifestyle experience to fulfill basic to advanced Utilities. Here are some following facilities provided by the Nova one prime:
24×7 CCTV surveillance
Deluxe Apartments
24/7 gas, water, electricity.
Shopping complex
Corporate and retail spaces.
Lavish hotels and restaurants.
swimming pool,
Well-equipped Gym and Fitness center
Underground drainage system
Educational institution
Medical
Recreational facilities and many more.
Nova One Lahore Payment Plan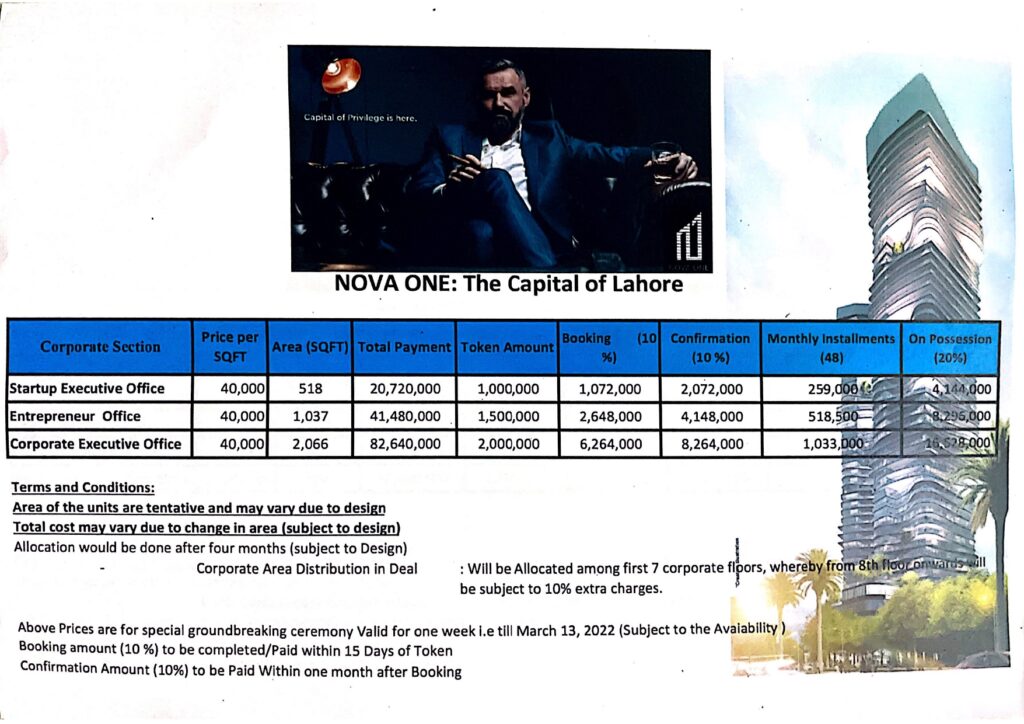 Frequently Asked Questions
#1. Who is developing Nova One Lahore?
The Developer of Nova One Lahore is Nova developers, they are well recognized developers, who deliver the quality buildings and project.
#2. Who is the master planner of Nova One Lahore?
The master planner of Nova One Lahore is Casamonti, they are the one who are fulfilling the project.
#3. What are the contact details of Nova One Prime Lahore?
You can get it with them by calling their official phone number which is +92-336-885-2843, or mail at info@novaoneprime.com.
Wrapping Up:
Nova One Prime Lahore is one of the great places to invest and book plots. This detailed guide has explained everything such as facilities, project plans, location and the developers about this city. We believe this article was informative and provided you the ultimate answer about this project. If we have missed out on something, don't forget to let us know in the comment section below. 
If you are interested to invest in Lahore See our Other Project Lahore Smart City