Kingdom Valley Islamabad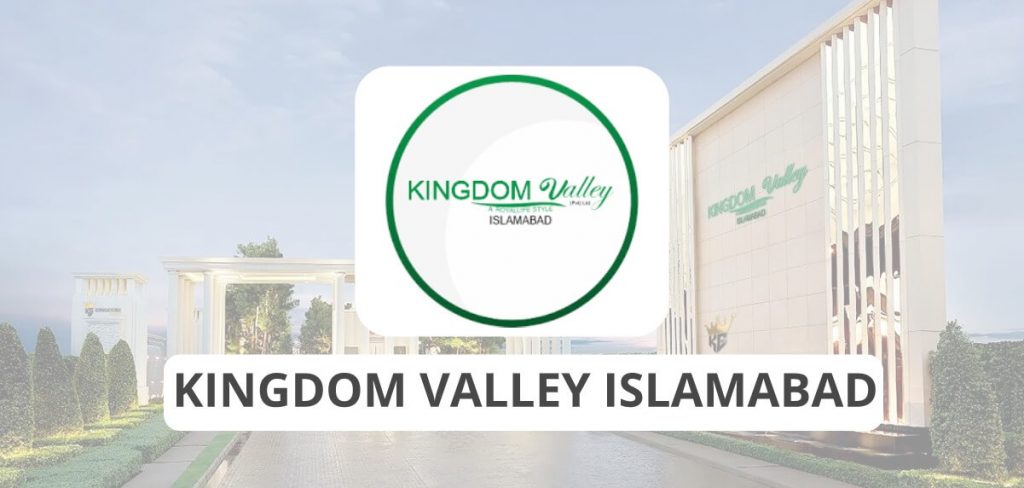 Are you planning to invest in Kingdom Valley Islamabad? Wait for a while, you need to go through this post before you invest. In this article we are going to explore Kingdom  Valley Islamabad. 
That will open the gate for you and make you understand the benefits you will get In kingdom valley Islamabad. Kingdom Valley is a new developing Housing scheme in Islamabad, This residential project comes under the Government Scheme launched by the honourable prime minister of Pakistan as "Naya Pakistan Housing Program".
Kingdom Valley Islamabad mega housing project delivers luxurious Facilities with best in class amenities. This mega project launched in the heart of Islamabad and hub of advanced housing projects Chakri Road.
Kingdom Valley developers are constructing different sizes of residential plots with well-planned community facilities like Amusement Parks, Schools, mosques, fitness clubs, medical facilities with high-tech infrastructure.
Kingdom Valley Islamabad Developer
This housing project is a beautiful dream that has now become a reality. It is developed under the supervision of Ghulam Hussain Shahid who is the chairman and CEO of this society too. They try their best to deliver for residents the best environment housing society with all facilities and amenities.
It is a wonderful residential project that features luxury facilities With international standard amenities so that the residents of society don't have to face any such issue while residing in Kingdom Valley.
Kingdom Valley development work is already started and developing very fast, so in this housing project development and construction work has already started there is much chance to increase Money twice from original prices in the residential and commercial sector.
Kingdom Valley Islamabad Location
Any mega housing project plays a vital role in the development of a city, Kingdom Valley Location makes an important development in Islamabad, It is located at Chakri Road at the back of Chakri Commercial Market.
This kingdom valley housing society is located near the surrounding of the best residential societies including Blue World City, Mumtaz City, Qurtaba City and Capital Smart City Islamabad and you can access kingdom valley from different routes of twin cities.
You can access several important locations from this place in a few minutes like Islamabad International Airport, Chakri Interchange, Rawalpindi Cadet College, Thalian Interchange at Lahore-Islamabad Motorway 5km distance from Kingdom Valley, and 4 km drive to Lahore-Islamabad Motorway M-2. 
Kingdom Valley Islamabad NOC
NOC is the key functionality and should be on the top, because many housing projects don't approve NOC but the case is completely different for Kingdom Valley. Kingdom Valley is an approved housing project by the authorities of Pakistan Housing and Town Planning Management.
It has q valid NOC Approval Number "DRG/PHATA/2176-2021".This Housing Society Project Comes under Prime Minister Scheme "Naya Pakistan Housing Program". So don't worry about NOC approval.
Kingdom Valley Islamabad master Plan
Kingdom Valley Islamabad is a newly launched and differently growing housing society with modern development, megaproject offers 5, 10, 20 and 40 Marla plots in a flexible payment method with an extended period of 3 years.
Kingdom Valley has the latest town planning with Modern infrastructure facilities like mosques, Amusement Parks, playgrounds, wide roads, schools and hospitals with spreading over 15,000 Kanal of land for the making of perfect residential and commercial properties.
 Kingdom Valley Islamabad Facilities and Amenities
As we have understood the valley's master plan and NOC. Let's understand what kind of facilities and amenities you get from Kingdom valley. Kingdom Valley Islamabad has World-class top Development Facilities including :
Grand Mosque
State of the Art Hospitals,
Kingdom Valley offers you a great educational institution.
Health is the critical segment for every human being so Kingdom provides you the best Health care facilities
Entire apartment and project doesn't cost you extra as you get free wifi for life long.
Designated Health and Fitness Club
For children's entertainment they have also done a special care and built different types of and Theme Parks.
You don't need to think about security as they come up with a high 24/7 security system.
No issue for Electricity Gas & Water Supply, you get 24×7 supply for all these. 
Sewerage & Drainage Systems
Community Center
Kingdom Valley Islamabad Payment Plan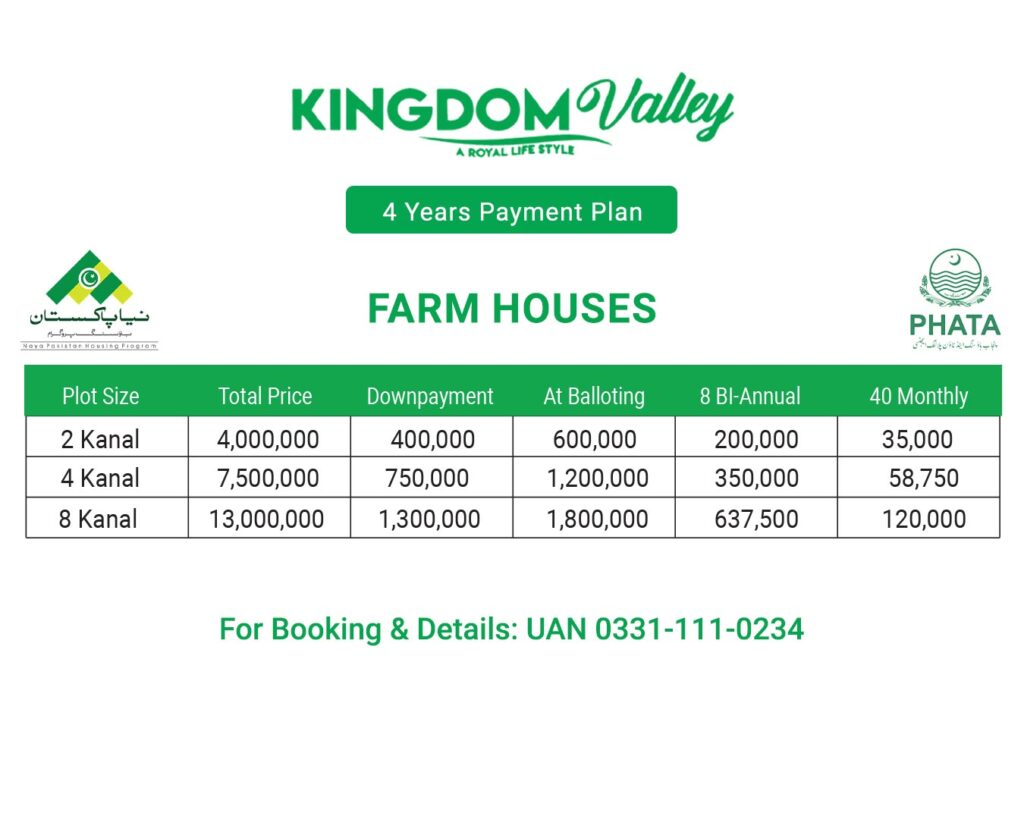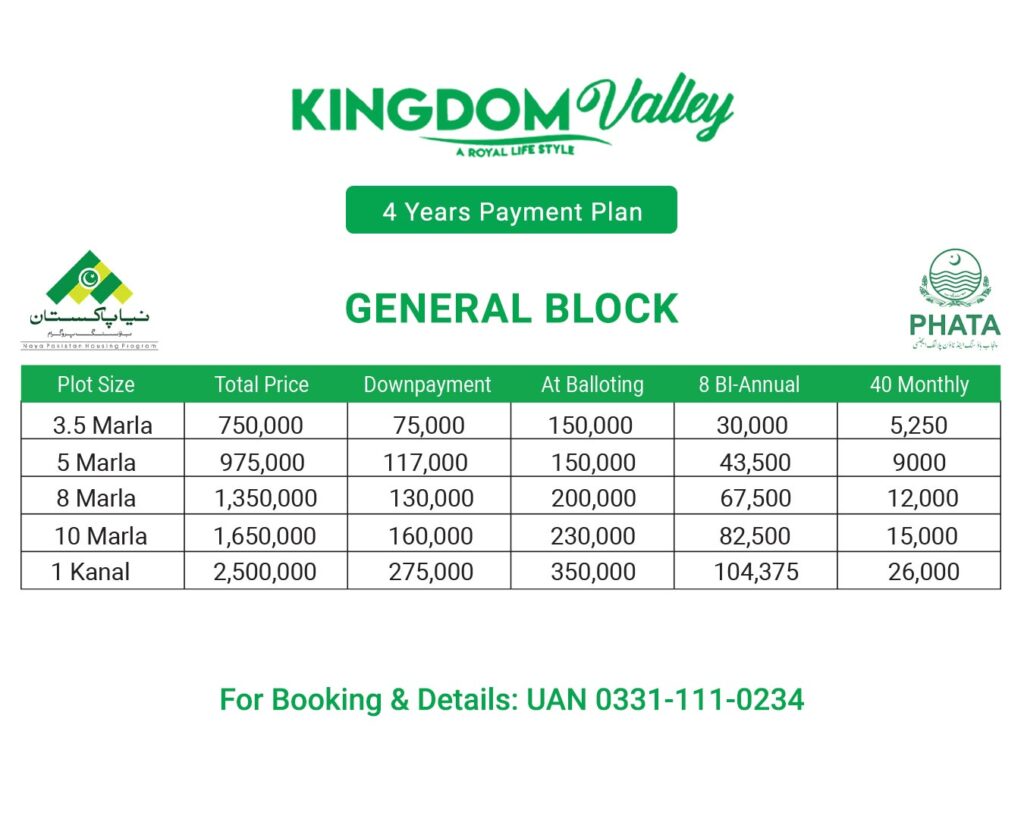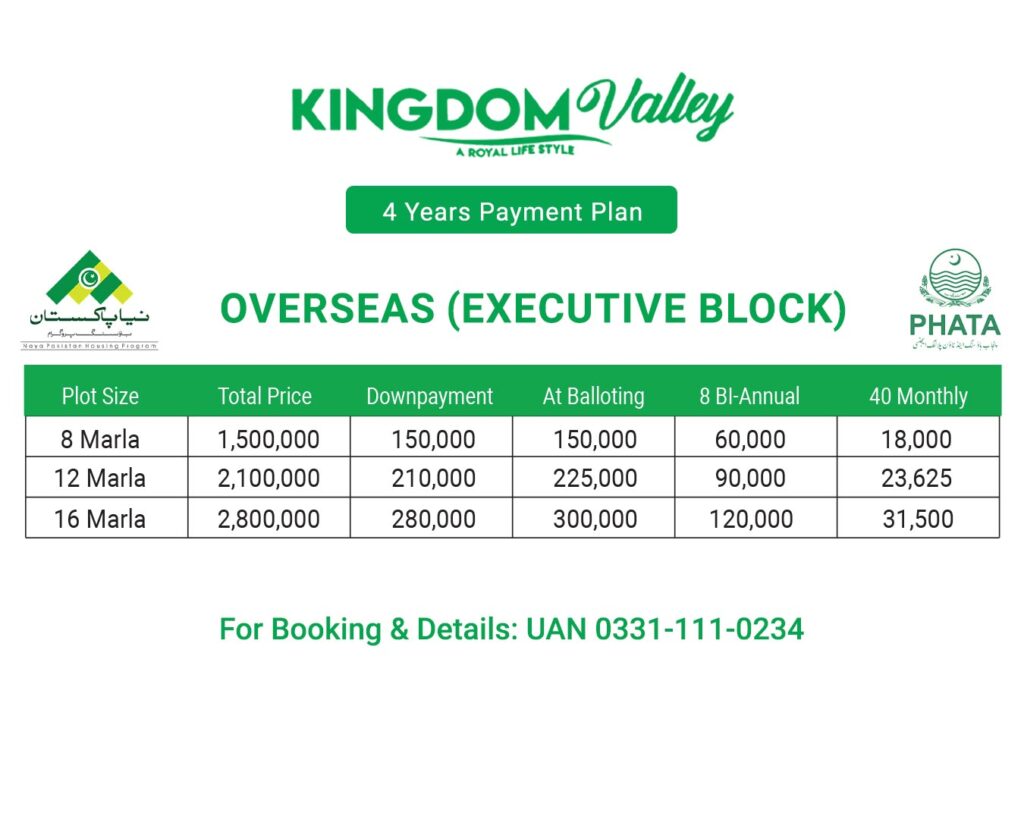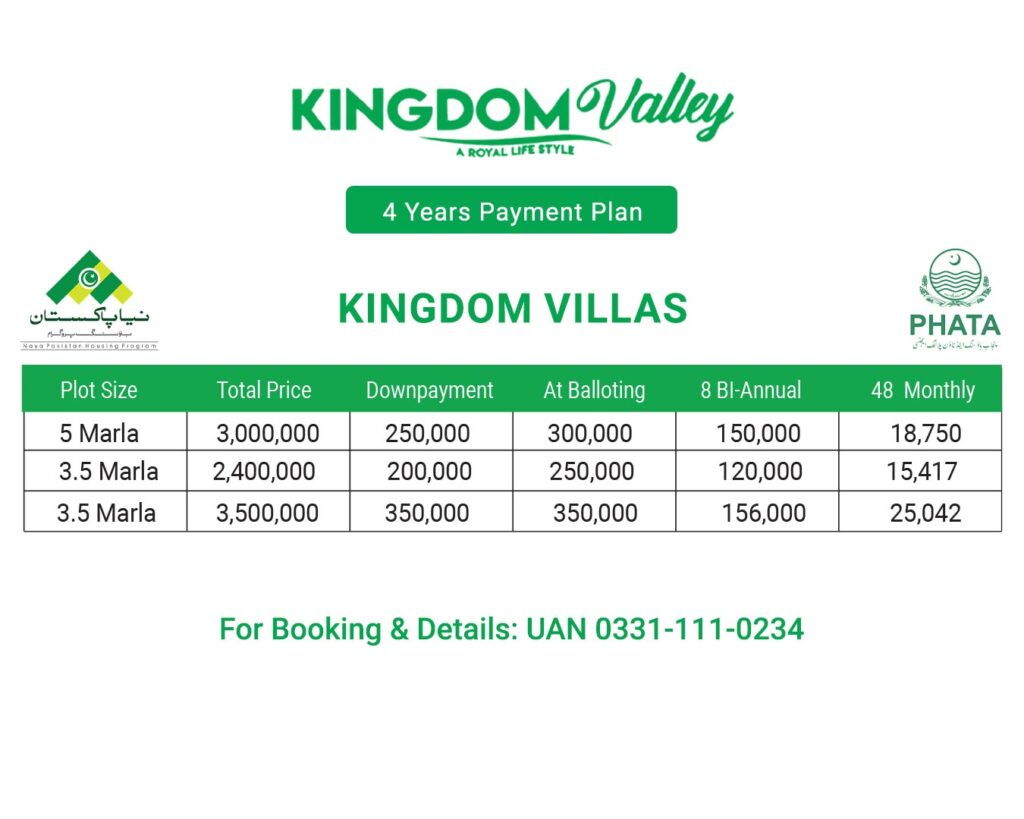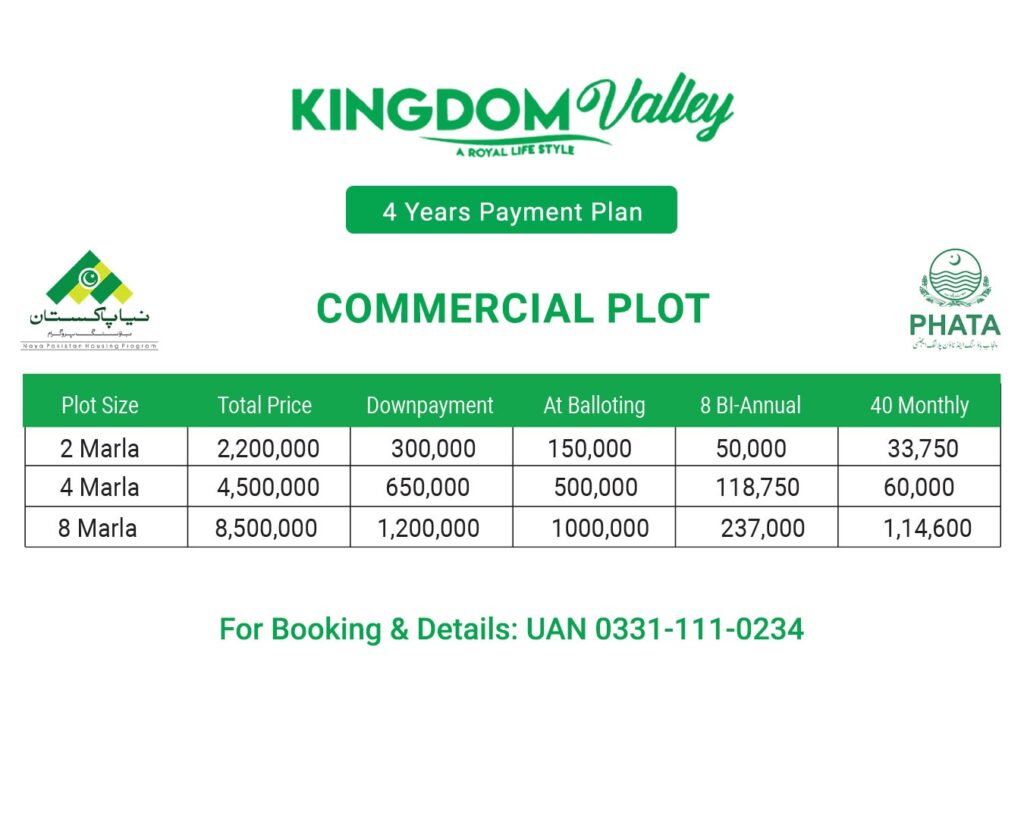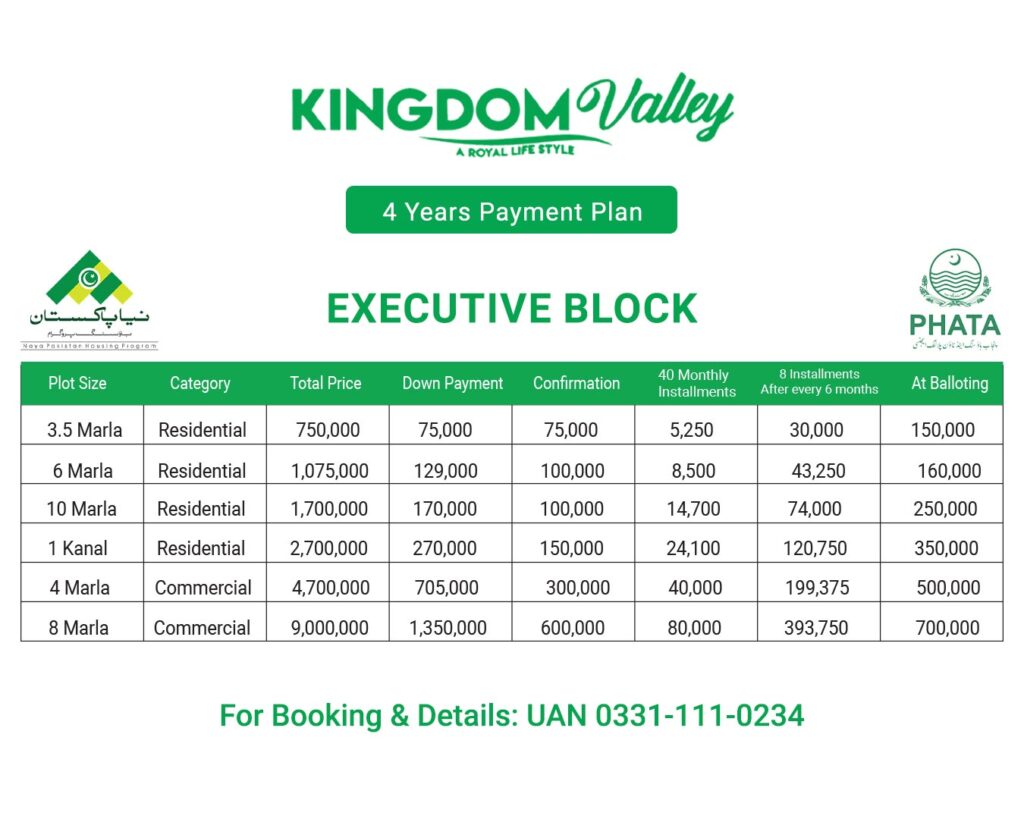 Okay finally we have moved to the most important factor of any investment that is Payment, Right? We will disclose the payment plans, using them you can own your own place. Kingdom Valley offers Various types of residential and commercial plots including luxury farmhouses, Residential plots, Executive Plots, Commercial Plots and kingdom Villas.
Anyone can Book their Plots at just a 10% down payment and you can pay the remaining amount through an Easy 48-month instalment plan and of the most of the remembered thing
Prices and payment plans May  be changed from time to time depending on the market environment
Every plot offers diverse luxuries, facilities and amenities and due to several sectors and different plot sizes prices vary from plot to plot.
 Note:
Payment plans and prices are subject to change without any notice.
If you book a plot then you have to pay the Instalments on 1st of each month.
You can pay down Payment through Cheque/ Pay order/ DD in favour of (Kingdom Valley)
Kingdom Valley Islamabad Pre Launch Price 
In Pre Launch offer plots prices of Kingdom Valley Islamabad prices get reduced. You Can buy your dream in the house in low amount, Plots booking starts with 1.25 lacs. and the rest of the payment amount on balloting, have 8 Bi-Annual and 40 monthly instalments.
Why Invest in Kingdom Valley Islamabad?
Are you still confused about why you need to invest in Kingdom Valley? Well, nothing to panic about because I have some valid and authentic reasons to invest in Kingdom Valley. Kingdom Valley Islamabad is an excellent chance for investment in the capital city of Pakistan, With different types of properties available for investment any person who comes from any financial background has the golden opportunity to buy a residential plot.
This project is very trustworthy for investment. because it is the part of "???? ???????? ??????? ???????. Many people are afraid before investing money in a Project where authorities don't get NOC from several authorities but don't worry Kingdom Valley Islamabad is an NOC approved project by several authorities so don't worry about these issues. This housing project offers a very economical residential plot WIth a budget-friendly payment plan in several monthly instalments to make the investment easier for the investor. In my opinion, it is one of the most valuable and beneficial investment approaches with the urbanized latest development shift. The housing project location is also very ideal as it is located near many important landmarks in the capital city.
Here, you can invest for monthly rental income, for residential and for reselling. So, it is a perfect investment chance with a positive and innovative environment given by developers for people to invest their money in the best housing societies of Islamabad for residence and investment.
Wrapping Up:
Kingdom Valley Islamabad offers you a best place to invest for your future, but that doesn't mean it costs you a lot. You can avail the best plot at an amazing price here. In this detailed post, we have covered every aspect of the Kingdom Valley Islamabad project. You can take a detailed idea before making any transactions. We hope this article was helpful for you and provided you enough information about Kingdom Valley Islamabad. 
The Property Guider is highly recommends this project is a great opportunity to invest. To learn more about projects like this, please visit Blue World City and Lahore Smart city. Nova City Islamabad and Capital Smart City Islamabad for more information about similar luxury items being offered at low prices.