Blue World City Islamabad
Blue world city Islamabad is a tremendous housing project by Blue Group of companies located near both Islamabad and Rawalpindi. It will be developed by Chinese developers and is the first Pak – China housing society. Because of having reasonable prices and installment plans, its demand is increasing among buyers and in existing investors. Take a look at the important aspects of this society.
Blue world city Islamabad is a project of Blue Group of Companies Owned by Saad Nazir, Son of ex-Deputy Commissioner Lahore Ch. Nazeer. Blue Group of Companies has signed an M.O.U with Shan Jian Municipal Engineering Company from China for its development.
About Blue Group of companies (BGC)
Blue Group of companies launched its services in 1989 in Lahore by its architectural design and construction operations. The company soon got a position of trustworthy and professional organization and acquired immense attention from the clients in the market. The Company has now emerged as a one-stop solution for quality services in different areas including real estate, development, architectural design, construction and marketing, IT support and commercial printing. Also, with convenience retail stores and clothing brands, the company has made its existence in the retail market as well. BGC is among the most diverse companies in Pakistan with having over 300 professionals working in different capacities.
Company structure
Blue group of company has indulged in a much-diversified set of businesses, owning the following companies
Blue Bricks
Blue Palms
Blue Properties
WPZ
Blue Technologies
Blue Media
Artimmix
Mart Blue
Brands Square
Previous Projects by BGC
Saad Nazir has previously achieved successful business and housing endeavors such as PIA co-operative Society, Center Park Lahore, Blue Sapphire, Blue mart & Blue technologies. Blue World City Islamabad is the latest project under the umbrella of Blue Group of Companies.
Blue World City Islamabad Location
Blue World City Islamabad is located on the main Chakri Road near Chakri Interchange on Lahore-Islamabad Motorway M2. It is one of the societies located near the transition of Rawalpindi and Islamabad and is close to Islamabad airport.  It is an amazing society with charming surroundings.
Request Call Back
Leave your message and we'll get back to you shortly.
The neighborhood of Blue world city
The City is adjoining with many other housing societies including Khaniyal Homes, University Town, Star Argo farms, Mumtaz City, Top city, and the famous Capital Smart City.
Connecting routes of Blue World City
Heading from Islamabad, Blue world city can be approached through Lahore-Islamabad Motorway M-2 to Chakari Road. The society can be accessed through Ring road and will be convenient from the furthest areas of Rawalpindi e.g. Bahria Town Islamabad, Giga Mall, DHA housing society and Bahria enclave.
Blue World City Noc
Rawalpindi Development Authority (RDA) granted permission to Blue World City against the Vide Letter no. RDA/MP&TF/F-PHS-PTR-10/148. Dated: 19-02-2019. At first, Initial planning permission for 427 Kanal of land was allotted to the city. Afterward, another application was given to gain Planning and Advertising permission for 5,000 Kanal of land. The application got accepted in August 2018, which issues NOC of 5000 Kanal land for Phase 1.
Blue World City Overseas Block
Blue group of companies has started overseas block in the blue world city. The overseas block will be graced with some lavish facilities. The block is purposely designed for overseas Pakistanis to fulfill their search for high expectations and numerous facilities. A limited quantity of residential and commercial plots are available in the overseas block on a first come first serve basis. The offer is a good chance for Pakistani living abroad to get their residents in Pakistan in the economic plan.
Location of Overseas Block in Blue World City
The overseas block has a prime location for access. It is directly connected with Rawalpindi Chakri road and is near to the designated gate through the main gate of the society. The overseas block will also be accessible from Rawalpindi Ring Road, after competition of the road, Blue world city will be connected with Motorway M-2 and Islamabad city. The project is getting popularity among local and foreign investors because of its convenient and adorable location.
The Distinction of Overseas Block in tThe Blue World City
Blue world city is designed to meet international standards of living optimized in an economical range of people. The overseas block is purely intended to stand on the expectations and needs of overseas Pakistanis for living features.  (Picture)
Payment Plan for Blue World City Overseas Block
Society is offering limited offers of plots that are as under
7 Marla plots
10 Marla plots
14 Marla plots
1 Kanal plots
2 Kanal plots
Request Call Back
Leave your message and we'll get back to you shortly.
Booking of the plots start at 10% installment and the remaining amount can be paid within 48 months or in 16 quarterly installments. The payment plan of Blue World City Overseas Block is as under: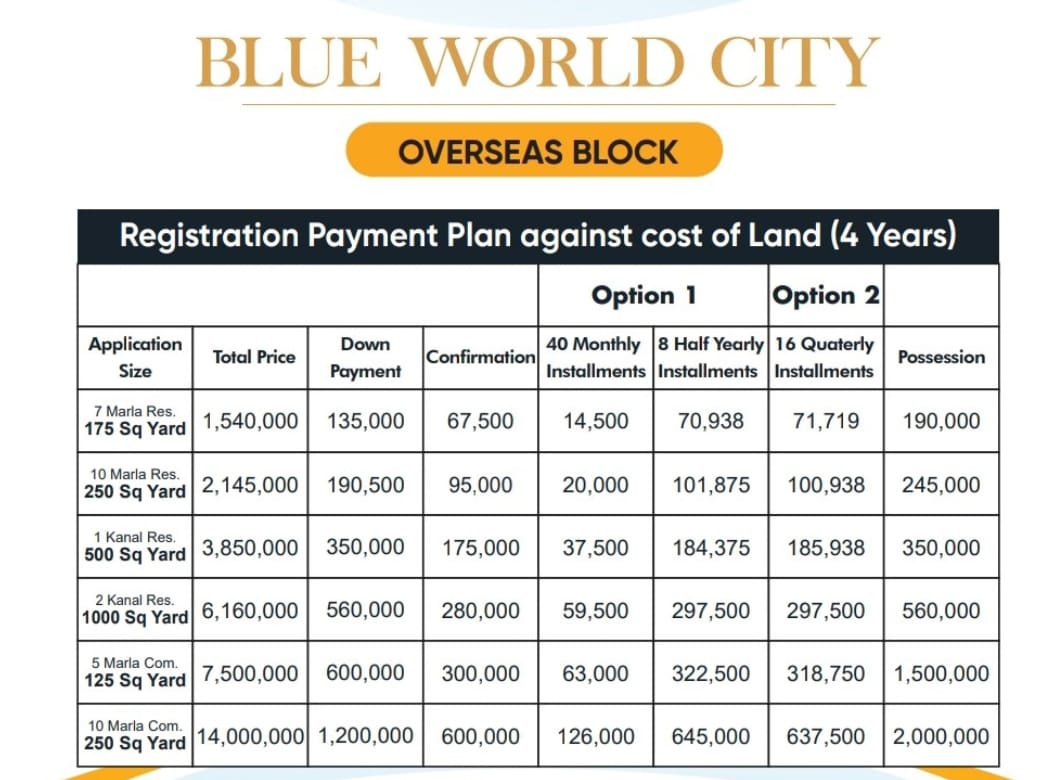 Blue World City General Block
The General block offers
5 Marla, 8 Marla, 10 Marla, 1 Kanal, residential plots,
5 Marla commercial plots
Blue world city has affordable 4-year installment plans for the convenience of investors. Booking starts with only 10% of the payment
Blue World City General Block Payment Plan
The payment plan of Blue World City is detailed as follows: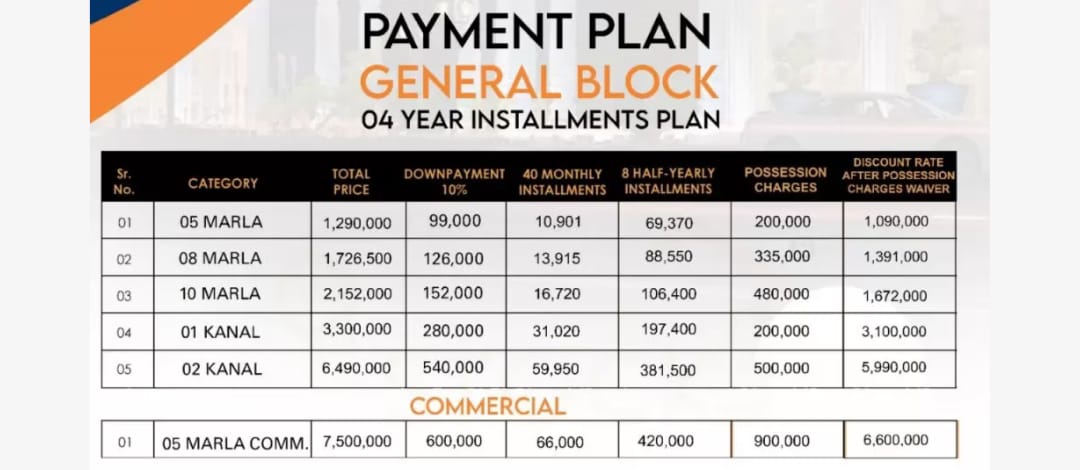 What is Blue Hills Country Farms
A busy and restless routine seems a burden on life. Everyone dreams to get a break from the hectic living and to spend a few moments of enjoyment and relief in a place of natural beauty and luxury. To provide that feature Blue Hills Country Farms is included in adjacency.
Why book a farm House in Blue World City?
Blue hills Country farm is a serene place to live. You can book a farmhouse and feel a purely natural environment and enjoy the glamour of nature. You will experience the facilities of the elite class along with the satisfied authority of your privacy and property.
Location of Blue Hills Country Farm Houses
Blue hills Country farm is mapped on the most peaceful location of the society. To provide a life full of natural soothing ness and adorns to the residents is the sole intention of the farm.  Away from the stress of the city, the farm has a beautiful water stream flowing nearby and is bordered by the natural lushness of the society.

Get in Touch
Leave your message and we'll get back to you shortly.
Blue World City Farm Houses Payment plan
You can book 4, 8, 12, and 16 Kanal plots in the Blue World City and shape your farmhouse. Following is the payment plan of Farmhouse plots.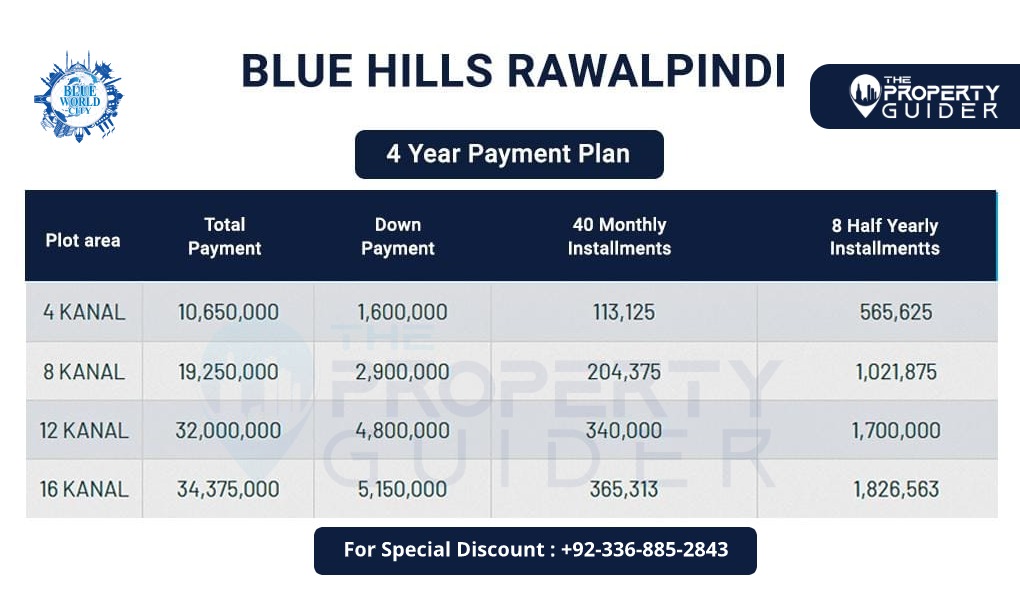 Blue World City Awami Complex
Awami complex is another majestic plan of Blue world city, equipped with all requirements of a lavish life. The complex has independent and duplex units with incredible views of society. They are intended to provide satisfactory infrastructure, elite facilities, and amenities.
Location of Awami Residential Complex
The Blue World City Awami residential complex is ideal in its location. It is alongside the main blue world city and located on the most demanded location near Islamabad International airport. Blue group of companies will develop the complex preferably. Common spaces and services will be made on the height of this symbolic property.
Project Details
The buildings are designed and divided into five floors high on the ground and basement. The complex has integral protection and multiple exterior faces towards the beautiful green landscape.
The units consist of the apartment of different sizes and various duplex Villas, respecting its level of protection and maintaining its unique architecture and its character. The design comprises of single and family units, offices, common areas, and lawns.
Awami Complex Residential Apartment:
Following are the categories of the apartments offered in Awami Complex:
375 sq. ft. 1 Bed Studio Apartment
550 sq. ft. 1 Bed Family Apartment
830 sq. ft. 2 Bed Family Apartment
Awami Complex Residential Apartment (5 Year plan)
Floor Prices: 
Ground Floor 100,000/- Additional
First Floor 75,000/- Additional
3.5 Marla Duplex Villas (5 Year Plan)
Floor Prices: 
Ground Floor 100,000/- Additional
1st Floor 75,000/- Additional
Seconf Floor 50,000/- Additional
Duplex Villas at Awami Complex
There are 3 categories available in the duplex villas stated as under:
675 sq. ft. Ground Floor
675 sq. ft. First Floor
675 sq. ft. second Floor
Facilities & Services
The Awami residential complex offers a variety of apartments designed by eminent designers and architects. These enormous villas with private gardens, studios, one-bedroom apartments, and two bedrooms units are designed to give you an elite & comfortable lifestyle.
Blue World City Awami Villas
The capacious property also allows you an opportunity to invest in the 3 Marla luxurious Awami Villas. These modern villas are designed to provide luxurious accommodations, wonderful facilities and services, and an adorable location.
3.5 Marla Villas (Single Story) 5 Year payment Plan
Investing in these villas is a golden opportunity to get fabulous accommodation that will ensure you a friendly and hospitable environment, with an optimal level of services, culture and a desirable location, reasons more than enough to not miss the opportunity to call these Luxury Villas your home.
Blue World Waterfront District
Blue World Waterfront District Block: In this detailed article, we're going to explore one of the massive projects Blue World Waterfront District. As we know Blue World City has achieved a massive area in real estate and attracted investors, now they are looking forward to expand their reach by developing the Blue World Waterfront District. 
According to their official report, this project will also be best for investors as it will have all the basic to advanced features and amenities such as luxury lifestyle, security, best education system, and others. Apart from these amenities the official report also confirms they'll provide a place at an affordable rate. 
Before you take you to the project you should understand the developer of this project. It project will be developed by a most reputed developer (BGC) also known as Blue Group Of Companies. 
As per the trusted sources we found in this project you will get various types of Marla, which will start from 6 Marla and go up to 18 Marla. In between these, you will have one more which is 12 Marla. 
Let's talk about its location, it is basically located in front of Phase 5 and 6 of the BWC overseas block. So if you are looking for a secure real estate investment and the best place to invest, then the Waterfront Block of Blue World City can be a handy project to invest in.
Blue world City Waterfront Block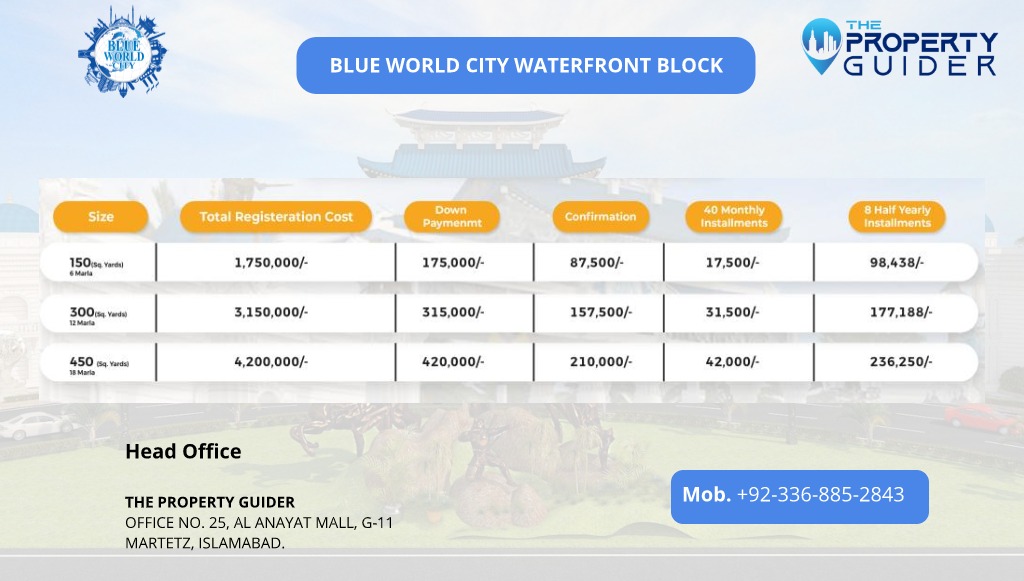 Salient Features of Blue World City
Blue world city will be a majestic society and masterpiece of Chinese development and architecture. The project is not only the most economical in the region but is also designed to fulfill the need for accommodation of over 2 million Chinese residents moving into Pakistan for the CPEC route project in the next few years. To meet this requirement it is a must for the project to introduce international standard facilities and infrastructure to not only ease upcoming Chinese residents but also to enhance the standard of living for the citizens of Pakistan. The society will emerge with some fantastic and cherished facilities
Water, gas, and electricity
The boundless efforts of our employees the society will facilitate the investors all the necessities of life including 24/7 hour availability of gas, electricity, and gas so that residents can live a stress-free living.
Replica of Blue Mosque at Turkey
Blue Mosque in Istanbul, Turkey is a masterpiece of tremendous Muslim architecture built between the years 1609. Its Marvelous designs have infused the planners of the Blue World City to build a replica of this marvel mosque in the society to retouch Islamic values and culture in Pakistan. After the Faisal Mosque, the replica of the Blue Mosque will emerge as a landmark and will admire visitors to the blue world society. The mosque will be a perfect representation and complement the theme of Blue World City.
Commercial hubs, Schools & Colleges
As society is aside from CPEC, it will be one of the largest commercial centers in the region. The society will emerge with unlimited commercial opportunities. The lavish society has the plan to develop modern business outlets and high-standard educational institutes in all the sectors of the society for the accessibility of residents.
The biggest water theme park in Pakistan
The society has a plan to build the biggest water theme park in Pakistan. The park will include fun water rides, volcanic waterfall, slides, specially designed water pools for underage children and water surfing wave pools, all of the international standards and will be first of its kind.
Gate Protection and Security
For your protection, Blue World City will have a large guard and gate staff to offer heavy security to society. A secure boundary wall around the society will guard the premises. The entrance of unauthorized people will be forbidden. Features such as face recognition and key cards will provide another layer of security to avoid unwanted visitors and misadventure in society.
Security is the first thing to offer near Blue World. To ensure high security, society has a trained staff serving day and night. CCTV cameras will be installed throughout society to catch every moment and to make residents lives stress-free.
For making the residents perform worships without any distant or timely traveling, the Blue world will have mosques in every sector. Also, Jamia Mosques will be built at a distance of a few steps.
A wide network of carpeted roads
Our constructors have started construction of a network of wide roads to connect all the areas of the society. These roads are proposed to be 40, 60, 80, 100 and 120 feet wide respectively. Also, concrete pathways and sidewalks will be built alongside the roads for pedestrians and cyclists.
The society will ease its livings and visitors with an internal network of the public transport system.
To cope with the power need of the society, a very own power plant is planned to develop in society. The plant will fulfill the need efficiently and productively and make the society load-Shedding free.
As of all the housing schemes are adapting underground electricity, the Blue world also making underground electricity for the whole society because of safety reasons. Not only this step will enhance the beauty of the place but also it will be safe for the livings and visitors.
Sports and cultural complex
Co-curricular activities are also important for refreshment and it is the habit of some people. To fulfill these and for the entertainment, Blue world city will include Multifunctional sports. Also, a cultural complex will be built to promote cultural diversity in the place.
An exceptional sewerage system will be installed with the help of Chinese engineers for a hygienic and eco-friendly waste disposal system in the society.
The housing society will install an innovative water filtration plant to assure a clean and healthy water supply everywhere in society.
Urban Greenery and lakes are essential for urban living, they are not only appealing locations but are good for the natural environment and social connectivity. For the children, these are needs for refreshment. The blue world has included parks and lakes in its lavish society.
The blue world tries to cover every bit of lavishness for its residents. Blue world city will develop 3d I-max cinema to give an advance means of entertainment to the residents.
Adventure club is a generous source of entertainment for a standard living. The society will build an adventure club having numerous adventurous activities such as horseback riding, paragliding, hiking, parachuting, dirt bike riding, etc. The club will be a platform of social interaction as well as a place of gathering for the people.
Yet Zoo is another great place of joy and social interaction, especially for children. The blue world has planned a zoo as well as a standard in which a variety of different species of animals and birds imported from all around the world will be there. Zoo will contain a safe amid route to drive with wild animals roaming freely.  The zoo will be an adventurous and exciting experience for its visitors.
Water pools and spa clubs
Another delight that people will taste will be its warm and freshwater pools and spa club. These pools will be full of relaxing features including therapeutic services and treatment.
For fulfilling the responsibility of occupant's safety the society will have a fully functional and responsive police station very near to the society.
Health and care is the most important requirement of a community. Project's master plan includes a fully operational modern 40-bed hospital equipped with the latest technology and machinery to facilitate the patients and to cope with any emergency.