After the success and wonderful popularity of Capital smart city Islamabad, Habib Rafiq limited has launched Lahore smart city. The project is the second innovative development of the company after CSC Islamabad. Also, this city is just the 2nd of its kind in Pakistan.
Owners & Developers
Habib Rafiq (Pvt.) is a construction and development group based in Pakistan which has developed some of the most impressive construction and engineering projects in the past. It has achieved international confidence and earned ISO 9000 certification due to its quality management process. Their remarkable success is the result of dedication, commitment to fulfill their customer demands, and both national and internal needs.
HRL has introduced a modern and better way of housing infrastructure and development in the last 15 years and is recognized as a respected name in the market.
Habib Rafiq Limited is considered as the name of honesty, trust, and professionalism. Any developer who works with HRL feels honored and lucky for being a partner of such an outstanding group.
Over the years HRL has been responsible for developing remarkable housing schemes such as Bahria Town and DHA in Pakistan. They have done the complete work including the responsibility of all the infrastructure of these societies i.e. construction of houses, electrical work, roads, water storage, mechanical work, gas supply pipelines, and also the planning services. And the greatness and popularity of these projects itself praise the ability of HRL.
Habib Rafiq Limited is striving for bringing a modern and luxurious international lifestyle in Pakistan. Capital Smart city Lahore is another feat of the developers after Capital smart city Islamabad.
Future developments Holdings Pvt. Limited also known as FDHL is a group association registered under Companies Ordinance 1984. Many national and international companies combined to form Future Developments Holdings Pvt. FDHL is a combination of some renowned management and technology groups including China Liaoning International Economic and Technical Cooperation Group Corporation Ltd (CLIC) and Engineering Dimensions (Pvt.) Limited (EDL) to work with combined expertise.
The company and sponsors have decades of experience in construction and development and have successfully delivered some of the best and renowned projects of Pakistan.
FDHL aims to provide advanced modern living experience in its residential and industrial zones. These residential and industrial zones are directly connected with Lahore-Islamabad Motorway (M-2) and areas around the CPEC Route.
Lahore smart city is located at the eastern bypass Lahore and also on the GT Road just 200m drive from Kala Shah Kaku Interchange on motorway. Also, it is well connected with the main Lahore city and can be accessed through the major routes.
Some of the Major Benefits of this Location are
As this society touches with GT Road and eastern by pass of Lahore so the distance between Gujranwala and smart city Lahore is just 40mins drive.
The smart city Lahore is near M11 motorway and one can reach Sialkot in just 50min drive.
Eastern by-pass connects with Lahore Ring Road so the DHA and Lahore airport can also be accessible from Lahore Smart City
Access Points of Lahore Smart City
The Access Point of Lahore smart city is planned on Main G.T Road and Eastern By pass Lahore.
Both of these Access points will be used for the entrance of smart city Lahore
Master Plan of Lahore Smart City
To gain great quality and meet international standards, The Master plan of the society was given to a Singapore based Consultancy Company named Surbana Jurong (SJ). It is designed by Norman Foster.
About surbana jurong (sj)
Surbana Jurong is a reputed company having headquarter in Singapore. SJ is one of the famous and trusted Asia-based urban, engineering, and infrastructure consulting company. It comprises a global team of 16,000 employees, including architects, designers, planners, engineers, and other specialists working across 120 offices.
The team has the vision to design the cities into homes with satisfactory employment opportunities, where businesses and society can do well.
The master plan of Capital smart city is created on an organized method of development. It includes a limited range of facilities to provide new commercial, residential, and entertainment features in society.
The master plan includes the design of natural features in society as an important need. Also, the plan includes new infrastructure such as a public transport network with several stations and stops. A Central main road and a cluster of the high-rise building has been planned in the master plan.
The concept of a smart city is based on the idea of developing an advanced place that will provide a modernized place to live, work, and play, and attract foreign investment.
Blocks in Lahore Smart City:
Currently the smart city Lahore has launched two blocks
Overseas Block
Executive Block
Overseas block at Lahore smart city
With this initiative, Capital Smart City has planned to offer a secure and valuable investment opportunity for overseas Pakistanis to invest in Pakistan. Being on prime location & having luxurious facilities, the overseas block has immediately become the heart of Smart City Lahore.
Very soon, the block will become a desired residential place for Pakistanis who are living abroad.
To book a residential or commercial plot in the Overseas block of Smart City Lahore, its application has to attach a copy of their or Overseas National Identity card along with all the other relevant documents.
As far as payment plan is concern, the overseas plots are expensive then executive Block.
Executive block at Lahore smart city
The other block of smart city is an executive block which is mostly for the local community which resides in Pakistan.
Lahore smart city Payment Plan
Following is the payment Plan of smart city Lahore, To better Understanding please watch video.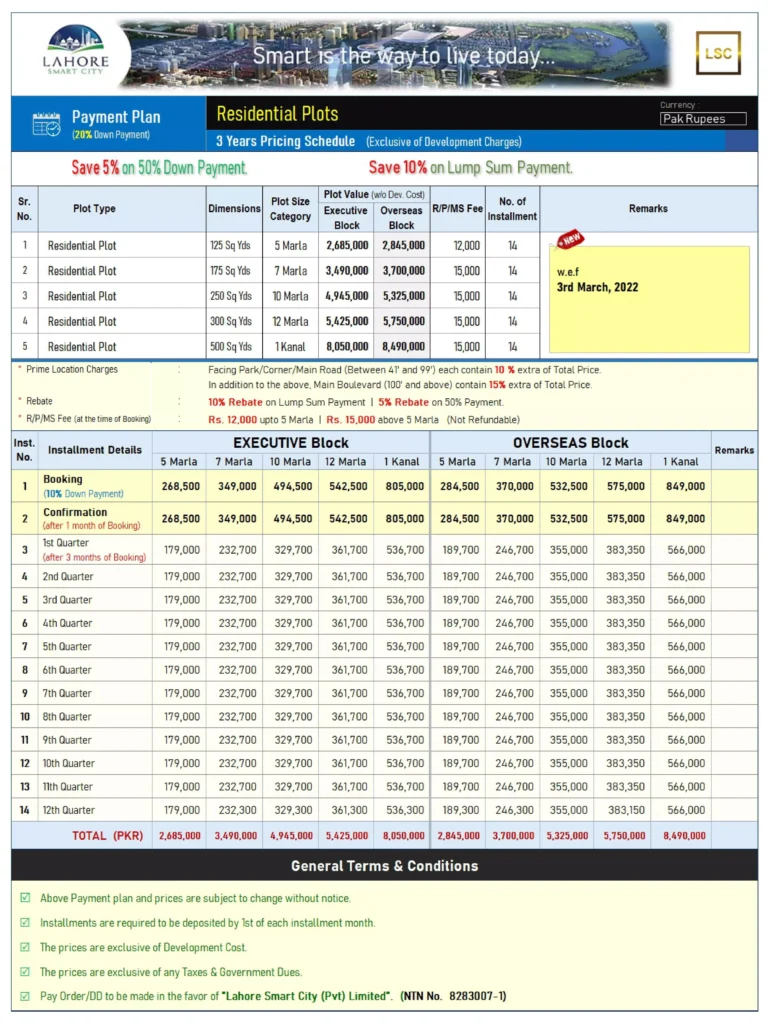 Lahore smart city Commercial Payment Plan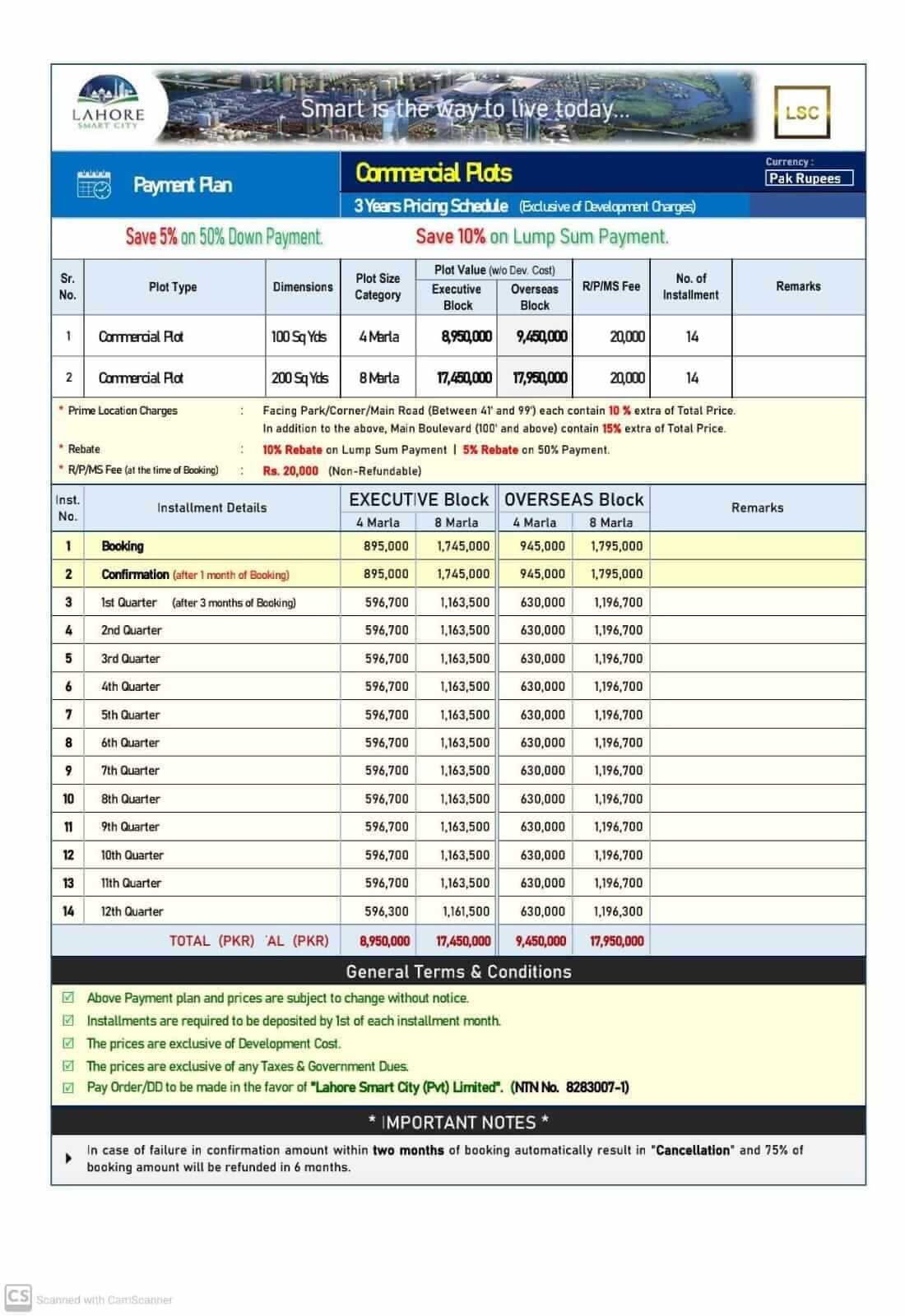 Features and Specialties of Lahore smart city
The Lahore smart city will have all the modern and creative features and techniques of a highly advanced and luxurious lifestyle. The housing society will use all the innovative techniques and tools of International standards to provide its residents with a Smart living.
Lahore smart city is a great opportunity for the people of Lahore to build their residency in it. This community not only gives a lifestyle of international level but also provides modern facilities in the first place in Pakistan.
The administrations of the city will be monitored by different devices connected through the internet. Efficient devices and software will be used to manage municipal tasks such as traffic control, parking, lights, and waste management.
The city will have a healthy environment. All the technology utilized will be Echo-friendly. A sufficient amount of greenery will be maintained.
Active management will ensure the cleanliness and beauty of the place.
Hence, the Lahore Smart City is a perfect place for you to book an ideal place of living for your beloved ones.
Lahore Smart city has an unmatched combination of facilities. All the needs of life will be ensured within the premises of the society so the occupants will not need to go away. The project includes
Hotels, Shopping centers, and Sports clubs
Smart and modern Housing plan
World Class infrastructure
Mosques, Parks, lakes
Recreational Activities
24/7 Water, gas & electricity
Smart apps i.e. traffic, weather, electricity, internet
Green and Clean environment
Underground Electricity
Elements of a Lahore Smart City
A Smart City comprises of these elements to raise a modern community.
1. SMART ECONOMY, SMART HOUSING, SMART ENVIRONMENT
The aim of a Smart City is to provide a unique, sustainable development and services to its residents by modern administration. Capital Smart City Lahore fulfills all the requirements of an impressive smart city including the following
2. JOB OPPORTUNITIES
The capital smart city will be the first commercial center in the region. It will be a center of international businesses and investors. These opportunities will facilitate its residents and provide numerous job opportunities. The society will also create a variety of commercial and service sector job opportunities, and so contributing to the economic condition of Pakistan.
3. COMFORTABLE & QUALITY LIVING
The society is planned to create a pleasant social environment in the region so the people can enjoy a pleasing and peaceful living. It will emerge as a center for commercial, residential and recreational opportunities.
REMARKABLE TRANSPORT INFRASTRUCTURE
All the planners and workers are trying to make an easy and comfortable source for traveling inside and outside. A network for road users, connecting routes to main neighboring routes, pedestrians, cyclists, and other mobility need is being built with great advancements. The society will bring a remarkable transport infrastructure with higher efficiency.
4. IDENTITY & HERITAGE
The capital smart city will become an iconic place for both international and residents because of its unmatched structure and facilities. Its buildings and amenities will be a wonderful piece of modern architecture. New religious and cultural centers will be built. Capital Smart City will become a mark of uniqueness and heritage.
5. RESOURCE MANAGEMENT
One of the basic reasons for introducing the smart city concept is to utilize resources in the best manageable way and to save them from wasting. Capital Smart City is designed in such a way that the infrastructure of the society is built to enhance the natural features of society and keeping the development as eco-friendly as possible. The advanced solid waste management system integrated into the society as well as the sufficient supply of water and electricity is one of the most important arrangements of this innovative housing scheme.
6. ECO-FRIENDLY ENVIRONMENT
Being a smart city, the project has included the conservation of natural resources as a priority. From development to its competition, society ensures that the natural areas of the surroundings are not disturbed. So, Capital Smart City becomes a society where the residents can truly experience an environment of peace and calmness.
Benefits of Investing in Lahore smart city
First-ever Smart City in Pakistan
Reliable & Trustworthy
Upgraded and modern living
Safe Investment
Easy Installment plans
Attractive Facilities
Grade 8 Development
Investment of Foreign Companies
National Defense University
Good return on Investment
Smart apps
Designated interchange by FWO
Diversity of jobs and careers
Efficient Resource Management
A new destination for Entertainment
Load shedding free zone
Electric bikes for easy & eco-friendly transportation
How to book your plot in Lahore smart city?
To book your plot in Lahore Smart City, are required following documents
Copy of your CNIC
Copy of your Next to kin ( father/mother/brother/wife/sister)
Passport size photograph
Booking amount (Cheque/ Pay order/Cash) in favor of Future Development Holdings Pvt ltd