Capital smart city Islamabad
Capital smart city Islamabad is a modern housing society at the merge of The twin cities. The mega project is the first city in Pakistan that is developed on the concept of a smart city. You will find enjoy the state-of-the-art amenities and facilities at the prime location of Islamabad. You can imagine the experience where you can control home activities and travels with the mobile. Its easy payment plan, reasonable prices and uncountable earning opportunities will turn your investment into a profitable deal. Capital smart city has gained tremendous popularity among national and international investors who are joining in the residential and commercial blocks of the society.
Capital smart city Developers
Habib Rafiq (Pvt) has partnered with Future Developments Holdings (FDHL) to develop Capital smart city Islamabad. Both are the big names of Pakistan's real estate sector.
Future Development Holdings
Future Development Holdings FDHL is an alliance formed under the Company ordinance 1984. China Liaoning International Economic and Technical Cooperation Group Corporation Ltd (CLIC), Engineering Dimensions (Pvt.) Limited (EDL) and many other firms combined together to form FDHL. The alliance has delivered several big projects. Currently, it is responsible for developing many industrial and residential zones near CPEC and Lahore-Islamabad Motorway (M-2).
Habib Rafiq (Pvt.)
Habib Rafiq (Pvt.) is an ISO 9000 certified Pakistani development and construction company. HRL is operating in Pakistan's real estate sector for decades and has built some of the most exemplary projects in the past. Bahria Town and DHA are among its building feats. The firm is known for its Excellency, professionalism and trust. 
The master plan of Capital smart city
Capital smart city owners want this innovative society to achieve the heights of Excellency. For this, they have hired the services of Norman Foster for the capital smart city master plan. While the Famous Singaporean consultancy company Surbana Jurong is making the master plan of the Capital Smart City.
Surbana Jurong
Surbana Jurong (SJ) is a Singaporean planning and development company. SJ is famous for its professionalism and quality services and is considered one of Asia's prominent infrastructure development companies. The working team has more than 16000 professionals, including planners, architects, designers, and engineers.
Capital smart city Islamabad Master plan has three types of sectors the residential, commercial and recreational. We will guide you about different blocks later in this article.
All the services and development of the community is kept eco-friendly as the main element of the plan.
A wide main boulevard will provide the main route to the society whose sides will have beautiful skylines.
The whole society is connected with public transport.
Capital smart city Islamabad location
Capital smart city Islamabad is located at the joint of Rawalpindi and Islamabad, so you can easily access the facilities of twin cities. The residents will also enjoy natural views as Khair Murat reserve is close to the residency.
You can reach the society via various routes, including the Lahore-Islamabad motorway. The modern living is located on the Chakri road while Rawalpindi ring road also provides easy access. Besides, Motorway M-2 Toll Plaza of Thalian interchange connects your place with the major cities of Pakistan.
Capital smart city Islamabad location is a very developed region. It is home to other prominent societies, including Blue World City, Al Mairaj housing scheme, Qurtaba City and Eighteen Islamabad. The new Islamabad airport is accessible 6 minutes from the community.
The capital smart city location makes it a very worthwhile project where you can find lavish living for your family.
Capital smart city total area
Capital smart city map is officially released for investors. The innovative city of one of the largest housing societies in Pakistan by area. The innovative residency covers a total land of 55000 Kanal. However, Its master plan will extend in the future.
Capital smart city Islamabad NOC and Permission
Capital smart city Islamabad has received a Non-Objection Certificate from Rawalpindi Development Authority (RDA) for whole planning and development. However, The NOC for additional land for extended blocks is under revision and is expected to approve soon.
Facilities and Infrastructure at Capital smart city Islamabad?
The community is the first smart urban development of Pakistan. Many innovative techniques and emerging technologies will be utilized to provide communal services. The Capital smart city ensures every operation and development to be eco-friendly and maintains an excellent green environment. Here is the list of some attractive features & Facilities of Capital smart city.
Main aspects of Capital smart city
Capital smart city Islamabad is the first sustainable smart city in Pakistan. It covers every aspect of modern living and promises a life that fulfils basic amenities by the mean of emerging technologies. You and your family will experience the following elements in the innovative lifestyle.
Job opportunities
Commercial areas will generate employment for the locals. Every skill and level of pay will get multiple options to earn a living in these sectors. Also, you can start your business in these properties, which will eventually give significant revenue and profit.
Besides the two options, the community is very much connected with Rawalpindi and Islamabad. You can operate your business and job in these economic hubs.
You will also be close to CPEC that is the economic backbone of Pakistan.
Peaceful and quality living
The whole community enjoys the beautiful location of Islamabad. The weather and surrounding beauty will endorse your living every day.
The management maintains a green and clean environment in society. Also, many parks, sports complexes, sidewalks, and other recreational places are part of the plan. So, such amenities offer great joy for every member of your family.
Moreover, smart facilities and modern management will give your family a unique experience of its kind.
Capital smart city Overseas Block
Capital smart city Executive Block
Why invest in Capital smart city overseas block
Suppose you work outside the homeland and want to invest in the beloved country for a modern living. In that case, the Capital smart city represents the best opportunity option in the overseas block. The block holds the advantages of being the most advanced and developed sector of the smart community. Here you and your family can get innovative facilities of international scale. Your investment will turn into a safe and profitable property in future.
Capital smart city Islamabad launched its overseas block in the society at London Dorchester on February 20th 2018. Overseas intended to provide a tremendous luxurious living to overseas Pakistanis. By allotting a separate block, The developers want to pay tribute to those Pakistanis who work abroad and represent the nation's image outside the borders. The Capital smart city is the first housing project to make a designated place for overseas countrymen.
The overseas block is the most valuable district of the community, which enjoys a prime location and extraordinary facilities.
Location of Overseas block
Capital Smart City Overseas Block is located in the upper area of the society on the right side of the main boulevard. It is connected to motorway M2, and you can access it from the Thalian interchange.
Residential Plots of overseas block
Overseas block offers residential plots in the following sizes
5 Marla
7 Marla
10 Marla
12 Marla
1 Kanal
2 Kanal
The booking procedure of overseas block
You can book your desired plot with Capital smart city online booking. You don't need to come to Pakistan or the office. You can just use the online procedure of plot booking from anywhere.
Required Documents for Booking in Overseas Block
2 Passport size pictures
2 Photocopies of your NICOP
2 Photocopies of Your next to Kin/ Nominee ID Card
Booking amount of the plot
Possession of Overseas Block
The possession of the overseas block plots of the Capital smart city is expected to be granted by April 2020. The investors should follow the payment plan and pay their instalments of the booked plan to avoid any delays in the possession and allocation of your plots.
Capital smart city Smart Villas
Capital smart city Smart villas are the most advanced and lavish mansions in the innovative society. Trivelles International are given the task to build these elegant villas in the overseas block. Trivelles International is a UK based firm that will design the villas. These apartments will be embedded with superb features of new smart homes technologies. Capital smart city villas will provide You and your family a royal lifestyle.
Royal features of the smart villas
All the society provides an advanced means of living. However, smart villas will define innovative living to a new level. Take a glance at some of its delightful features.
Smart switches
Temperature and humidity sensor
Automated door lock
Gas sensor
Smart doors and windows
Magic box
Remote access via mobile phones
Smart motion sensors
CCTV outdoor & indoor cameras
Location of smart villas
The smart apartments reside in an eye-catching location in the overseas block. They are to be built between Crystal Lake and the 18-hole Golf Course.
Categories of smart villas
The overseas block offers smart villas of 3 categories based on the amenities and price range. However, All the categories have features of smart homes.
Classic villas offer you to install custom tiles, cabinets, doors, windows, a furnished kitchen, and others in your home. These features differ the villas from ordinary properties of the society.
Another type of smart villas is premium villas which allow you to define your homes more on your likes and terms.
Exclusive villas provide the highest level of advancement and amenities in the overseas block. They are entirely advanced and gives you tremendous experience of innovative life.
Types of villas
Based on the size, smart villas are 5 Marla and 10 Marla. The two types are further classified into categories
5 Marla luxury villas in Lake Boulevard
Abbey villas (5marla-3 bedrooms)
Strand villas (5marla-4 bedrooms)
10 Marla luxury villas in Lake Boulevard
Harley villas (10marla-4bedrooms)
Regent villas (10marla-5bedrooms)
Capital smart city Executive Block
The Capital smart city launched Executive Block on May 2nd, 2019, in a ceremony at the society. Executed block has superior facilities than other society plots. After the overseas block, it is the most incredible place in the community. It is specially launched for those who indeed pay their instalments on time. You can convert your General Block plot into Executive Block. The conversion offer is just for a limited time. May 24th 2019, was the last date of submitting the application for conversion or booking a new plot in this block.
After the date, an additional 30% charges are applied on the conversion.

The price of plots in the capital smart city Executive block is 30% higher than that of General Block.
Location of executive block
The block is located between River and Golf Course. The location of this block makes it a perfect choice for a profitable Investment.
Capital Smart City General Block
The general block is one of the largest districts in Capital smart city. It includes both residential and commercial plots of sizes of 5 Marla to 2 Kanal. The district is located next to the overseas block.
3.5 Marla Residential Plot at the Harmony Park- Capital Smart City
Capital smart city announces another block of Harmony park with 3.5 marla residential plots. The owners have launched this block, especially for those who want to be part of the innovative housing society with a smaller investment. Many investors were willing to be part of Pakistan's first smart city but cannot do higher prices. The community adds an opportunity to low-income people with the option, and everyone can join the community.
Harmony park block is located next to the executive block. The 3.5 plots (dimensions 20 X 40) are 90 Square feet.
Harmony Park will offer the same facilities and development standards as the other blocks of society. However, the property prices and sizes are comparatively lower and more affordable. The price of the harmony block is the lowest in the Capital smart city payment plan.
3.5 Marla Plot at Capital Smart City Price and Payment Plan
Harmony block 3.5 Marla plots are available on a 3.5-year easy instalment plan with only PKR 14000/- Monthly instalment.
5% discount is available for 50% payment and a 10% discount on full pay.
Prices do not include development charges.
15% Extra charges apply to the plot located on Main Boulevard (100 feet or above).
The Harmony Park Villa Apartments Prices and Payment Plan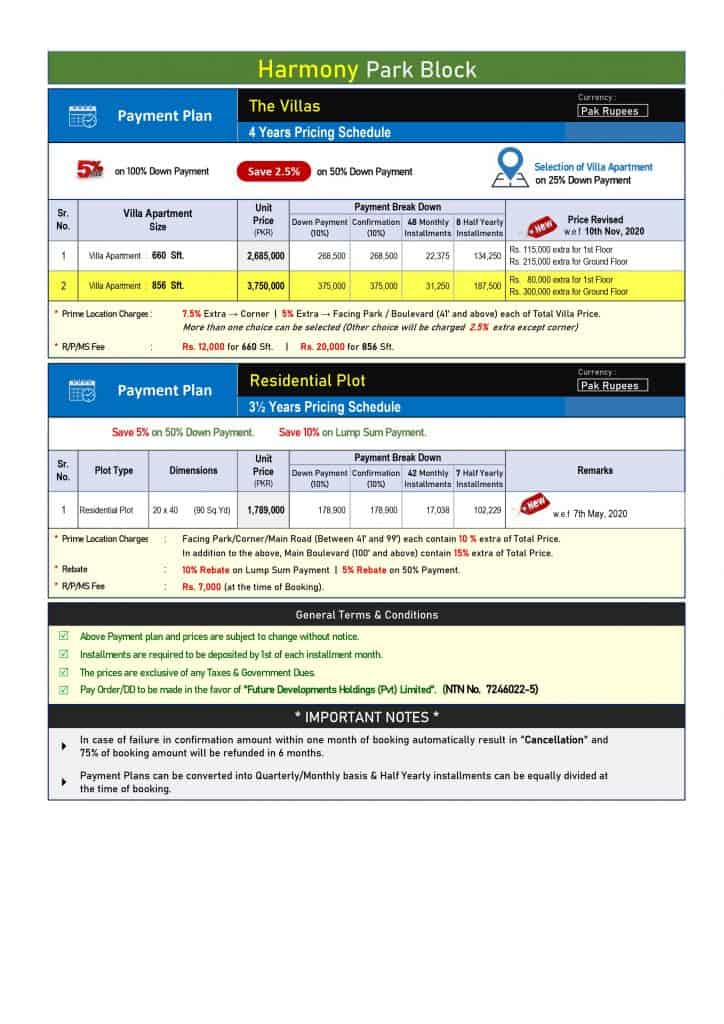 Types of Villa Apartments
Capital Smart City Islamabad is introducing two types of villa apartments in Harmony Park.
5 Marla One bed Villa Apartment-660 Square feet.
5 Marla Two bed Villa Apartment-856 Square feet.
The villa apartments will build similar to luxury villas. Every building consists of 3 floors, and each building has two apartments. So, every structure comprises six units.
Floor Plans of each of the villas are attached for your satisfaction.
5 Marla (650 Square feet.) Villa Apartment Floor Plan (Picture)
5 Marla (856 Square feet.) Villa Apartment Floor Plan (Picture)
The Harmony Park Villa Apartments Prices and Payment Plan
Harmony park villa apartments can be purchased with a convenient  4-years payment plan.
Bookings of the plots are granted from only a 10% down payment with 10% confirmation charges which must be paid after 30 days. However, you can pay the remaining amount with monthly and quarterly or semi-annual instalments according to your easiness.
5% discount on 50% payment
5% discount on full Payment
Prices include development charges.
Category plots
5% extra charges for a corner plot
5% extra charges for Park facing and Main Boulevard road plots.
Harmony Park block is offering these villa apartments for a limited time. So, we recommend you don't miss this golden opportunity and get the dream house in the first smart city of Pakistan.
Capital smart city Commercial areas
The capital smart city will be a complete residency that provides every necessity for its premises. Many residential blocks have commercial units with government and private offices, franchises, shopping malls, shops and financial centres. Such areas will provide a shopping place to the residents to fill your daily cart and fulfil other shopping needs. You will not need to go too far for these needs.
Besides, lots of economic centres will offer job opportunities of every scale and level. The economic zone will make the society self-reliant and sustainable by promising employment at their block, which will enhance the financial condition of our country.
The residents can find a commercial zone every 400 meters. You can purchase commercial plots, set up your own business, or use the property to multiply the initial investment.
Location of Commercial Plots
Commercial units are located in the following four blocks of Capital smart city.
General Block
Executive Block
Overseas Block-I
Overseas Block-II
Another commercial unit is planned besides the main boulevard in the 3rd stage of a sky-high building.
Capital smart city payment plan
various residential, commercial blocks, and Luxury Villas are available in the society with sizes ranging from 5 Marla to 2 Kanal. The planners provide a 3-years payment plan to ease the investors.
Capital Smart city plots Categoty
Category plots prices are higher than ordinary plots. See the list of category plots with additional charges.
Main Boulevard (100 feet above) : 15% Extra
Main Road (41 to 99 feet) : 10% Extra
Facing Park: 10% Extra
Corner: 10% Extra
Capital Smart City Commercial Payment Plan
Currently, plots ranging from 4 Marla to 8 Marla are available for sale. Commercial properties apply a 3-year payment plan for each type of plot.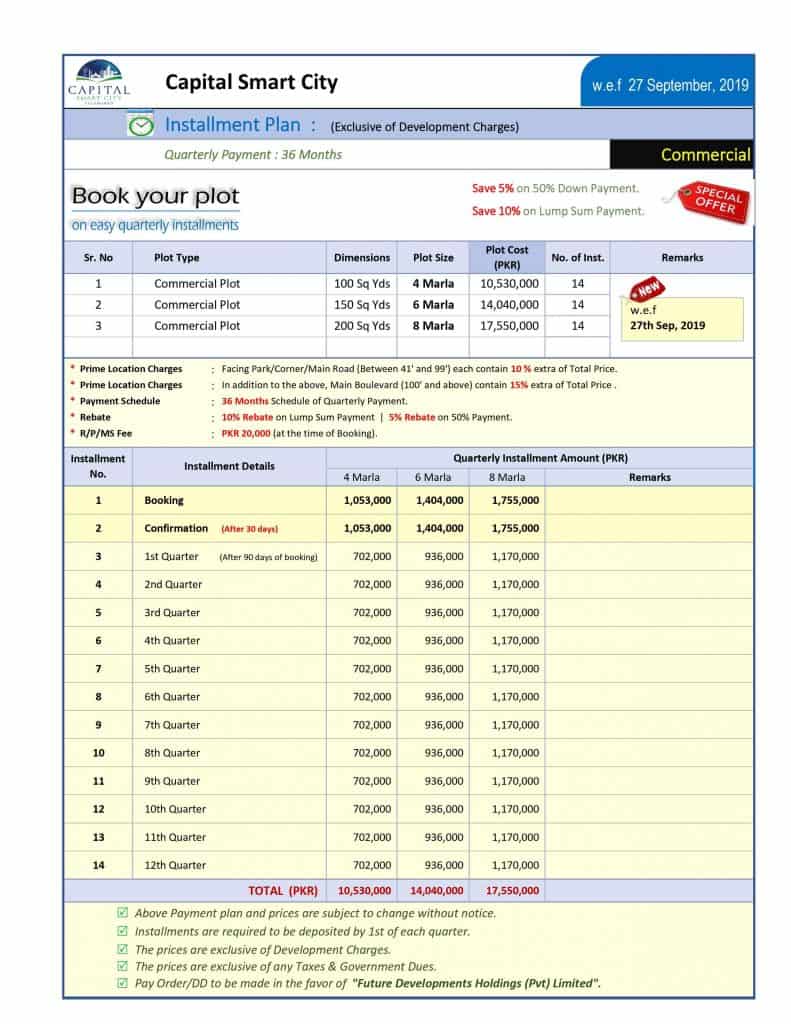 Capital smart city instalment plan
All types of properties are available with many flexible instalment plans, which you can opt for as of your convenience and need. We have attached the detailed capital smart city instalment plans.
How to book your plot in Capital Smart City?
To book your plot in Capital Smart City, the required documents are
Copy of your CNIC
Copy of your Next to kin ( father/mother/brother/wife/sister)
Passport size photograph
Booking amount (Cheque/ Pay order/Cash)