Taj Residencia Rawalpindi
Taj Residencia Rawalpindi is an peaceful and luxurious residency close to beautiful Islamabad, Taj Residencia is a housing project where the residents find an elite lifestyle in the commercial hub of the capital region. The community is offering many modern facilities along with the superb surroundings of Islamabad.
Taj Residencia Developers
Taj Residencia Rawalpindi is a proud project by the Sardar Group of Companies. The group originated in Iraq with the automobile selling and rental business. Recently, the firm started investing in Pakistan's development sector and built Centaurus mall, a glorious and self-explanatory entity. Now it has launched a complete housing society.
Location of Taj Residencia Rawalpindi
Taj Residencia enjoys a peaceful location which is also a commercial centre of the future. On one side of the coin, it is situated in the beautiful region of Islamabad, while the community is a bit away from the metropolitan bustle of the Capital city.
Taj Residencia is located on the border region of Rawalpindi near CDA Sector I-14. You can reach the main points of both Rawalpindi and Islamabad within a few minutes. I-14 link road is one of the access routes. However, the Rawalpindi ring road will provide access to the Islamabad motorway.
Besides, Taj Residencia holds an important location where Quaid-e-Azam International Hospital is a 5-minutes' drive. Also, Islamabad Airport is 10-minutes, and Centaurus Mall only 20 minutes away from your desired place.
Total area of Taj Residencia Rawalpindi
RDA has granted permission for development of land to the Taj Residencia.
Taj Residencia Legalization and NOC
Taj Residencia comes under the jurisdiction of the Rawalpindi Development Authority (RDA). The RDA has approved NOC for the project. Hence, Taj Residencia is totally legal to invest.
Impressive Features of Taj Residencia Rawalpindi
Modern residential properties
Every residential plot and villa is planned on the modern infrastructure and will possess high-end facilities.
Systematic plan and design
Your today's investment in Taj Residency will turn into a fruitful step for your family in future. Taj Residencia is planned and designed under the supervision of professional engineers, environmentalists and urban planners. The master plan includes every necessary element of international standard infrastructure and development. A sufficient amount of greenery is maintained, and several recreational places are part of the society. The main roads and streets are wide and beautiful.
Your dream place will enjoy easy connectivity with society as well as with Islamabad and Rawalpindi.
In addition to residential facilities, Taj Residencia provides various business and job opportunities to the community. The master plan has several commercial areas in multiple sectors where shopping centers, shops, franchises and offices of companies will be built. Such zones will create employment of every skills and scale and enhance the financial well-being of the people.
24/7 provision of basic facilities
The residency has excellent Management of basic facilities, including gas, electricity and water. Taj residency will ensure an uninterrupted supply of gas, electricity and water.
Facilities of Taj Residencia Rawalpindi
The community has several facilities and amenities
The Centaurus Mall 2 inside the society
Modern Hospital to provide the health facilities
International standard Schools
Colleges with modern labs and equipment's
Theme park for the enjoyment of your kids
Safari park with many wildlife species
Botanical garden decorated with beautiful flowers and plant
Royal Club for quality entertainment to your family
Grand Jamia Masjid for performing Islamic obligations
Mini Golf Club for golf lovers
Sports Complex where teenagers can enjoy various games and sports
Taj Residencia Residential Plots Details
Taj residencia is offering residential plots of many sizes in different blocks. They are also classified into category plots including corner, boulevard, regular and park-facing plots.
Bluebell block Taj Residencia Rawalpindi
The developers have announced a new block in society, the Bluebell. The block is offering plots of 5 Marla with state-of-the-art facilities for you.
Taj Residencia Rawalpindi Payment Plan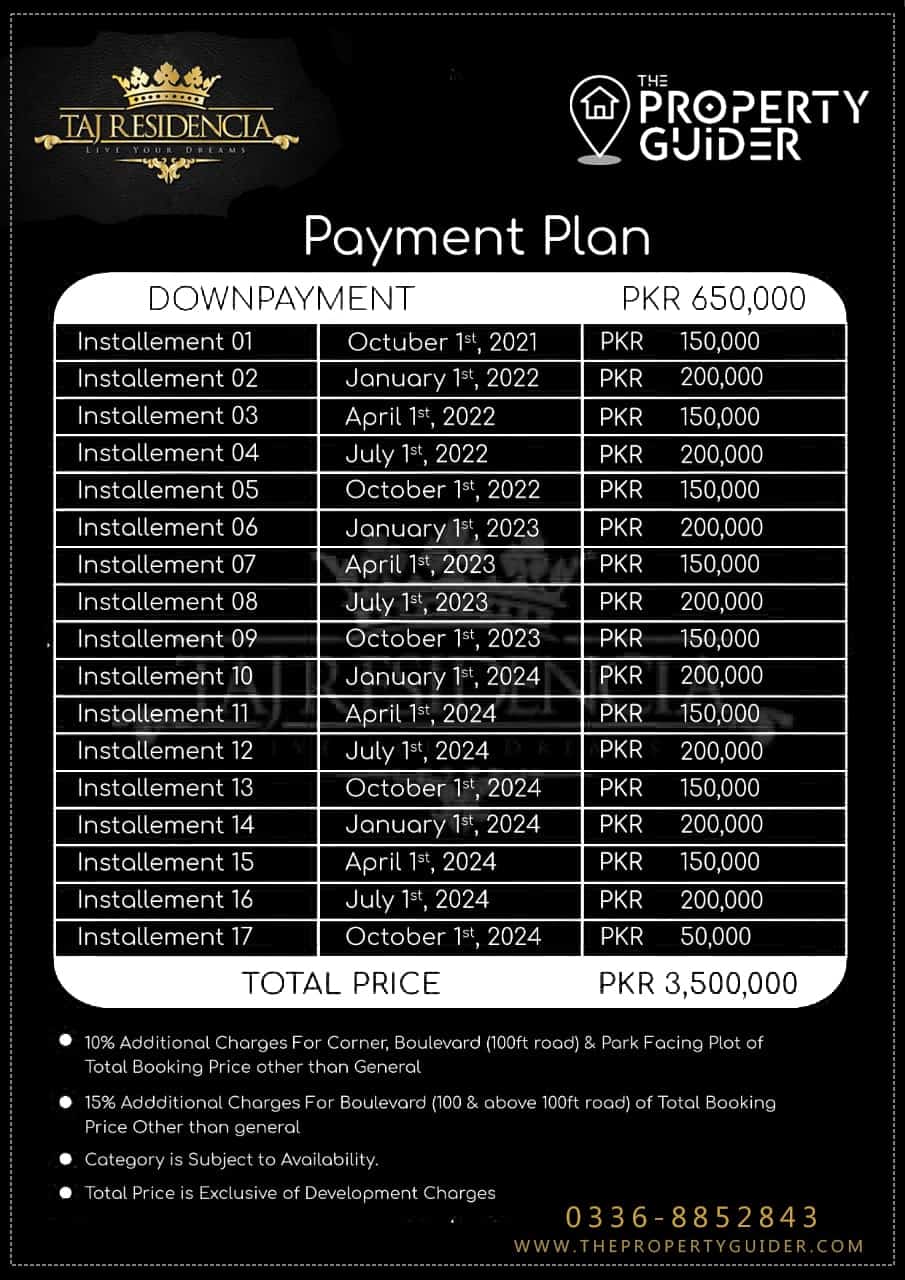 Noticeable Points About Taj Residencia Plots
Possession after down payment
Society grants full possession right after the down payment. So, after paying the amount, you can start the construction work on your plots.
As the mega project is luxurious and has international standard features, the prices are relatively higher than other projects. However, you can take different payment plan for your ease. Also, your investment will give a high return in future.