Rudn Enclave Rawalpindi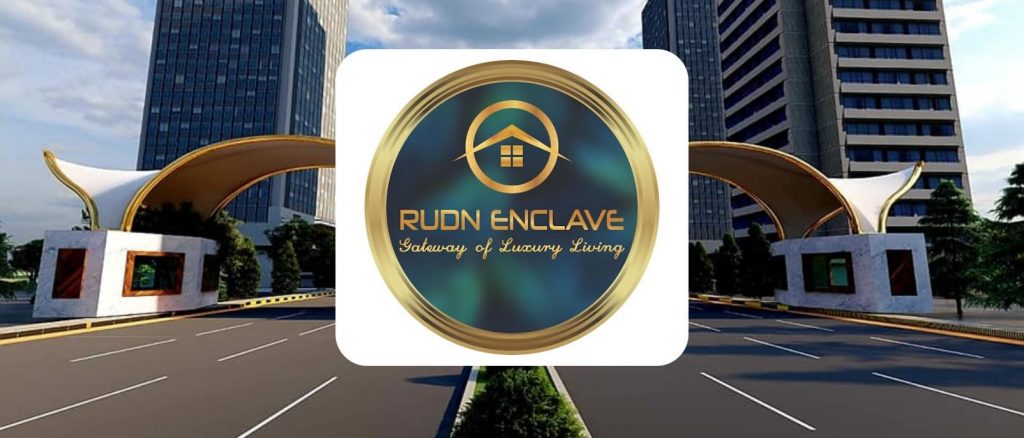 Rudn Enclave Rawalpindi is a new mega housing scheme project on Adyala Road. This mega value project is sponsored by RMRSCO Private Limited and NESPAK Pvt ltd is the design consultant.
It is a beautiful housing society spanning over 10,000 Kanal. The Rudn Enclave Rawalpindi expansion contract has been given to Urban Planning and Design Limited (M/S UPDL).
We all struggle for a better lifestyle at an ideal location with all modern amenities. So, If you want to live in a peaceful environment and nice surroundings then Rudn Enclave can be a better option for you to consider for residential purposes.
Rudn Enclave Rawalpindi housing project equipped with all the facilities, It is located in Rawalpindi and close to Adiala Road adjacent to the Bahria Town Phase-8, M2 Motorway, N-5 National Highway, Chakri &Thalian Interchange, CPEC new industrial commercial zone, and newly proposed Rawalpindi Ring Road.
In this article, we will discuss all the important details about these mega housing projects like features, development status, investment potential, and booking procedure. So without any further delay let's start diving into the topic.
About Rudn Enclave Rawalpindi
In Rudn Enclave Rawalpindi is one of the popular places in Rawalpindi and you get all the facilities and it is also very affordable for the lower middle class. So any person even though his income is less but still he can buy a house here according to his status but they can live their dream life in Rawalpindi city.
It is an ideal housing project for All income class people, currently, the society offers several types of plots like a commercial, residential, and Farm Houses also at budget prices and also get easy installment plans.
The best thing about this project is that developers have set a new level dimension in the real estate sector by joining consultancy with well globally recognized National Engineering Services Pakistan (NESPAK).
The consultancy agreement was signed between two esteemed entities on January 1, 2020 project duration is going to be 24 months.
Rudn Enclave Developers and Owners  & Designers
Rudn Enclave Rawalpindi is developed by RMRSCO (Pvt). Ltd is a well-known name in the field of Real Estate Development. but this project is jointly developed by UDPL.
The owner and CEO, Rahim U Din Naeem main mindset behind this mega housing project is to handle the housing shortage due to rapid population growth in Big cities of Pakistan. That's why by these housing megaprojects every person can buy their own house and get the best living experience for residents.
Rudn Enclave design consultants are Nespak (Pvt) Ltd a well-known company since 1973 it has a tremendous portfolio not only in Pakistan in all over Asia and Africa continent too.
Rudn Enclave is going to be the best mega housing project because the national and international expertise of Developers and designers give their best to this housing project and a highly trained professional team of designers makes the best class infrastructure design. By this effort, they delivered all the international standard luxuries, facilities, and amenities that were not heard of ever in Pakistan until now.
About RMRSCO
RMRSCO Private Limited is a registered organization with company number 0108998.it has great working experience in the Real Estate sector. Recently the company is working on two big mega housing projects in Islamabad and Rawalpindi.
It is one of the most famous company in Pakistan because this organization have highly qualified engineers, project managers,
technical knowledge professionals, managers, and management staff, and consultants.
This company has the expertise of a trained team and at the same time can efficiently develop any project without compromising on the quality and for this, they have the best and latest manufacturing equipment.
Presently, the company is mainly focused on land possession and project management.
About UPDL
Urban Planning and Design Limited known as UPDL company owned by Mr. Abdullah, this company has decades of working experience with Public sector organizations and also with a management consultant and town planner.
Recently UPDL finalized deals with developers of Rudn Enclave. Now the Rudan enclave housing project is in joint collaboration with RMRSCO and UDPL Pvt ltd.
About NESPAK
National Engineering Service Pakistan (Pvt.) Limited ( NESPAK), a well-known design consultancy company, ranks as a top engineering consultancy in Asia and Africa. This company was established by the government of Pakistan as a private limited company in 1993 to become self-dependent on projects Now the company has more than 4500 employees.
NESPAK is currently working on different designing projects like Lahore Ring Road, Metro Bus System, Orange Line Metro, Neelum Jhelum Power Project, Islamabad Airport project, and many more.
Rudn Enclave Location Map
The Rudn Enclave Location is Adiala Road, Rawalpindi one of the busiest places in the city. This house project location is situated at the center of major locations, places, and roads.
Rudn Enclave is a very special and most awaited project because it is right next to the Rawalpindi Ring Road which adds more value to this housing project.
Rudn Enclave is Close to the new Islamabad International Airport, Islamabad-Lahore Motorway, the society has 3 entrances on Adyala Road And 4th entrances expected from Chakri Road and Chakri Interchange.
The Rudan enclave Rawalpindi society overlooks natural water bodies like Khalsa Dam & Java Dam. Here are the near Accessibility location and Nearby Landmarks & Places. 
Accessibility
There are numerous ways to reach out to Rudn Enclave. Find out some of the popular ways using them people can access Rudn Enclave in several ways:
● Close to Adiala Road
● Around 29 min drive to M-2 Motorway, Chakri Toll Plaza
● 24 min drive to Rawat-Chakbeli Road
● Roughly 48 min drive to  International Airport, Islamabad
● Around 30 min drive to Phase 8, Bahria Town, Rawalpindi
● 49 min drive to National Highway, Grand Trunk Rd, Rawalpindi
● Roughly 51 min drive to Rawat, Islamabad
● It hardly takes 48 min drive to Rawalpindi Saddar.
Rudan enclave Rawalpindi Nearby Landmarks & Places:
 Here are the several nearby locations and famous places near this society:
●     New Islamabad Airport
●     Rawalpindi
●     Bahria Town Phase-8
●     DHA Phase-II
Rudn Enclave NOC
The Rudn Enclave Rawalpindi developer has already applied for NOC (No Objection Certificate) from the several concerned authorities, and Rawalpindi Development Authority (RDA).
But it takes lots of time and effort to obtain all approval because it is important to know that  there are Several permits and more than a dozen NOC's Required for a housing project including WASA, Environment, Electricity, Gas, etc.
Rudn Enclave Rawalpindi NOC approval process is now at an initial stage, Nevertheless, there is tremendous enthusiasm from investors to invest in it.
Many people are afraid of investing money in a scheme in which the authority does not get NOC from several authorities but don't worry The society has completed all formalities and submitted land documents at RDA, and It is believed that Rawalpindi Enclave will soon get all the NOC from RDA in Upcoming months.
According to government new guidelines RDA, CDA, LDA, FDA Authorities are liable to issue NOC Within 60 days after getting an application For a new housing project unless there is a valid reason for rejection or delay. So we can expect the Rude Enclave issuance of NOC before the end of December.
Rudn Enclave Residential Blocks
Rudn Enclave is a residential society to provide luxurious plots And on this, you can develop residential or commercial properties at affordable rates.
Society is divided into 12 several Blocks named as :
●     Block A
●     Block B
●     Block C
●     Block D
●     Block E
●     Block F
●     Block G
●     Block H
●     Block I
●     Block J
●     Block K
●     Block L
What is the size of residential Plots in Rudn Enclave Rawalpindi?
Rudn offers you various types of sizes. You can find each size of the residential plot below. 
 ●     5 Marla
●     7 Marla
●     10 Marla
●     1 Kanal
Sizes of residential plots:
 ●     4 Marla
●     8 Marla
●     1 Kanal
 Sizes of residential plots
 ●     4 Kanal
●     8 Kanal
What Types of Blocks available in Rudn Enclave Rawalpindi
There are the three types of plots available in Rudn Enclave Rawalpindi :
 ●    General Blocks for residentials.
●     Executive Block for office and corporate.
●     Farmhouses for all.
General Blocks Rudn Enclave
The Rudn enclave General Blocks category started from Block A to Block G. For the residential plots Blocks A, C, and G are reserved Whereas for Farmhouses Block's D and E are reserved. The General Block's are the primary Block When you enter into the society.
You can access Rudn Enclave General Blocks from Rawalpindi Ring Road. But at that time Due to the Ring Road alignment process, this Blocks development work was delayed for a short period but soon It will Continue at full working capacity.
Executive Block Rudn Enclave
The Rudn Enclave Rawalpindi newly launched Executive Block on Adiala Road. The Executive Block starts from Adiala Road and leads near to Java Dam. And this will also be linked through General Block and Ring Road through boulevard an internal 200ft wide Area they will connect both sides.
This Executive is considered as the role model of this society. Executive Block 7, 10 Marla, and 1 Kanal plots for residential and for commercial plots 4 & 8 Marla are available.
This exclusive Block is very different from all Blocks because it has high-end amenities and most of the modern and international unique facilities. In this block, all the luxurious facilities are available. That's why you don't get 5 marla plots in this block.
The executive block is a role model block of the society, That's why Road and street sizes are bigger as compared with general Blocks 40 feet is the minimum size of streets. Approximately  40% of the land is reserved for residential plots, while a minimum of 60% area is reserved for Several facilities like parks, entertainment areas, shopping areas, and sports facilities, etc.
Rudn Enclave Payment Plan
Rudn Enclave Rawalpindi offers several types of the residential and commercial plots including luxury farm houses right next to the beautiful Khasala dam and Jawa Dam.
Anyone can Book their Plots at just 20% down payment and you can pay the remaining amount through Easy easy monthly installment  plan and of the most of the remembered thing
Prices and payment plans May  be changed from time to time depending on the market environment
Every Block offers diverse luxuries facilities and amenities and due to several sectors and different plot sizes prices vary from plot to plot.
Note:
●     The Rudn Enclave payment plan and prices are subject to change without any notice.
●     If you book a plot then you have to pay the Instalments on 1st of each month.
●     You can pay through Cheque/ Pay order/ DD in favor of (Rudn Enclave)
Rudn Enclave General Block Payment Plan
Residential Plots Sizes, Payments, Down Payments, And Monthly Installments.
| | | | | |
| --- | --- | --- | --- | --- |
| Plot Size | Plot Price | Down Payment | Monthly Installments | Possession |
| 5 Marla | 12,00,000 | 240,000 | 17,500 | 120,000 |
| 7 Marla | 15,60,000 | 312,000 | 22,750 | 156,000 |
| 10 Marla | 21,65,000 | 433,000 | 32,573 | 216,500 |
| 1 Kanal | 35,28,000 | 705,600 | 51,450 | 352,800 |
Rudn Enclave Commercial Plots Payment Plan
| | | | | |
| --- | --- | --- | --- | --- |
| Plot Size | Plot Price | Down Payment | Monthly Installments | Possession |
| 4 Marla | 26,40,000 | 528,000 | 26,400 | 264,000 |
| 8 Marla | 45,00,000 | 900,000 | 65,625 | 450,000 |
| 1 Kanal | 150,00,000 | 30,00,000 | 218,750 | 15,00,000 |
Rudn Enclave Farm Houses Payment Plan
| | | | | |
| --- | --- | --- | --- | --- |
| Plot Price | Plot Price | Down Payment | Monthly Installments | Possession |
| 4 Kanal | 92,00,000 | 18,40,000 | 134,167 | 920,000 |
| 8 Kanal | 160,00,000 | 32,00,000 | 233,333 | 16,00,000  |
Rudn Enclave Executive Block Payment Plan 

Rudn enclave Facilities & Amenities
The developers of Rudn Enclave are planning to make a modern housing project that's why they hired top consultancy firm "NESPAK". Society gives all the extreme-level of luxurious facilities Which no society would have given before such types of Amenities in Pakistan.
The society developers ensure that they will be able to fulfill all the needs of the residents as well as religious. That's why they constructed a beautiful Jamia mosque in society to fulfill the spiritual needs of the residents.
In any society, Safety and security are some of the most important priorities. That's why social security with highly trained guards and 24×7 hours CCTV camera security system and much other surveillance equipment and society is also surrounded by a boundary wall with a foolproof system to provide all-inclusive security to the people.
Highlighted Facilities & Amenities
 ●     24/7 state-of-the-art security systems as well as CCTV Cameras.
●     Smart Security & Surveillance System
●     Clean Drinking Water
●     Beautiful main entrance.
●     Street lights and Wide Carpeted Road:
●     Beautiful Jamia Mosque
●     Community club
●     Playland for Kids and  Green Parks
●     Garbage disposal management system
●     Medical Facilities
●     Educational Centers
●     24/7 Provision of Electricity, Water, Gas.
●     Smooth Connectivity through Network of Wide Roads
●     Theme Park, PlayGrounds & Jogging Tracks
●     Cricket Playground
●     Commercial Areas & Shopping Complex
●     Transport Facility
●     Lake View Park
●     Swimming pool
●     Skywalk Over the Dam etc.
 Documentation Required for booking a plot in Rudn enclave Rawalpindi
 Here are the following documentation is required to buy property in Rudn Enclave
●     2 passport size Pictures
●     2 copies of your national ID card
●     2 copies of the ID card
●     NICOP for overseas clients
Rudn enclave Rawalpindi Booking Procedure
The plot booking process in rudn Enclave Rawalpindi is very simple to book any type of plots like residential commercial plots, or farmhouses.
First, you have to choose your plot, submit your documents and pay the booking fee and your allotment letter will be ready within 7 to 10 working days
Here you can follow these simple steps :
 ●     Go to the official address of developers  Bahria Town Phase 7 Rawalpindi.
●     Fill the application form
●     After filling form Attach CNIC Copies of Applicant and Nominee
●     Attach 2 Passport Size Photos
●     Pay Down Payment via cash and Check or Pay order in favor of "Rudn Enclave"
●     Submit Your Documents and Payment
●     Collect your file after 8 to 10 working days.
 Best Thing About Rudn Enclave Rawalpindi
 ●     24/7 Water, Electricity, Gas
●     An educational institution like school and college.
●     Secured Boundary Walls
●     Theme Parks/Recreational Areas
●     Grocery/shopping centre/Markets/Malls
●     Peaceful healthy and secure environment
●     Well-planned drainage and waste disposal systems.
●     Rudn Enclave offers you the best security system.
●     Solid waste disposal mechanism
●     Society close to the main locations & other societies.
Why Invest in Real Estate or Rudn Enclave?
Real estate investment is one of the most profitable investments because it has high investment return potential like Financial Security, Stable income, Manageable and passive incomes.
If you want to invest your money in Real estate or you want to buy your dream house at an affordable price with the best class facilities and amenities then Rudn Enclave is One of the best options for you Because the society provides a luxurious and eco-friendly environment to its inhabitants.
The Rudn Enclave Rawalpindi infrastructure is the main attraction the developers make these societies in such an affordable way so any lower income to higher income class affordably buys their dream house. 
Real estate prices are at an all time high, so you can make a move and start investing in Rudn Enclave. It won't be surprising if the prices double in the coming years. So it is the best time to invest in Rudn Enclave and Real Estate. 
Wrapping Up:
Rudn Enclave Rawalpindi is one of the great places for middle class people and higher class people. Their project offers you great accessibility and facilities at an affordable price. 
In this detailed article, we have presented a deep analysis of Rudn Enclave Rawalpindi. We also share the prices of the plots. 
You can grab any of the plots by spending a small amount in terms of downpayment. We hope this article helped you and provided you ultimate details about Rudn Enclave Rawalpindi. 
The Property Guider is highly recommends this project is a great opportunity to invest. To learn more about projects like this, please visit Blue World City and Lahore Smart city. Nova City Islamabad and Capital Smart City Islamabad for more information about similar luxury items being offered at low prices.