Are you looking for Capital smart city payment Plan ? but are a little bit confused as to if you should invest your money in the Capital Smart City project or not? If you're thinking the same then this article is for you. 
In this detailed article, we will explore the most popular city and understand this platform on multiple aspects such as pricing, facilities, and others. Capital Smart City is a massive project based in Pakistan, which is solely based on Residential Purposes. 
It is known to be the first Smart city in Pakistan, and it is also listed as the 4th largest Smart City in the whole of Asia.
It was inaugurated on 6th October 2019 in Islamabad. A large number of Businessmen, Investors, people with Interests attended this grand ceremony of opening this Smart City.
The Investors aim to make this Business Plan the Finest Model for enhancing Sustainable Development. It is a Model of Urban Management that is developed for Advanced Purposes of planning. 
We believe you have got a basic idea about this massive and attractive project, right? If so, let's dive into the main part of it and understand what other things it can offer you.
About Capital Smart City
What are the amazing things about Capital Smart City? What are the things which make it unique from others? And why do you need to book your plot here now? Let's figure it out but before that let's understand the basics of this unique project. 
Capital Smart City is a Project with huge strategic investments, with long-term planning of urban management and sustainability goals. It is an Initiative by Future Development Holdings, which is known to be one of the Huge Real Estate Developers and a company that manages Assets.
The other goals of this project are to include smart benefits and also Equal Economic Contributors living under the same roof. It is the 4th largest in Asia and ranks 23rd in the world.
Owners And Developers
Developers are one of the most vital factors behind any successful real estate project. Because if the entire area is developed with unprofessional people then it may hurt you in every way, Right? But the case is completely safe and different in the Capital Smart City. 
Capital Smart City is a Project with Joint Collaboration between Future Development Holdings Pvt Limited and Habib Rafiq Pvt Limited. Both of them are Grand Real Estate Developers operating in Pakistan.
Future Development Holdings Pvt Ltd was registered to the Companies Ordinance in 1984. Many National and International Companies are working under this organization. This Organization is dedicated to offering a Modern Living Environment to all the Projects they are taking in hand. They aim to provide good living conditions in the Residential Sectors and develop good Industrial Zones.
The Habib Rafiq Pvt Ltd Organization is based in Lahore, Pakistan, and generates about a million dollars in sales. The Company has been in existence for about 200 years. They have their own Operational Offices based in UAE, Malaysia, South Asia.
Their websites are well designed, offering all the services, mentioning all the offers that they are making and their commitments. Anyone can contact them easily by sending a mail or giving a phone call, once on visiting the website. We hope you have got an idea about the developers, let's move to the location of this historical project. 
Capital Smart Cities Location
Location is a very crucial thing for any real estate business, it doesn't matter if it's a small project or a massive project like Capital Smart City. We are lucky enough that the Capital Smart City is located in Islamabad, just near the new Islamabad Airport. 
A more appropriate location is that the Project is situated in between the Lahore Islamabad Motorway, falling on the eastern route of CPEC. It is just about a distance of 5-6 minutes from the New Islamabad Airport.
As we know, any Residential Area near the Airport possesses a high value of living, because of advanced Infrastructural Facilities. The Airports are well connected with highways, railways, expressways, flyovers, etc. 
The Social Infrastructural Elements like Schools, Colleges, Clubs, restaurants also gain ground near the Airport plots, and everyone gets benefited. Because of its popular and eye-catching location, it is the most powerful project which can multiply your money, also it's a fast-growing project.
Facilities That Capital Smart City Offers
Let's talk about the facilities and other amenities that you get in the CSC.
Safety and Security:
Safety and security are essential things for anyone, along with the high-tech, luxury lifestyle security is also kept to the top by the Capital Smart City developers. If you're also worried about security then you should know that Capital Smart City has done immersive work building a boundary wall with full-proof high-tech security cameras and guards. Guards are instructed to stay at every entrance gate.
Available Amenities at Capital Smart City:
In this property, you will be offered globally popular features and amenities any high civilized society might need. Let's find them below.
24/7 gas supply.
24/7 water supply ( from water treatment plant)
24/7 electricity (from the solar farm and the grid station)
Planned theme parks and recreational area
Grocery shops/ Shopping Center
Markets/malls/marts
Universities 
School for a better education system.
Colleges for high studies. 
Other main locations and societies are in close vicinity 
Easy accessibility 
Gated society with security gates and surveillance cameras, CCTV cameras & security which are available 24×7 with recording.
Fire extinguish mechanism for emergencies 
Well planned, properly designed drainage system and implemented waste disposal for wastage.
Civil defense system
Roads, streets lanes, and walkways for pedestrians along with street lights
A peaceful/healthy/secure place to live life smoothly.
Automatic utility supply
Free wifi is available to the entire apartment.
Green smart and sustainable housing society 
Loading shedding free zone
Wide planned and carpeted the main boulevard
Capital Smart City NOC
What do you mean by NOC?
NOC is granted when a Prestigious Authority grants a No Objection Certificate. The No Objection Certificate is certified to Capital Smart City. It is approved by RDA. They ensured that Capital Smart City can provide a sustainable and Eco-Friendly Environment for all of its residents and it is also guaranteed that the Area in which this Project is built, is the ideal location where the Project is constructed.
After NOC gets issued, The Investors and the Organizers of the Project get a stream of fresh air through them that their Project can be completed without any obstruction. And after NOC gets issued, the people who want to purchase their Interests within these projects or other people who are commuters get ensured of the safety of the Residential Area.
That is why NOC is always an essential component for starting any Project.
SALIENT FEATURES OF CAPITAL SMART CITY
The main aim of the Capital Smart City is to ensure a Modern and Fresh living experience for all those who reside in it. However, there are certain salient features about this Project which can be discussed below.
The Project is Eco Friendly – supports Sustainable development.
Advanced and high-Security Measures are adopted within this Project.
There is a Metro Bus System, in case anyone wants to avail and go somewhere, and they also help during an emergency.
24/7 guaranteed supply of gas, water, and electricity.
Restaurants and shops are inbuilt, with well-equipped accessories, and social clubs are also present.
Recreational activities are also taken care of.
Surrounding areas have parks and lakes.
A well-maintained Golf Course.
Proximity to airports and cities like Islamabad.
24×7 surveillance security.
24×7 guard security to protect you. 
Amazing playgrounds. 
Facilities That Are Witnessed In The Capital Smart City
The Capital Smart City is trying to promote Strategic Growth to all the residents living among them. The Project is equipped with attractive Investment Plans coming throughout.
Listed below are the major facilities offered by the project :
Good Equipped Health Care Facility – Top-quality health care facilities. 
Good Urban Facilities and advanced facilities like Underground Electricity is available –  here the dangers of hitting with an Electric pole is nil because all of the electric wires run underground. Even the Internet and Landline lines are led underground for the benefit of the Residents as a whole.
The Sewage and Drainage System is well planned– the sewage system that is maintained is kept separately, and that helps the society to remain fresh and tidy.
A separate Education City is also maintained
A crystal lake is maintained, which means that the lake is very clean and fresh.
Sports and games culture – Gyms and sports clubs are also maintained within this Project so that people go there and get the best out of them. Society also has a lot of games for all age groups.
Educational Facilities- society prioritizes education to a large extent. This is the most important facility that should be present in any community. It has a Grand Educational Complex.
Thus, it can be seen that The Capital Smart City is providing a whole range of smart plans for all of its residents.
CAPITAL SMART CITIES MAKING OF THE MASTER PLAN
The master plan is also essential for any real estate project, investors pay a close look at the project and are eager to know what the master plan is for their investing place. 
Here is the Master Plan of this Project that was given to Surbana Jurong, a consultancy firm based in Singapore. The Firm is a huge venture, comprising a global team of over 16,000 employees across more than 120 offices.
The company aims at turning cities into homes with more employment opportunities. The Master Plan was drafted with this Firm, to enhance some residential, entertainment, and Commercial Features within this City.
Economic Benefits At Capital Smart City
The Capital Smart City is a reputed project to spend your money on as it's an extremely ambitious project. As its preliminary phase, it creates a golden opportunity for those people who are interested to invest in real estate. 
It's confirmed that the current price will not remain the same, but it will increase dramatically as it grows. To be honest this project makes it easier for the investors to spend money on this project because it provides them with attractive installment plans. 
You have the option to apply for this offer for a new house on sale, or an old or big house as well as an affordable house. Similarly, it has small plots, big plots, and medium plots.
THE BEST BLOCK ABBREVIATED TO CAPITAL SMART CITY
The Prime Block is said to be the best and most attractive part of the Capital Smart City. As the name suggests, this block is the core of the Project, and the richest people of the city reside here.
Capital Smart City Payment Plan
The most crucial aspect of any Real Estate Property is its payment plan. Now I will share in detail the aspects and payment plans as decided by the Capital Smart City.
The Plots in the Capital Smart City are available to be booked based on a 3.5 year Payment Plan – that can be played through Installments with 12000 PKR as the Monthly Installment.
RESIDENTIAL PLOTS
As we discussed above, this project offers you two types of plots within it, the first one is for residential people and the other one is for commercial people. Let's figure out the residential plots' price with installments. 

Commercial Plots:
The price of commercial plots is given below with installments.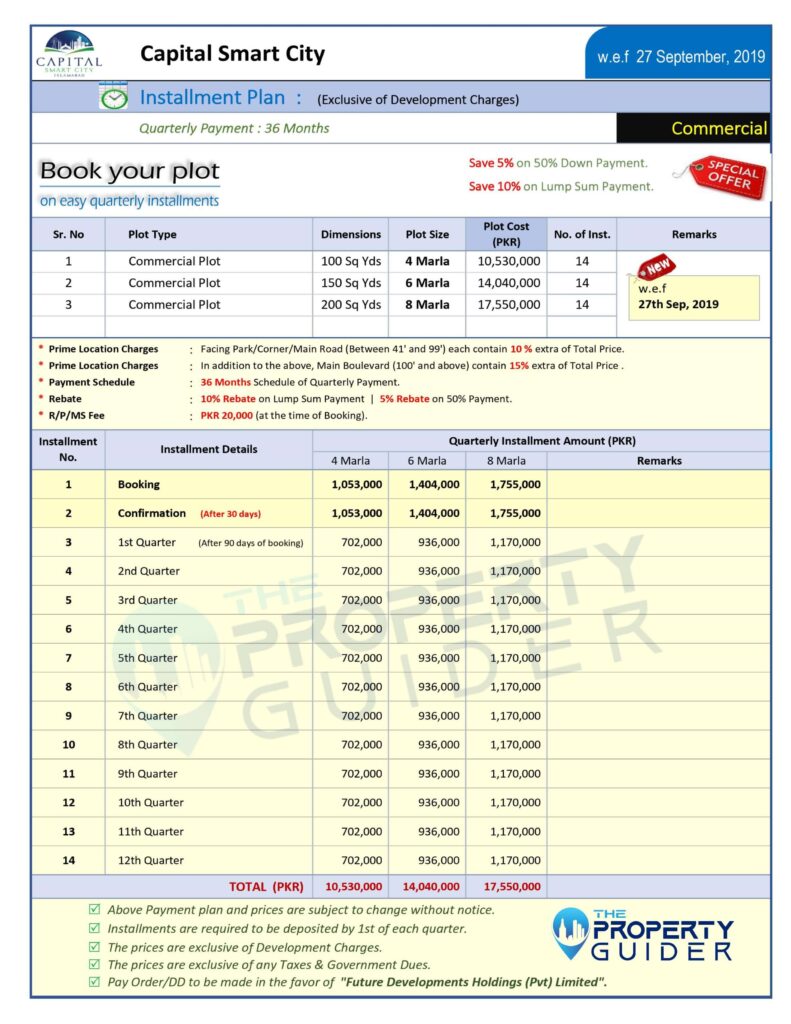 The Above Payment Plans and prices are subject to change without any notice.
Installments are required to be deposited at the first of every quarter.
Prices are exclusive of Development charges
Pay order should be issued in the favor of Future Development Holdings Pvt Ltd.
Why Invest In Capital Smart City? Elaborating ON Its Future Aspects
Now the question arises is why you should invest your money in Capital Smart City? Well, If after so much discussion of the various benefits of the Capital Smart City, a question arises in your mind that why you should invest in Capital Smart City, then here the answer comes.
The Infrastructure of the Capital Smart City is the center of Attraction for Investors and everyone that it provides. Here, the Lower-income and Higher Income Groups buy their plots, by paying monthly installments. So the dreams of many people are coming true in this process.
If you would want to buy your Dream House at an affordable price, then you should definitely go for this project.
The Area presents a complete Eco-Friendly Environment, with smart amenities, attractive and benefits for anyone.
And another best thing is that the Project can be blindly trusted, as the major Authorities have given a legal right for the build-up of this Project.
Along with these facilities, the project also ensures to provide you world-class facilities and amenities and other benefits with high-tech security at an affordable price. Once you book your plot here (Residentials or commercial) it has high potential that in the coming month the price of this project will increase. So, you can smell that investing money can also go on the top within a few years. 
The Future Aspects of this Project lie with the blending of new technologies to get a sustainable environment and achieve NET zero.
More innovations of bringing up Digital Networking, Development of Eco-Friendly Environment with no leakage. Achieve Decarbonization in the environment. Adoption of energy of low carbon emission.Adoption of better waste management systems.
Another Future Aspect is to generate more sales – and get to a goal of about a trillion US dollars.
Frequently Asked Questions:
#1. Is a capital smart city a good investment?
Always keep in mind real estate investment is always a good investment and only this investment has the power to double your money within a short period of time. Capital Smart City is a reputed name in this business, and its reputation was enhanced after the monumental launch of Blue World City. The people who are spending their money on this project have high expectations from HRL and FDH because these offer a top-class lifestyle, high-tech features at an affordable price.
#2. Who is the owner of Capital smart city Islamabad?
It's a joint collaboration between Habib Rafiq private limited and Future holding development, as we all know Habib Rafiq private limited is a reputed name in the real estate business. The Habib Rafiq has also gained a lot of popularity after developing the DHA in Islamabad and Bahria. All of their projects are quite popular. 
#3. What is the future of the capital smart city Islamabad?
It intends to build a top-quality housing project for the investors to give them a desired lifestyle on M2 Motorway which is near to New Islamabad International Airport.
#4. Which block is best in the Capital smart city?
There is no doubt that the prime block is one of the most luxurious parts of the Capital Smart City, which is built on modern urban planning town regulations and rules.
Wrapping Up:
Capital Smart City is an outstanding project, because of its features and pricing it's attracting more investors toward it. The reason behind this project's success is it offers you all types of plots like residential and commercials. 
The residential plots that come under this also offer you 14 months installments and commercial plots a 12 months installment. Also, a thing to discuss is the NOC. Invest seems less interested to spend their money on NOC disapproved projects, but Capital Smart City is approved by RDA. 
Capital Smart City also makes sure to provide you full security and other benefits at the same price. In this detailed article, we provided you with an honest opinion about this massive project. We believe you've got your queries solved regarding this. If you still have any questions or suggestions you can leave us a comment below.