This detailed article will share everything about Taj Residencia and Faisal Hills Islamabad. Here we will explore both the cities and talk about prices, location, benefits, and other things. Before we start the topic, you should understand both the projects are world-class project and offer you top-quality features at an affordable price. The city of Islamabad is developing very fast in the real estate sector; several housing projects in the city come with glorious and magnificent state-of-the-art Infrastructure with world-class facilities. Among such housing projects in Islamabad, Taj Residencia and Faisal Hills Islamabad are the two best under-developing housing projects. Both housing projects offer top-notch facilities and a great return on investment in the future. So are you excited to dive into the business? If so, let's dive straight away. 
Taj Residencia and Faisal Hills Islamabad overview
Taj Residencia will become a luxurious living housing society in Rawalpindi – Islamabad in the upcoming times. Developers master-planned to make a top-notch, fabulous venture to live a desired life with all state-of-the-art amenities along with fun activities. Taj Residencia will become great private convenience in Islamabad. The society is also located at an ideal location that provides eminent living included by the undertaking wide-opened spaces, scenery view, dazzling dusk with lavish foliage, and natural air. This society has become the best living accommodation for a family.
Faisal Hills is a new residential society in the Taxila region, which is considered the major industrial zone of Islamabad. Faisal Hills delivers a great and distinguished lifestyle surrounded by Margalla Hills and natural beauty, with a clean and serene environment. Society developers planned this project on 30,000 Kanal of land with a luxurious lifestyle easy and comfortable modern living facilities. 
Taj Residencia and Faisal Hills Islamabad Developers
Taj Residencia housing project being developed by SCG ( Sardar Group of Companies), a well-known construction company in Pakistan. This company is well known for its previous projects, such as Centaurus Mall, one of the best infrastructural projects in Pakistan. SCG always fulfills its promises. Centaurus Mall is a real example of a luxury residential project and commercial hub.
Sardar Group of Companies is originated from Iraq and dealt in the automotive industry, including vehicle deals and rentals. But they expanded their business and decided to become a construction company, and they invested in Centaurus Mall construction projects in Pakistan. After their successful completion, they decided to invest in Taj Residencia residential project.
Faisal Hills Islamabad project is being developed by the well-known and famous developers Zedem International. They recently brought this massive project which has spontaneously become the most successful project of Islamabad. Zedem International management promises to their investors they timely deliver residential plots with high-quality Infrastructure.
Ch. Abdul Majeed is the Chairman of Zedem International. They aim to deliver a quality lifestyle at an affordable price. Seem management has designed and developed Faisal Hills with the help of a highly qualified team of experts. Seem International is a trusted company registered with SECP ( Securities and Exchange Commission of Pakistan). This company has successfully worked on several mega projects such as Faisal town (Ft), Faisal Villas (Fv), Sea Square, Margalla City, and Faisal Residencia.
Taj Residencia and Faisal Hills Islamabad Location
Taj Residencia is situated at Bhata road near CDA Sector I-14, I-15, and I-16 road is the main entrance point of this project. This housing society is located in the middle of Islamabad and Rawalpindi. Once the Rawalpindi Ring Road development work is completed, this area serves as an entry point to Lahore-Islamabad Motorway. 
This society is 35 minutes away from Centaurus Mall and Islamabad International Airport. Taj Residencia is located at a prime location that makes an attractive and highly profitable investment scheme. 
Nearby landmarks and places are Rawalpindi, Rudn enclave Rawalpindi, Capital Smart City Islamabad, and Taj Residencia is easily Accessible from Chakra Road, GT Road, M2 Motorway, and Islamabad International Airport.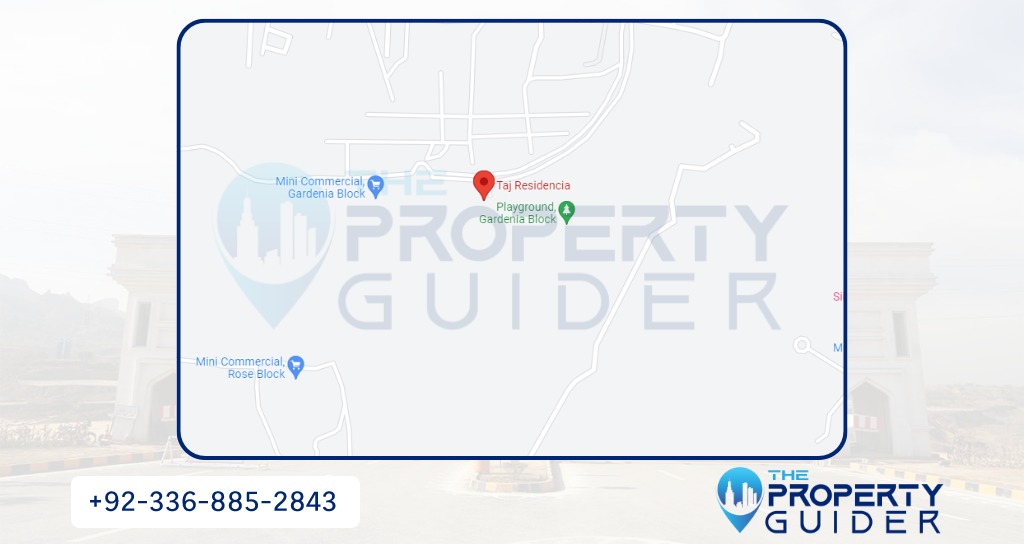 Faisal Hills Islamabad housing Society is situated on the main Grand Trunk (GT) Road N-5 in the Taxila region and is short of Islamabad Expressway. This society is located at an ideal location surrounded by a clean and green environment and has a beautiful view of Margalla Hills. The society is close to important cities of Pakistan such as the Rawalpindi, Islamabad, and Taxila region. Islamabad is the capital territory, and Taxila is an industrial hub of Pakistan.
Faisal Hills Nearby landmarks and places are Nest City Islamabad, Pakistan Ordnance Factories, Wah Model Town, and HITEC University Taxila Cantt. This residential society is easily Accessible from N-125, Quaid Avenue, Rawalpindi-Kohat Road, and M-1 Motorway.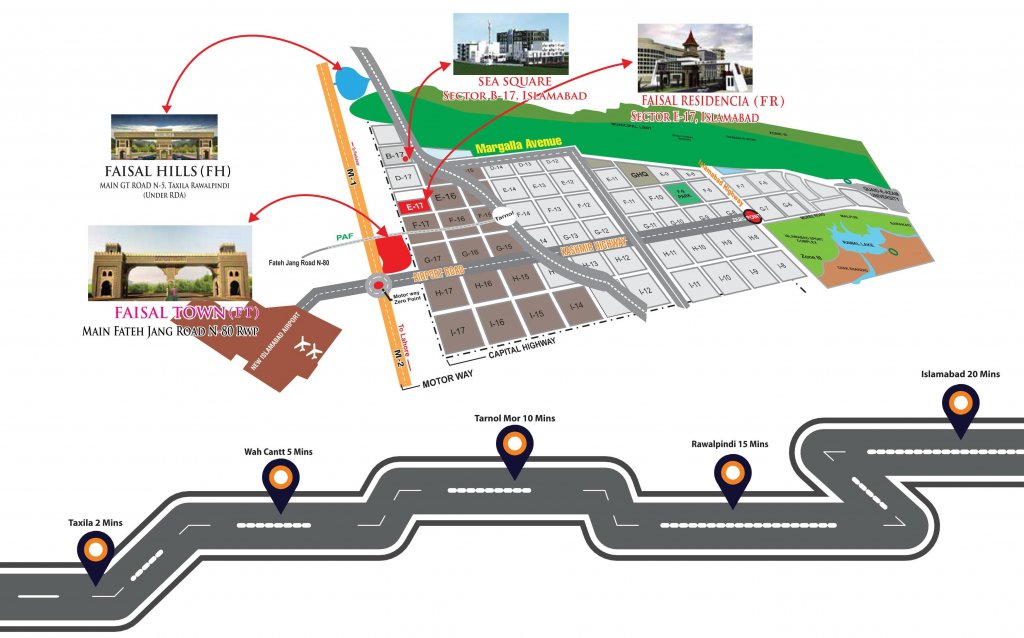 Taj Residencia and Faisal Hills Islamabad NOC
The Taj Residencia is under the jurisdiction of the Rawalpindi Development Authority, which is responsible for checking the geographic location and jurisdiction of the project. After checking everything, officials, RDA approved the 10,000 Kanal of land for the housing project.
After NOC approval given by government sector corporation and authority RDA, Taj Residencia is a completely legal housing society, and the development work is at a very rapid pace. Since the RDA has approved this project, investors are actively attracted to this society. The property is getting at the right prices, but the price will increase rapidly in the coming time.
The No Objection Certificate (NOC) of Faisal Hills Islamabad will be approved by the Rawalpindi Development Authority (RDA). You will not face any problem by investing here because the housing project is completely legal, and the government has approved it.
Taj Residencia Islamabad Facilities & Amenities
Taj Residencia is equipped with all basic to advanced facilities that fulfill luxurious living needs for society residents. Developers aim to deliver a luxury living place with modern Infrastructure. Homeowners get all essential needs such as electricity, water, and gas. Modern underground drainage and sewage system are also available in society to drain out rainwater. Water filtration plants are equipped in society to provide clean water. Here are some amenities that are offered in Taj Residencia;
Secure Environment: Resident safety and security are major concerns for any society. This society comes with the best security surveillance system. They have a Dedicated CCTV monitoring room. A gated community assures the residents a higher level of protection with dedicated professional guards. No one will be able to access your plot without your permission.
Royal Club: These amenities are one of the major parts of the development plan. Here, you can spend quality and relaxing time at the pool, restaurant, cinema or spa with your family. 
Mini Golf Club: For golf enthusiasts, person developers plan to make a mini-golf course for entertaining purposes.
Eye Park: In Taj Residencia, developers plan to make a standard park in the shape of a human eye. Along with Children's swing, flowers, trees, and greenery.
Clean Environment: The developers plan to deliver a clean, peaceful and hygienic living environment to its residents. Staff will be hired to keep the society clean and hygienic. Society equipped advanced sewerage system with underground pipelines. 
Features
The following features you will get here. 
Attractive residential apartment building.
Commercial Hubs and Shopping Centers.
Wide Carpeted Road
Parks and Playground
Royal Club
Safari Parks and Botanical Gardens.
Hospital and clinics.
Jamia Masjid
Educational institutions.
The Centaurs Mall 2
Mini-Golf Course
Commercial Hub & Shopping Centers
Sports Complex.
sewerage and waste collection system
Gated Community
Gyms
24/7 basic utility supply.
24/7 internet connectivity
High Security & Surveillance
Faisal Hills Islamabad Facilities & Amenities
Let's talk about the faciliates and amenities Faisal Hills Islamabad offers you. As we said above this is the great place to spend your money also it offers you top quality facilities at an affordable price. Faisal Hills is a well-planned residential housing society surrounded by the natural landscape. The breathtaking views of Margalla hills with all modern facilities and amenities at affordable rates make an ideal place to live. This society has a gated community consisting of 4 blocks: A, B, C, and Executive blocks. Every block provides various residential plots, and each block has its commercial areas.
The management has focused on a healthy lifestyle, so they reserved vast land for developing green areas such as central theme parks. This project is considered the most lavish society with modern-day luxury features and amenities. Here are some amenities that are offered in Faisal Hills Islamabad:
Grand Mosque: Developers focus on the religious needs of residents. So, they are building a beautiful grand Jamia mosque with advanced technology and architecture.
Community Center: They also planned to make a community center for residents to keep socially active and join social activities. 
Health Facilities: Developers also focus on resident medical needs to develop modern hospitals and clinics along with well-qualified doctors and paramedical staff. Also, an emergency ward and ambulance service are always available 24/7.
Water Resources: water is essential for daily needs. So, they made water reservoirs to store a large amount of water for the resident, and they also planted a water filtration plant in society to deliver clean drinking water.
Graveyard: The graveyard is essential for any residential society to bury their deceased relatives.
Business and Commercial Hub: The developers focus on residents' commercial needs. For that, developers are developing an all-in-one commercial area to fulfill resident needs within society.
Education Complex: Educational amenities are a top priority for the resident's needs. Developers dedicated a larger area for school and college and professional and trained teaching staff.
Secure Community: Resident safety is necessary for any housing society. This society has the best security system with trained guards and 24/7 CCTV cameras surveillance in every corner. The society has a gated community surrounded by a boundary wall with Barbed wire.
Zedem Mall: The developer has planned to build a zedem Mall in the future.
Facilities
Find the following facilities. 
High-quality Wide roads and streets
Beautiful entrance gate
Commercial Complex
Mosques
Cricket and Football Grounds
Basketball and badminton court.
Sports ground with jogging tracks.
Parks and playground
ATM
24/7 Electricity and Sui Gas system.
24/7 clean and safe drinking water.
Education and medical Complex.
Sewerage and waste disposal system
Swimming pool
Club House.
Gym and yoga center.
24/7 security system. 
Taj Residencia Islamabad Payment Plan
Payment plans are the import factor for any real estate project, right? Let's understand what Taj Residencia project offers you. Taj Residencia plot booking started with a 20% down payment and a total of 30 months or a 2.5-year quarterly installment plan. If you buy your plot on installment, the first quarterly is not due for the next six months. Taj Residencia has various residential plots in 10 Marla, 14 Marla, 1 Kanal, and 2 Kanal.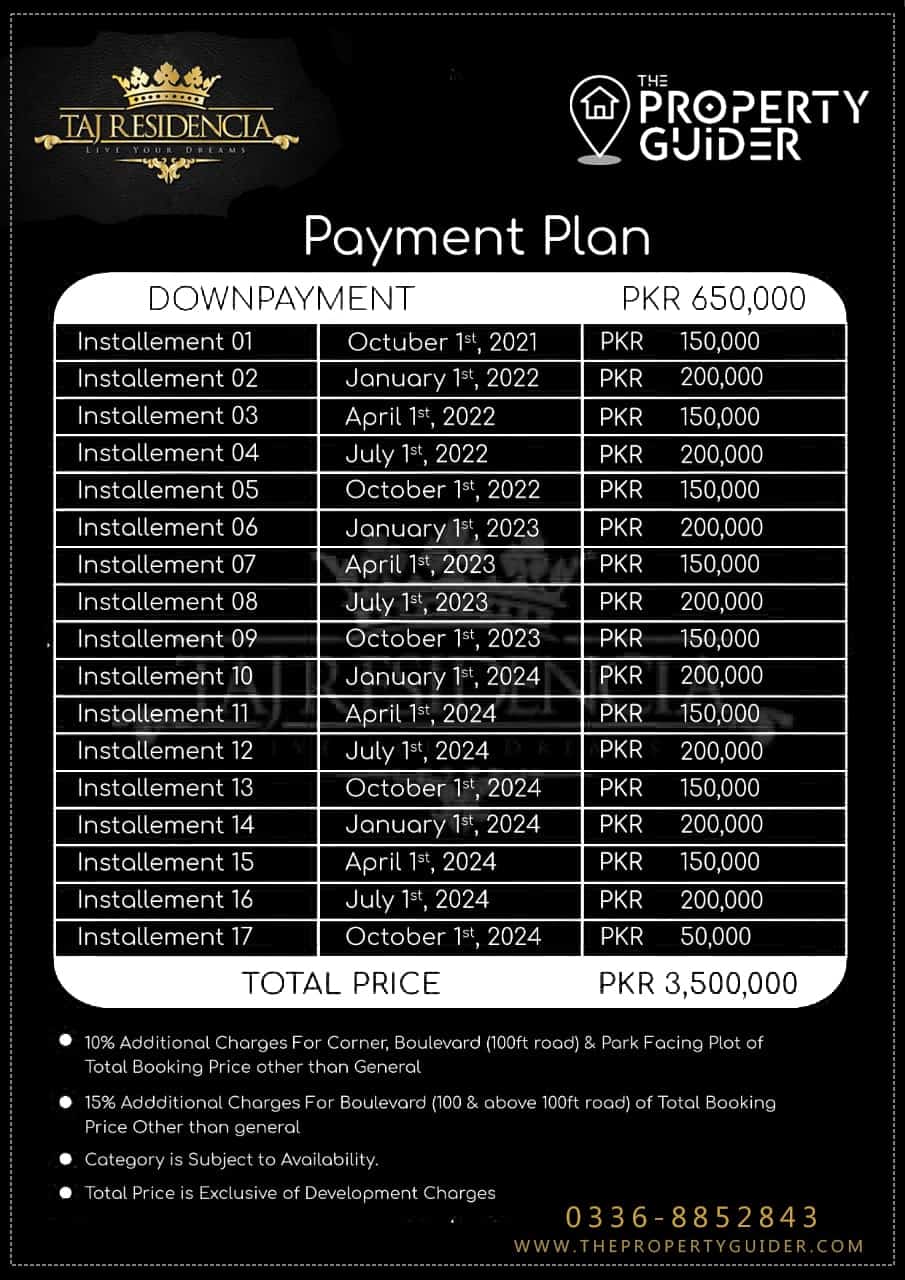 Faisal Hills Islamabad Payment Plan
As we have understand the Taj's payment plans, so here comes the Faisal Hills's payment plan you can grab. Faisal Hills housing society is currently in its developing phase. Much work has been done so far, but it will still take time to be completed. The society offers several plots at a reasonable price with a 14-month installment plan. But if you buy a plot on a Lumpsum basis, you get a 21% discount on the total price.
As you know, Faisal Hills gets its NOC from authorities. So there is a high chance that the price will increase anytime due to the poshest areas and luxuries attracting investors.

Why Invest in Taj Residencia
What are the reasons to invest in Taj Residencia? Why you should put your money in Taj project? See, it is a deliberately planned housing society that boasts futuristic amenities due to the Centaurus mall project gaining massive popularity around investors. All the blocks that were developed in society have been sold. And the price at which people had bought in the initial period has increased its price manifold. 
The developers will promote commercial opportunities around the project and plan to make a luxurious and secure residential option. The Link Road provides easy access to major destinations in Islamabad. Although there are various high-profile societies in Islamabad, this project is unique due to high-end housing development with numerous amenities.  
Economic Benefits: Islamabad real estate sector is quickly growing. Several real estate projects in a particular area are incredibly receptive to investors. You must invest in Taj Residencia, which is worthful at its present development stage. RDA has approved housing. Therefore, investors do not need to take any tension, the project is legal, and plots will be delivered to the investors on time.
Future benefits: The housing project is prime due to its natural beauty and commercial opportunities. The area is rapidly progressing in the real estate business. Due to rapid development, legalities, and value, Taj Residencia real estate projects are perfect investment options. 
National highway and Rawalpindi Ring Road are easily accessible from this housing society. Taj Residencia is adjacent to Islamabad's International Airport. Suppose you want a society with a luxurious lifestyle. In that case, this is the best place for you, but if you are thinking of investing money to get good returns in the future, you must invest money in it. You can get more than 50% growth on your investment in the future.
Taj Residencia pros and cons 
Pros
 It has a 2.5-year installment plan.
24/7, all basic utilities are available.
Project located at an ideal location.
Eye Catching luxurious Residence
Possession of plots after down payment
Well-planned society.
Expansion Opportunities
Schools and Colleges for Quality Education.
High Alert Security surveillance.
Centaurus Mall 2
Well-designed Villas
Serene and Peaceful Surroundings
Modern Infrastructure
Cons
Taj Residencia is offering a costly plot compared to other alternatives. 
Offering luxurious plots and villas is ok, but you can't pay more for the brand value.
Society development is relatively slower.
Why Invest in Faisal Hills Islamabad
Faisal Hills is a spectacular housing society in Islamabad and Tehsil Taxila. At an affordable price, this is an excellent opportunity to live a comfortable life with excellent Infrastructure and amenities. An adjective falls short of describing the beauty of this society. Owning a plot in Faisal Hills symbolizes class, grace, style, and elegance to experience a peaceful and clean environment with sophistication.
Economic Benefits: Even after NOC approval, you get the plot cheaply here. As the development work progresses, its price will likely increase because It is near the industrial zone. Faisal Hills Surrounded by natural beauty So in such a situation, all the people want their house to be near good natural beauty. If you are an investor looking for a plot to invest in, you must invest at their present stage for an excellent Return on Investment (ROI).
Future benefits: Taxila region is well known for its industrial and historical importance. In such a case, buying a plot in Faisal Hills can give you a better return in the future due to location advantages and commercial opportunities. Faisal Hills got approval from the National Highway authority to access Grand trunk Road. After that, real estate experts say investing in the project is highly beneficial, and it can give you up to 2x returns in the future.
Faisal Hills pros and cons
You can find all the pros and cons about Failsal Hills Islamabad project which will give you a detail idea if you should invest in or not?
Pros
It has a 14 monthly installment plan.
24/7 essential utilities are available.
Seem International is Trusted, Developers.
Strong Investment point.
Located at the ideal location.
Green, innovative, and sustainable housing society.
NOC has been approved
The wide and well-planned carpeted main boulevard,
Grocery, shopping Markets, and malls.
School, college, and medical centers.
Cons
There is a perception among investors about the Distance of society. It is close to Islamabad as Sector B17 is.
Frequently Asked Questions:
#1. Is it good to invest in Taj Residencia?
This project is highly recommended for those who willing to spend their money real estate, because it's fast growing project and the price of this project may increase any time. 
#2. Who is the owner of Taj Residencia Islamabad?
Taj Residencia Islamabad comes under the Sardar Groupd Of Companies and they are owning this project. 
#3. How many blocks in Taj Residencia?
Taj Residnecia currently having eleven blocks, and four are developed properly. Because of their material quality it's attracting investors. 
#4. Who is the owner of Faisal Hills?
It project is own by Chaudhry Abdul Majeed and the developer of this project is Zedam International Private Limited. Mr. Chaudhry Abdul Majeed is popular, trusted and well-known name in real estate.
Conclusion
Faisal Hills Islamabad is a well-planned and designed society surrounded by Margalla Hills' natural beauty developed by a trusted company. A dedicated team of engineers, architects, and other professional staff have put their years of experience and full efforts into its development. I recommend investing in Faisal Hills due to the affordable price for high-quality Infrastructure and great future returns on investment in your properties.
Taj Residencia is best for you if you are looking for upscale residential accommodation. The properties rate is higher than Faisal Hills Islamabad, but you should invest if you are looking for high-tech living infrastructure. The amenities and qualities of this lodging society are all appealing. Along with that, real estate is one of the greatest investment you can make, and when it comes to Faisal Hill, or Taj Residencia then you shouldn't miss the oppurtunites. That's all for today. If you have any questions or queries you can leave us a comment below.