7 wonders city Islamabad is one of the top places for people who are seeking to invest in real estate. As the name suggests, this project is a combination of many wonders. It's totally built with theme-based housing that provides you world's 7 wonder such as Taj Mahal, Eiffel Tower, and 5 more in one place. People who want to explore the world, the 7 Wonders city Islamabad join all of them. This detailed post will explore everything related to the 7 wonders city Islamabad. The 7 Wonders of the World Located near the New Islamabad Airport, Islamabad is a new residential development that includes all 7 of the world's most famous landmarks. Modern conveniences and amenities are included in the project. Aside from its convenient location and high-quality infrastructure, the housing project has gained much attention from investors. So we believe you have gained a basic idea about this city, it's time to get into the topic and understand it from depth. So without any further delay, let's dive into the topic.
What Are The 7 Wonders City Islamabad Included:
You can find all the 7 historic places around the world in the list below.
Taj Mahal
The Great Wall of China
Eiffel Tower
The Statue of Liberty
The Pyramid of Giza
The Roman Colosseum
Stonehenge
A detailed guide about 7 Wonders City Islamabad:
You can find all the basic to advanced information about 7 wonders city Islamabad, where we will talk about multiple aspects such as, price, plans, location, NOC and many others. Find the details below.
Location:
Location is the vital factor for any property investment, because if the property location is too far from day-to-day life essentials then it becomes worthless. That is why most real estate investors search for the places that are most convenient in terms of accessibility.
So the case is completely different because the Islamabad International Airport and Nova City Islamabad are both nearby. It's also close to the Islamabad-to-Karachi M9 highway. As a result, it is situated in a location that is easily accessible from both Islamabad and Rawalpindi.
As the plot is adjacent to the CPEC-Ring Road Interchange, the housing society's location has significant value. A 25-minute drive on the Islamabad-Lahore M2 Motorway will get you there in no time. However, a 20-minute drive away from the housing complex, the New Islamabad International Airport is easily accessible. The CPEC road and Fateh Jang Road are both nearby entry points.
There is a significant distance between this location and other notable locations.
Driving time from the New Islamabad International Airport is around 21 minutes.
Bahria Town, Phase 8 is just 22 minutes away by car
M-2 Motorway is just 25 minutes distant by car
Islamabad is only a 26-minute drive away.
Kanal, Rawalpindi is within a three-minute drive away.
Rawalpindi is 31 minutes distant by car
Six minutes' drive from Bango, Attock is the closest town to the city.
Qutbal, Attock, and N-80 are all within 8 minutes of driving.
Attock is a 9-minute drive from Dhok Korak.
The Ring Road Interchange is located right close to the CPEC route.
The golf residences of Mumtaz city and smart capital city are all within striking distance
NOC Status
As we all know, for booking a plot anywhere in the world NOC is one of the critical parts we look for, isn't it? Having a NOC in place is critical to the legitimacy of any housing organization. A No Objection Certificate has been requested from all of the relevant authorities. The Tehsil Municipal Authority (TMA), Fateh Jung, has yet to provide the No Objection Certificate (NOC) to the Seven Wonders City, as the process is ongoing. They will devise their grand strategy as soon as they receive the NOC.
Project Overview
Before we explore more things about the 7 wonders city Islamabad, we are going to give you a quick and short overview of it, so it will be easy for you to get into it. The city of Wonders The city of Islamabad has a large area. The entire region has been divided into many blocks, each of which is slated to house a different type of property. The roads are broad, the development plans are modern, and the amenities are up-to-date in this community. All the latest modern house developments are available in this new project. The development of the world's seven
wonders is what makes this endeavor unique. Residents and visitors will also be able to see these replicas:
The Colosseum of Roman times.
Paris's iconic landmark, the Tour Eiffel.
Stonehenge, the world's most famous prehistoric monument.
China's Great Wall.
The Taj Mahal is a beautiful place.
The Liberty Bell.
Giza's Great Pyramid.
The famous replica of the Minar – e – Pakistan will be placed in the middle of all of these copies of the 7 Wonders of the World.
Master plan
Also, an important thing for any property project is the upcoming master plan. Real estate investors mainly look for the particular project if the project has any master plan to invest further because it shows their authenticity. As we are talking about 7 wonders cities, Islamabad, so let's understand their upcoming master plan. The developers are still working with the TMA Fatehjang to work out the exact details of the master plan. There are plans for a metropolis akin to Karachi, where commercial and residential areas will be segregated. Residents are expected to enjoy a new atmosphere due to the project.
Payment Plans
Here comes the important questions for all, and that is what the payment plans 7 wonders city Islamabad offers you. Don't fret, as they come with various types of attractive plans. Starting with an effective payment plan, the administrator's primary goal is to make life as easy as possible for the residents. Installment rates are lower because the housing complex is still under construction. Because society is still in its infancy, they can only sell plots at a discounted pre-launch price. Easy installment plans are being offered for 5 Marla, 7 Marla, and 10 Marla home plots in Islamabad this time around. There are 40 monthly payments spread out over the 40-month term.
The 7 Wonders City Islamabad pre-launch price plan is listed below.
5 Marla price plan
If you're interested in 5 Marla, then find the following details about payment plans in 7 city.
5 Marla booking may charge you the total cost is 1,650,000 Pakistani rupees.
Down payment is also not too big, all you'll require to pay is 165,000.00 PKR.
Confirmation = 82,500 Pakistani Rupees
When it comes to paying every month, then you'll have to pay 11,550 PKR.
Monthly Payments: 693,000 Pakistani Rupees
It costs 247,500 PKR to own
7 Marla price plan
Following payment plans are for 7 Marla projects.
7 Marla will cost you 23,10,000 which means there is a total cost of 2,310,000 Pakistani rupees you will need to spend.
You can book your plot all in just a 231,000 PKR down payment.
Confirmation is worth 115,000 PKR (about).
Monthly payments total 16,170 PKR.
970,200 PKR in half-yearly installments
Possession is worth 346,500 Pakistani Rupees (PKR).
10 Marla price plan
One of the highest and most expensive projects is 10 Marla, you can take an idea below.
It will cost you more than 3,000,000 PKR while booking the plot.
All you need to pay just 330,000 Pakistani rupees (PKR) is the down payment.
165,000 Pakistani rupees are required for official confirmation.
If we talk about EMIs then every month, you'll have to pay 23,100 PKR.
1,386,000 Pakistani rupees (PKR) every half-year installment
Possession is worth 495,000 Pakistani rupees.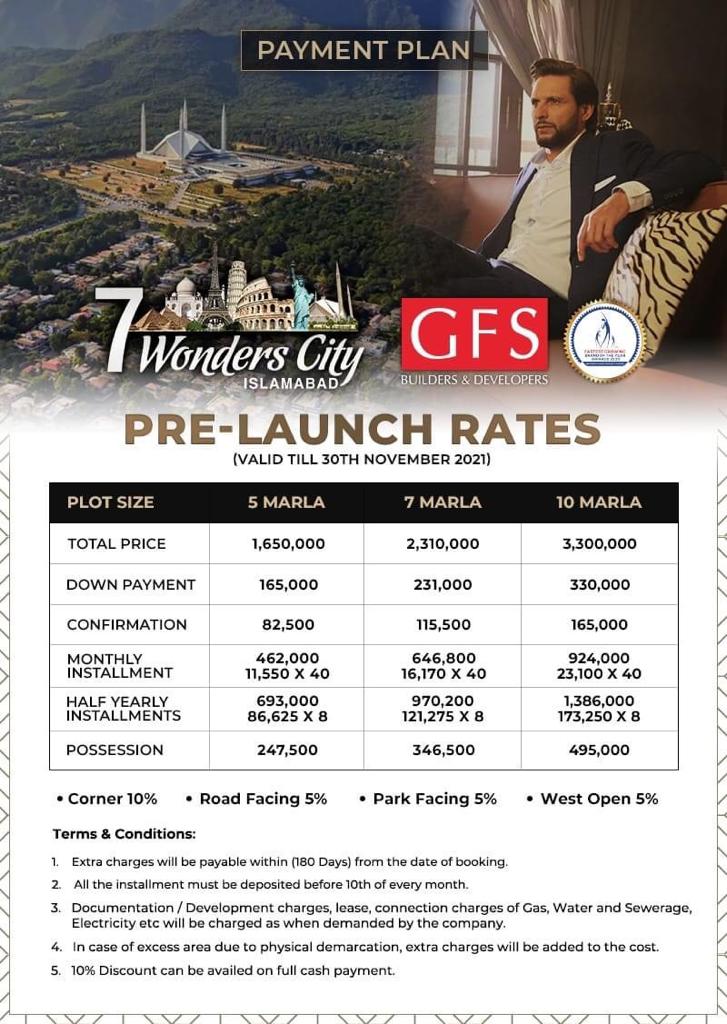 Facilities/Amenities
Most of you surely thought about what amenities and facilities you'll get when you book your plot in, right? The 7 Wonders City has the potential to develop into one of the capital's most prestigious neighborhoods because of the world-class amenities it offers its residents. In addition to these facilities, which make it one of the most anticipated housing projects in Washington, D.C. There are some world-class facilities you can capture which are given below.
The Great Mosque.
A cutting-edge hospital
Stadium for cricket
There are also several arcade rooms.
Community facilities
The most up-to-date inventory in the library
Water Parks and Community Parks
A gathering place for club members
A list of the city's best schools
A children's play area is available.
There are two types of mini-zoos:
Fitness centers
Playgrounds for kids
Why Invest in 7 wonders city Islamabad
Now the main question that arises is why do you need to invest in 7 wonders city Islamabad? Well, there is no doubt that property investment is one of the greatest investments of all time. And mainly when it comes to 7 Wonders city Islamabad, then it provides you top-class facilities and amenities at an affordable price. 7 Wonders City's goal is an amusement park-themed housing complex that includes replicas of each of the 7 Wonders of the World, to give an amusement park experience for the entire family. 7 Wonders City, Karachi, has a lot more to offer than just beautiful scenery for family photos. A few of the greatest things you can find below which you'll get here.
One of the Secured neighborhoods.
24×7 surveillance and security measures are in place that keeps eye on you and protect you from unwanted activities.
The provision of essential services.
Living in a community.
Well-planned infrastructure.
A wide selection of investing alternatives.
Frequently Asked Questions:
1. 7 wonders City Islamabad (Pakistan) history?
The GFS (Global Financial Services) is the owner of this project, and they are involved in many construction industries for more than 10 years. The GFS has already left a huge impact on real estate as they are a part of a wide range of infrastructure projects, in every sector such as business, and residents. The best thing about Global Financial Service is they are known to deliver great value to everyone who has invested in their project or planning to invest.
2. What is the 7 Wonders City payment plan 2022?
7 wonders city Islamabad payment plans are following;
Total price 16,50,000 PKR
The down payment you'll need to pay while booking is 10% which is 165,000 PKR.
The confirmation amount is around 82,500 PKR.
You may need to pay monthly EMI which is 11,500 PKR.
693,000 PKR as half-yearly installments.
And Possession fee is around 2,47,500 PKR.
Also, remember this is the current price, the price may go up or down without any further notice.
3. Who are the Developers and Owners of the 7 wonders city of Islamabad?
As we talked about above in this post, the 7 wonders city Islamabad comes under The GFS (Global Financial Services), and one of the prominent builders in Pakistan Mr. Irfan Wahid, CEO of GFS. Mr. Irfan Wahid is one of the popular builders with expertise in supervision, he is also an engineer in London and New York.
4. Is 7 Wonders City Islamabad a good investment?
Property investment is always the best way to invest your money, and 7 Wonders City Islamabad is top of everything. This provides you with 7 wonders from the world, and it's unique so the price may surely go high in coming years. You can book your slot right now to be ahead of others.
Wrapping Up:
In this detailed post, we have covered 7 wonders city Islamabad, where we talked about various aspects of the city including, pricing, location, NOC, and others. This city is quite popular not only for Pakistani citizens but around the globe. If you plan to invest your money in real estate then 7 wonders city Islamabad could be the best option for you. I hope this article was helpful for you and provided you with the ultimate details of this city. If you still have any questions or suggestions regarding the same post, you can use the comment section given below. Thanks.