Lahore Smart City Payment Plan , Map, NOC, Location : Lahore smart city is bringing all the modernistic features in a very reasonable price range. The plots' prices are kept affordable by understanding the requirements of the people. Like its other projects, Habib Rafiq Limited offers a variety of residential and commercial properties at the lowest possible prices and with easy installment plans.
Lahore smart city payment plan
The officials have announced pre-launch prices, which are the lowest in the future after launch. Prices are expected to increase by 15% after the launch of the project. SO, grab the once-in-a-lifetime opportunity and be part of this smart society in a very reasonable investment. We recommend investing today because the Lahore smart city is gaining popularity amazingly due to its modern facilities and excellent development. Hence the plot's prices will increase soon. Any plot you will purchase today will convert into a high-profit property as the sustainable housing project will be the center of investment in its region.
Authorities have shared payment plans for the 2nd smart city of Pakistan. Bookings start with a 10% down payment and 10% confirmation charges that are payable in 2 months.
Also, for your ease, the society has 3.5 years payment plan divided into 14 affordable installments.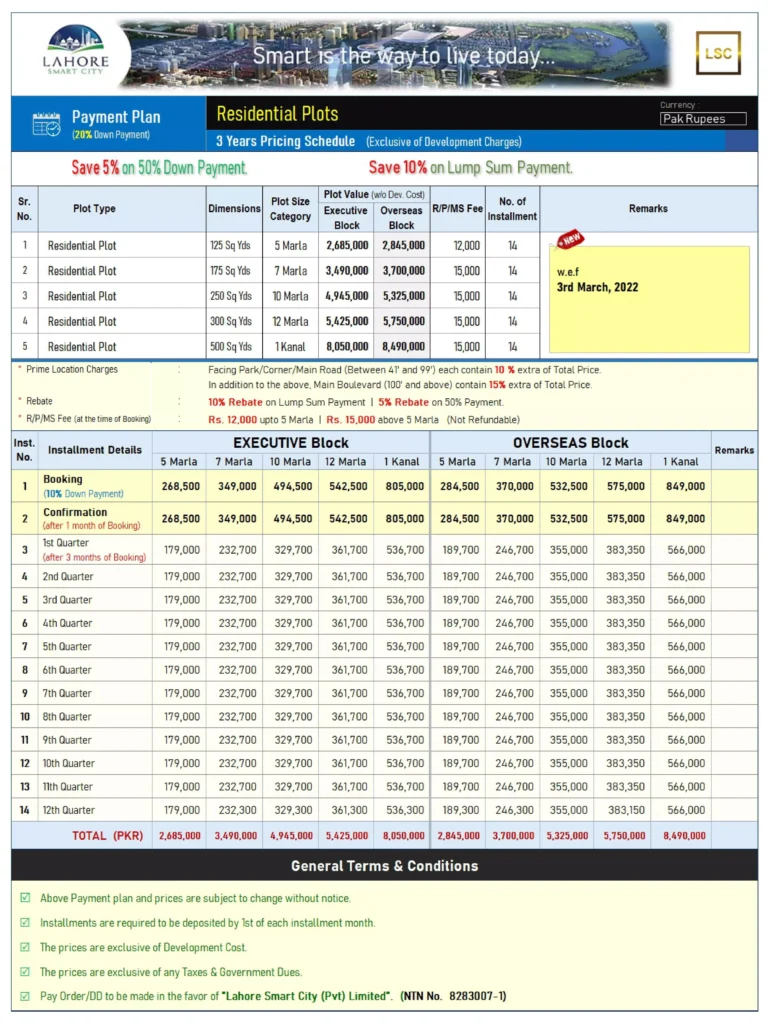 Important Note about Lahore smart city Payment Plan
Category plots' prices are 10% higher than that of ordinary plots, including corner-faced plots, main roads plots, and park-facing plots. Category plots include plots located on 50 to 99 feet boulevard.
Prices of plots on 100 feet or above Main Boulevard are 15% higher than ordinary plots.
All the prices exclude development charges. Development charges will be applied after the possession.
10% discount on full payment.
5% discount on half payment.
Rs.12000 Reservation fees on booking up to 5 Marla plots which are non-refundable.
Rs.15000 Reservation fees on booking above 5 Marla plots which is non-refundable.