DHA Multan is the new housing development society in Pakistan project by Defence Housing Authority. The developers have planned to provide all luxury and convenience for their residents like all other DHA projects.
The DHA Multan project offers several varieties of residential and commercial Plots for residents with every best class facility.
In Pakistan, Multan city doesn't come as one of the luxurious cities but apart from Defence Housing Authority make their projects trustworthy with all the available modern amenities in a housing project.
In this article, we're going to present basic to advanced features and functionality so that you can get DHA Multan at an affordable price. We would recommend you to go through this post to understand the entire structure of DHA Multan and the pricing and features you get here in DHA. Furthermore, we also share the payment plans which you can use while buying the desired property at DHA.
Are you excited to enter into a new world, let's move with us.
About DHA Multan Housing Societies
DHA stands for Defence Housing Authority. (DHA) is one of the reputed and trustworthy housing societies in Pakistan. It was first developed for armed forces only but now it will also open for the public. So that anyone who desires to have a place in DHA Multan can move here.
They will provide the best housing society along with them the best infrastructure with a green and clean environment. One of the most successful projects completed by DHA is in Lahore, Along with DHA Multan currently running many successful projects around all over the country in major cities including Lahore, Karachi, Peshawar, Islamabad, Bahawalpur, Quetta, etc.
As you're planning to shift here in DHA, it becomes also important for you to understand that in Pakistan, Multan is the fifth largest city located in South Punjab province at the bank of River Chenab.
It is one of the most ancient cities known as "City of Saints".
This city has lots of historic places and old cultural civilizations. This city is a commercial hub in South Pakistan. After the DHA Multan housing project will add the demand and value of the Multan city.
I reckon you have got a basic idea about DHA Multan Housing Societies, but still, if you are wondering who is behind DHA and who is behind infrastructure then keep reading us, below we'll share each and everything related to DHA Multan.
Who Is DHA Multan Owners and Developers:
The project of the Defence Housing Authority is handled by retired or senior officers of the armed forces. There is no particular owner of any DHA housing society. DHA manages its housing project with collaboration from other contractors. At present, the chairman of DHA Multan is Lt. General Muhammad Naeem Ashraf and Proj. Director is Muhammad Shoeb Anwar Kayani.
The developers of DHA Multan make a trustworthy reputation in the country. The DHA owner has made a contract for development and construction work with the ProMag company.
ProMag is a broad-based management consultancy. The company handles several national projects including Ocean heights, DHA Bahawalpur, Airport Circle, Ocean heights, and EMAAR- crescent bay, also company handles international projects including Abrar al-Jamia, mix development Sri Lanka and United Mall Gulgasht are some of their famous projects.
ProMag management consultancy provides many services in DHA Multan housing society including Architecture development, Project management, Principal consultancy, and Construction supervision, etc
DHA Multan Location:
If you have no clue about the DHA location then I must share something about it as well. The DHA Multan is ideally located at Bosan road near Bahauddin Zakariya University. This project was planned on a larger vast land lying between Marital Road and connected with many other main roads passing from society.
This project is located at the prime location it has two major main ends bosan road and Marital Road. The society entrance has on both ends of the society. This housing society is the meeting point of Mauza Sangi, Mauza Kotla Sadaat, and Mauza Garay Wahan.
You can access Housing Society from Mattital Road Approximately in 01 min, from Bahauddin Zakariya University in 10 min. In a minimum of 10 minutes, you can access the housing society from Ahmad Road, Multan Bypass, and northern Bypass. The DHA Multan head office is also located at Northern Bypass.
Apart from Accessibilities DHA Multan is located near several landmarks including Buch Villas, Multan Cantt, Multan International Airport, Tomb of Shah Rukn e Alam, Gulistan Homes, and Lutafabad
DHA Multan NOC
What does NOC mean? Well, NOC stands for "No Objection Certificate" The DHA Multan housing society gets a No Objection Certificate (NOC) from all the authorities.
They approved this legal housing society project with complete satisfaction.
As we all know NOC is a very important approval for any construction If any project gets NOC Approval then they have a much higher chance that they complete the project in a given time frame.
Most Investors hesitate to invest in such a scheme where projects don't get approval from authorities.
Normal people also trust those projects where competent authorities give Approval.
That's all in the basic field about DHA, here we're moving towards features and functionality people get in DHA Multan. Because anything without the desired facility becomes useless. So read the features DHA Multan enables you for.
Features of DHA Multan
This housing project's main objective is to make the world's best-class high standard modern town planning, with high standards of development. Society will be equipped with all the essentials of a luxury living inherent sense of community living and state-of-the-art security systems.
Here is the list of some best features of DHA Multan offers you:
Best Healthcare and medical centers
Open for 24×7 supply of water, gas, and electricity.
You get Free internet 24×7.
Added multiple Shopping malls and groceries stores.
Clothing brand franchise shops.
Jamie masjid and grand mosque
A clean and green environment which helps you to stay fit and healthy.
The country club and golf course for entertainment purposes.
Gym with best facilities.
Security is the biggest concern for anyone, and no doubt for you as well, so DHA enabled the 24×7 best security system with guards.
Commercial plot and Fascinating villas.
DHA Multan Facilities and Amenities
The developers of DHA Multan are planning to make a modern housing project with modern facilities and amenities on a budget that's why they hired the top consultancy firm "ProMag". Society gives all the extreme-level of luxurious facilities the authority reserved vast area size for parks.
The Development housing society ensures that they will be able to fulfill a healthy and luxurious lifestyle environment with all the needs of the residents as well as religious. That's why they constructed a beautiful Jamie masjid in society to fulfill the spiritual need of the residents.
DHA Multan owners give high priority to making this housing project the most lavish society with all the modern-day luxuries and amenities.
In any society, Safety and security are some of the most important priorities. That's why this society comes with highly trained guards and 24×7 hours CCTV camera security system and many other surveillance types of equipment and society is also surrounded by a boundary wall with a foolproof system to provide all-inclusive security to the people.
According to the DHA Multan master plan, they also focus on a healthy environment that's why they designed a vast land for the central theme park where children, the elder, and women enjoy without any disturbance. There are also many facilities in the DHA Multan including.
Here are some facilities and amenities in the DHA Multan residential area are as follows:
Well, Planned Road Infrastructure – These housing societies have wider and broad roads to fulfill the future requirements without Obstruction.
Underground Electricity – One of the best things about society is that they have no electricity poles which means all the electric wire goes underground. All the electrical wiring including electricity, internet and landline will be done underground. So it helps you to stay safe and less wire cut issues.
Sewerage and Drainage System – This project is equipped with a unique separate sewerage system, it keeps the society clean.
State of the Art Planning – The Housing development authority hires a "ProMag" firm for project management and town planning.
Educational planning – Education plays a big role in anyone's life, and when we talk about education then this society gives the highest priority to education facilities. That's why developers plan a large land area for the Education Complex with all professional and trained teachers specified in all fields.
Worship – This society has a grand central Masjid with a capacity of 5000 people with first-class infrastructure design and beautiful dome design. In every sector, there are separate sectoral mosques for residents to worship.
Water Resources – The developing authority is going to cater to all the needs of the residents that also include drinking water. There is a very vast store of water resources where a large amount of water is stored for residential use. Society ensures clean drinking water that's why they installed clean drinking water.
Health and fitness – This society made high amenities State of the Art Gym, hospital and clinics. One of the most important is the health facilities. That's why a 24×7 emergency ward opens in a hospital with all the medical staff and doctors with all important facilities.
Community Centers and Clubs – Community centers also play a huge role in any developed society, as keeping this in mind, DHA has done a fabulous job of building community centers and clubs. The DHA also made Community Centers and Clubs in the society for residents.
Sports and Games – Sports build muscles and keep you fit, Right? So here comes the DHA Sports and Games facility. This society has the best entertainment and sports facilities for children including indoor & outdoor games and sports.
Golf course – one of the best parts of this society is it has 18 holes. The DHA Authorities signed an agreement with Faldo Design firm to make a golf course, also the best part is who owned this firm is a 6-time major champion, Sir Nick Faldo. 7,500 yards area occupied for the golf course.
Security system – How can we ignore Security, in fact, that should be the first priority, isn't it? The authority gives its higher priority to resident security. This society has Extensive surveillance 24×7 security systems with several guards. It means you will be protected all the time with the high-levels of security.
DHA Multan Master Plan
The DHA Multan master plan was designed and developed by a professional team along with several years of property development experience. There are various development projects in DHA Multan including Developed Projects, Developing project and upcoming coming projects as mentioned below: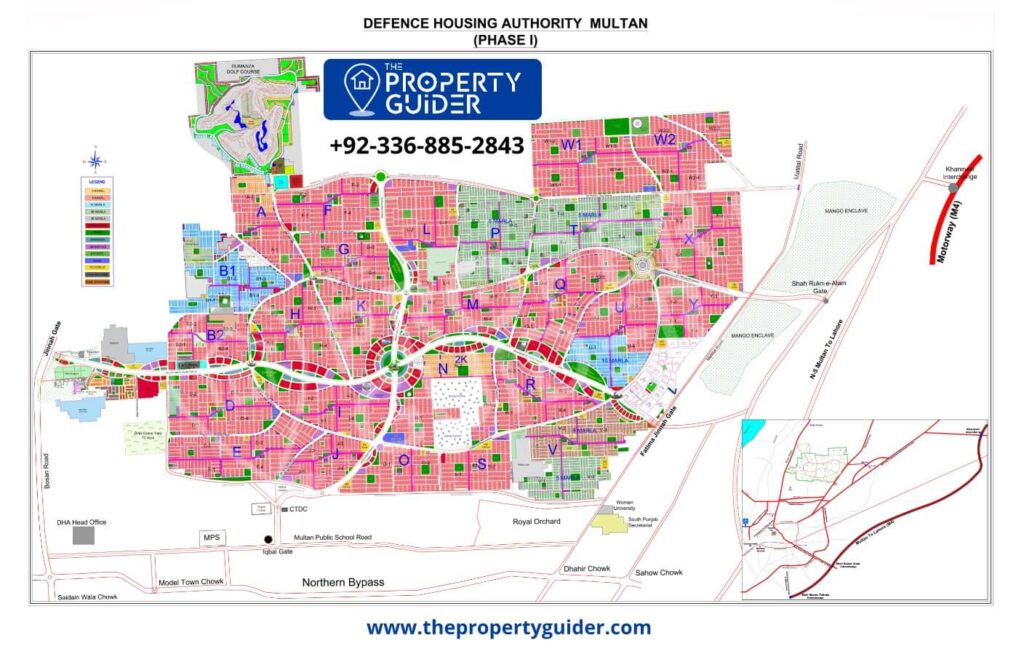 Developing Projects
Food Court.
Bilal Masjid, Masjid Quba and Masjid e Amna.
Shopping Arcade and Indoor Sports Complex.
Center and Pakistan Square.
Membership Club and BTS Jazz Tower.
Rescue 1122 and Main Office.
Developed projects
DHA Multan Villas and Nursery.
Sewerage treatment and Villas community plant.
360 zoo and Rumanza Golf Course.
Dealers Enclave and Sub Office.
Upcoming Projects:
DHA Multan has additional plans which will be implemented soon.
Theme and water park.
Megamall and Twin Towers.
3D and 5D Cinema hall.
DHA Multan Villas master plan
Apart from residential and commercial plots in DHA Multan they also announced that they have to make a master plan for villas in this housing society. The authority perfectly designed villas for residents with the size of 6, 9, and 12 marlas.
This housing project is divided into various sectors including
Central Square.
Education City.
RGC.
And DHA Villas.
DHA Multan Plots Sizes
DHA Multan is a residential society to provide luxurious plots And on this, you can develop residential or commercial properties at affordable rates.
Society is divided into several Residential and Commercial Plots including
Residential plot
Here comes the residential plots that you can grab in DHA Multan.
5 Marla
8 Marla
10 Marla
1 Kanal
2 Kanal
Commercial plot:
Find the commercial plot DHA offers you
DHA Multan payment plan:
Okay!! Finally, we've moved to one of the crucial aspects which everyone wants to know, right? Unfortunately, the DHA Multan payment schedule plan was ended because all plot files of sectors sold out already, don't worry they have come up with different offers. Now you can purchase the plots at full prices, which are also affordable. You can check the residential, commercial, and Vilas prices below.
DHA Multan Residential Plots price:
Find out residential plots price below:
5 Marla Plot Prices is 50 lakh.
8 Marla Plot Prices is 60 lakh.
10 Marla Plot Prices is 80 lakh.
1 Kanal Plot Price is 1 crore 20 lakh.
DHA Multan Commercial Plots price
Find out commercial plots price below
4 Marla Plot Prices are 2.5 crores.
8 marks plot Price is 3.5 crore
DHA Multan Villas price.
Find out Villas price below:
6 Marla – 3 Bedrooms ( 1994 SQ FT ) price is 1 crore 20 lakh.
9 Marla – 4 Bedrooms ( 2751 SQ FT ) price is 1 crore 80 lakh.
12 Mara – 4 Bedrooms ( 3149 SQ FT ) Price is 2 crore 10 lakh.
12 MARLA 5 Bedrooms ( 3530 SQ FT) price is 2 crore 30 lakh.
Note: In DHA Multan Every plot offers diverse luxuries, facilities, and amenities and due to several sectors and different plot sizes prices vary from plot to plot. These are the current plans in DHA Multan.
Payment plans and prices are subject to change without any notice.
If you book a plot then you have to Cancel the plan in that case Application processing fee is non-refundable.
You can pay Payment through Cheque/ Pay order/ DD in favor of (DDA Multan).
In starting DHA Multan plots price starting from less than 10 lakh but now price reaching crore.
Payment Plan of DHA Multan
DHA Multan is one of the leading societies so you can expect all the leading payment options. DHA enables you to buy Villas, Residential, or Commercial space at the best price. Also, they are open to multiple payment methods such as Cheque/ Pay Order and Cash. You can go with any of them at your convenience, or choose multiple.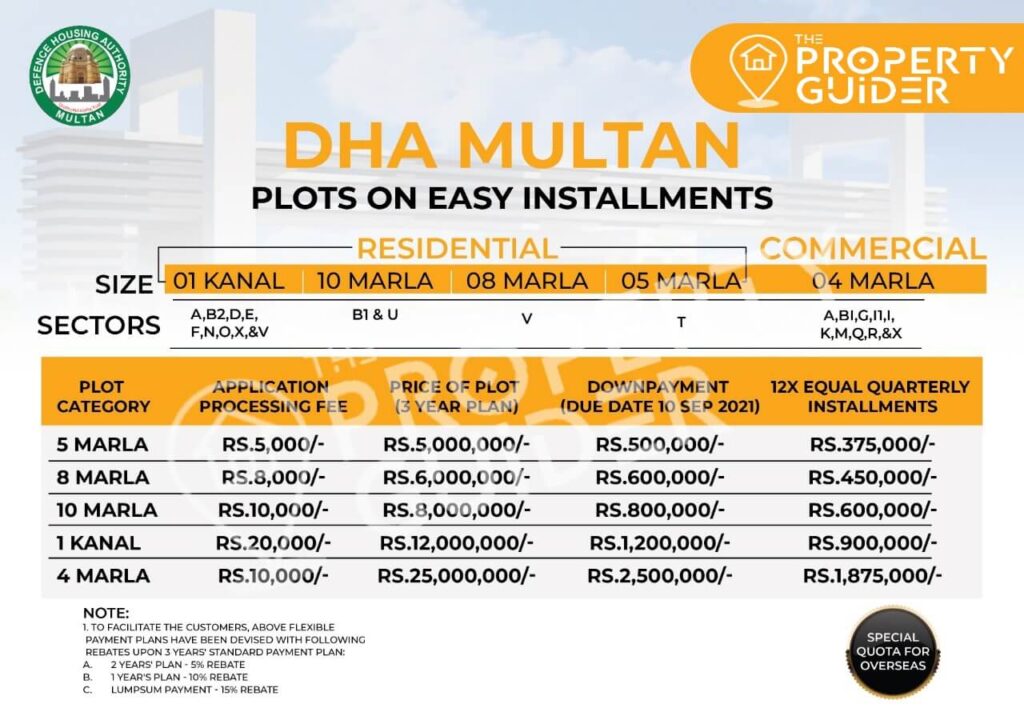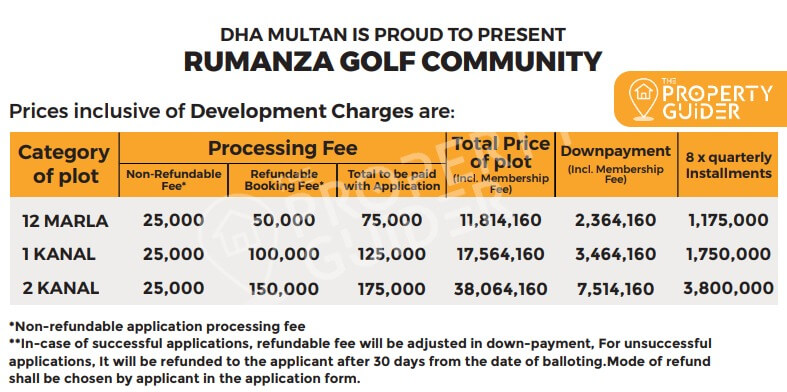 DHA Multan Society Development Work
The social construction and infrastructure work is going very fast, and available plots in society have already been divided according to their size.
Both the main entrance and Boundary Walls are completed. The developing housing authority has also completed their M block and given possession of plots to customers.
Some months before the authority started infrastructure development work in sectors A and V.
They also started their Construction work in shopping malls and villas by the end of this year they completed the construction.
Documents Required to Book Plot in DHA Multan
We believe you have gone through the entire post about DHA Multan, and are planning to move here, but wait, If you're thinking of buying a plot (Doesn't matter what type of) you'll be required to submit a certain type of documents to DHA authority. Here, are the following documents required for the book plot in DHA Multan:
Application form
DHA Multan challan
Affidavit
2 Copy of your CNIC
2 Copy of your Next to kin ( father/ mother/ brother/ wife /sister)
2 Passport size photograph
Booking amount in the form of (Cheque/ Pay order/ Cash)
DHA Multan installment form (in case of villas)
Address proof.
If you've all the above-given documents, congratulations you are eligible to shift to DHA.
Note
Minimum 1 week is required for initial processing of file and issuance of the Intimation Letter in the name of the buyer.
When the Intimation Letter gets ready it will be mailed/sent to your registered mobile number and e-mail id.
Once you confirm your purchase authenticity of the Intimation Letter, along with an amount of Rs.10, 000 /- for Intimation Letter and Rs.69, 160/- for Allocation Letter will be Deducted from your account.
Issuance of Allocation Letter takes almost 1 week. You have to be physically present at the office to receive the Allocation Letter.
Why invest in DHA Multan?
Still, thinking about Why Invest In DHA Multan? Keep your worries aside because we're trying to explain the compelling reasons behind why you should invest in DHA Multan.
Well, the DHA Multan housing infrastructure is the main attraction of the developer to make these societies in such an affordable way so any lower income to higher income class affordably buys their dream house with safety, facilities, and modernization.
If you want to invest your money in Real estate or you want to buy your dream house at an affordable price with the best class facilities and amenities then DHA Multan is One of the best options for you.
Because the society provides a luxurious and eco-friendly environment to its inhabitants with world-class medical systems, community hall Schools, colleges, universities, parks, theme parks, zoos, and many other amenities.
One of the best things about this society is why you trust this project because it is developed under the supervision of retired army officers.
Furthermore, as we all know, benefits can be real-estate investments, isn't it?
Real estate investment is one of the most profitable investments because it has high investment return potential like Financial Security, Stable income, Manageable and passive incomes.
This society is the best living place for families. You can buy your property at a very low price but, you should also be aware that once they hit 2 to 3 projects and get ready then the Price increases rapidly.
Then the price which you can grab it may go up to double so make your decision wisely.
Why invest in DHA Multan Villas
If you are searching for luxurious villas for a living then this society comes with all world best class facilities. Here are some benefits of having villas in DHA Multan are following.
Your villas are fully designed by the expert interior designer team.
DHA villas provide a Safe and secure environment for their residents.
Both the middle class and upper-class families buy their villas at a reasonable price.
Clean and nature-friendly environment.
24×7 is available for all daily Amenities like gas, water, and electricity.
You can call any time to the society maintenance office if you face any difficulty.
Frequently Ask Questions About DHA Multan:
1. Is DHA Multan a legal housing society?
The short answer is Yes. The DHA housing society is a legal society and its projects are approved by all the authorities. And we believe this is the only thing which decides if the society is legal or not.
2. What is the payment method for buying plots in DHA Multan?
DHA Multan doesn't restrict you to buying plots with only one method. They come up with various payment plans to choose from. You can buy your residential, commercial, and villas plot via Cheque/ Pay Order and Cash.
3. Who is the owner of DHA Multan?
The DHA Multan doesn't come under one or several people, it is basically a project which is run by senior army officers. So the answer to your question is there is no specific owner of DHA Multan; their projects were run by a senior armed officer.
4. When will society grant possession of the plots?
The authority already granted many sector possession "of other plots" when the sector project is completed and buyers pay their remaining amount the authorities give possession of the plots.
5. What is the total Area of DHA Multan?
That's huge, the DHA Multan consists of 9000-acre lands for the development of society.
6. What plots are available for sale in DHA Multan?
There are several plots available for sale including residential sector 5, 8, 10 Marla, 1 Kanal, and 2 Kanal plots and 5 and 8 Marla commercial plots. Which contain different prices, you can simply scroll up and find the price section for a better idea.
Wrapping Up:
DHA Multan is one of the leading places to invest for the future, as they deliver you one of the great facilities and features. This is come under and run by senior armed officers so it becomes more trustworthy to invest.
Apart from that they also offer you various types of facilities at pocket-friendly prices. In this detailed article, we tried our best to cover each and everything related to DHA Multan and provide you with ground-level information.
I hope this article was helpful for you. If you still have any questions or suggestions regarding the same, you can leave us a comment below.